Grand Theft Auto V is the top game in a down year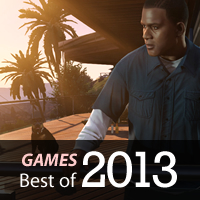 A year ago at this time, we noted that 2012 was a bit of a transition year for games, with a dearth of high-scoring titles perhaps the inevitable symptom of the coming transition to next-generation consoles. Well, that transition finally happened last month, but too late to save 2013 as a whole; the result was another somewhat down year for games.
Just 11 console games—representing a mere 7 unique titles, as most of those games were multi-platform—scored 90 or higher in 2013. That is by far the lowest number of "great" games in a single year since the arrival of the last generation of consoles. Add in handheld (non-iOS) games and PC games, and the total number of 90+ releases in 2013 reaches 18, which matches the total in 2012—an amount that was far lower than in previous years.
The good news is that while the new PS4 and Xbox One consoles added little to 2013's numbers, there is reason to hope they will lead to better results in the future. During 2013, the older platforms (Xbox 360, PS3, even PC) experienced drops in their average Metascores for games released during the year. But the newer Wii U saw a significant improvement in games released for that console—as did the next-gen handhelds, 3DS and Vita. Given a year to establish themselves, perhaps the PS4 and Xbox One will experience similar quality boosts.
This year's very best, however, was very good indeed. 2013's highest-scoring title—which was probably the favorite to take game of the year honors heading into the year, and didn't disappoint (at least score-wise)—was Rockstar's latest GTA installment, Grand Theft Auto V. Set in a fictionalized Los Angeles, the game scored 97 on both PS3 and Xbox 360, making it the highest-scoring release since 2010. It is also the eighth-highest-scoring game of all time (the PS3 score is technically a tiny fraction higher than that for the 360 version, but the two scores are so close that you can consider them even). However, it's not the top GTA release; the 360 version of Grand Theft Auto IV collected a 98 in 2008.
Over the following pages, we'll reveal 2013's best-reviewed games for each platform. Before that, let's take a look at how the various game platforms compared this year.
Console/PC Comparison - 2013
Console
# of
Games*
Score
Distribution
Average Metascore
Great Games**
(

90

or higher)
Good Exclusives**
(

75

or higher)
PlayStation 3
172

80,74,18

70.1
4
8
Xbox 360
165

64,76,25

66.9
3
3
PlayStation 4
29

16,11,2

73.4
1
1
Xbox One
19

8,8,3

67.7
0
3
Wii U
53

26,23,4

72.6
3
7
PC
321

129,164,28

69.1
5
46
Handheld Comparison - 2013
Console
# of
Games*
Score
Distribution
Average Metascore
Great Games**
(

90

or higher)
Good Exclusives**
(

75

or higher)
Nintendo 3DS
74

23,46,5

69.1
2
19
PS Vita
70

34,33,3

71.6
0
5
And here are 2013's best-reviewed titles, regardless of platform (iOS games are excluded; they're ranked in a separate article):
Turn the page for best/worst games by platform ...
Continue reading for rankings of the best and worst 2013 games released for each platform, including the top titles exclusive to each platform.