Metal Gear Solid V: The Phantom Pain is the best game of 2015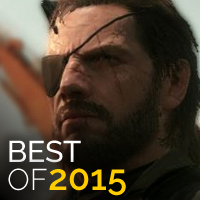 For the past several years, our year-end report on the year in games has contained a note stating that if the newest generation of console hardware was going to bring about an explosion of great new games, it hadn't happened yet. Well, guess what: it still hasn't.
Once again, we are wrapping up a year in which many of the most-anticipated titles saw their releases pushed back to the following year, while others that did surface didn't quite live up to their advance promise. That's not to say there weren't some great games in 2015—there were actually 14 releases scoring 90 or higher, listed a little further down this page. But that total matches last year's number, which represented the lowest number of great game releases in a single year over the past decade.
In fact, just 9 console releases achieved a 90+ score. And two of those were expansion packs, while two more were ports from other platforms. So the list of "new" great console titles this year is a short one: Metal Gear Solid V: The Phantom Pain (on both PS4 and XB1), Bloodborne (PS4), and The Witcher 3: Wild Hunt (PS4/XB1).
Of those, Phantom Pain received the highest individual score (for its XB1 version), making it our official game of the year for 2015. The belated PC port of 2013's Grand Theft Auto V actually scored a point higher, but that game is ineligible for our official year-end honor since it isn't a new title.
So, consider this an exceptionally long transition period to the new hardware. (Either that, or we are looking at the new normal, where greatness is a bit more elusive.)
Still, 2015 did have a few gems. In a moment, we'll reveal this year's best-reviewed games for each major platform. Before that, here's a quick look at how the various game platforms compared this year:
Console/PC Comparison - 2015
Console
# of Scored
Games*
Score
Distribution
Average Metascore
Great Games**
(

90

or higher)
Good Exclusives**
(

75

or higher)
PlayStation 4
276

115,143,18

70.5
6
11
Xbox One
204

83,108,13

70.4
2
7
Wii U
80

33,34,13

67.1
1
9
PC
415

163,233,19

70.6
5
53
Handheld Comparison - 2015
Console
# of Scored
Games*
Score
Distribution
Average Metascore
Great Games**
(

90

or higher)
Good Exclusives**
(

75

or higher)
Nintendo 3DS
75

25,42,8

69.0
0
22
PS Vita
75

26,48,1

70.7
0
8
And here are 2015's best-reviewed titles, regardless of platform (iPhone/iPad games are excluded; they're ranked in a separate article):
Best 2015 games by platform
PlayStation 4

| | |
| --- | --- |
| 2015 Avg. Metascore | 70.5 |
| vs. 2014 Avg. | 72.0 |
The Sony console's total of six 90+ games released in 2015 was tops among all platforms, and was also one higher than the PS4's total in 2014.
True, the average Metascore for all PS4 releases in 2015 fell by a point and a half compared to the previous year. That can be at least partially attributed to a large increase in quantity. There were over 130 additional titles released for the PS4 in 2015 than the year before, and only 42% of all PS4 releases this year were approved by critics (vs. 50% the previous year).
But that increase in quantity also brought something PS4 owners had been hoping for: exclusives. The previous year saw just four PS4 exclusives with positive reviews from critics. But 2015 was much better: 11 PlayStation exclusives scored 75 or higher, led by Bloodborne.
Xbox One

| | |
| --- | --- |
| 2015 Avg. Metascore | 70.4 |
| vs. 2014 Avg. | 72.4 |
The 2015 numbers were not quite as good for Microsoft's console as they were for the PS4. The average Metascore for XB1 releases dropped two points compared to 2014, and 2015 saw just two two 90+ releases released for the Xbox (both of which were also available on the PS4). And just seven Xbox exclusives received positive reviews from critics—four fewer than were released for the PS4.
Wii U

| | |
| --- | --- |
| 2015 Avg. Metascore | 67.1 |
| vs. 2014 Avg. | 66.8 |
The good news? There were actually more games released for Nintendo's console in 2015 than there were in 2014. The bad? There still were less than half as many Wii U releases than there were for the other major consoles, and there certainly weren't many great ones.
In fact, just one Wii U release hit the 90+ mark in 2015. Unfortunately, that release wasn't even a new game: it was a Mario Kart DLC pack. (In 2014, by comparison, three Wii U titles scored 90 or higher, and one of those was Metacritic's Game of the Year.)
PC games
| | |
| --- | --- |
| 2015 Avg. Metascore | 70.6 |
| vs. 2014 Avg. | 70.4 |
Impressively, five separate PC releases achieved a 90 or higher in 2015—four more than did so the prior year. That total includes the year's highest-scoring release, period: Grand Theft Auto V, which finally arrived on PCs in what might be its best version yet.
In fact, 163 computer games received positive reviews (75 or higher) from critics. That total blows away last year's figure of 132, which was itself the highest total we could remember. There is no question that for the biggest selection of good games this year, PC had every console beat by a mile.
Handhelds: Nintendo 3DS and PlayStation Vita

| | |
| --- | --- |
| 2015 Avg. Metascore | 69.0 |
| vs. 2014 Avg. | 67.3 |

| | |
| --- | --- |
| 2015 Avg. Metascore | 70.7 |
| vs. 2014 Avg. | 70.1 |
We can assure you that both Nintendo's 3DS and Sony's PlayStation Vita continued to exist in 2015. In fact, the number of total games released for each handheld device remained roughly the same for the third straight year.
That said, unlike the year before, neither device had a 90+ release in 2015. The closest they got was OlliOlli2: Welcome to Olliwood 85 for the Vita and The Legend of Zelda: Majora's Mask 3D 89 for the 3DS.
Here are the top 2015 releases for each handheld platform:
Bonus: The worst games of 2015
No year-end recap would be complete without a quick look the year's worst-reviewed releases:
What do you think?
What are your favorite games of the past year? Let us know in the discussion section below, or cast your vote for your favorites in our Best of 2015 Users Poll.