Uncharted 4: A Thief's End is the best game of 2016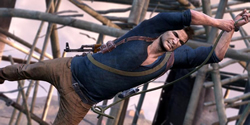 Nothing against our game of the year Uncharted 4: A Thief's End, an excellent ending to perhaps the all-time best series for Sony consoles, but we are still awaiting the explosion of great games that was supposed to come with the next generation of console hardware.
Much like the two years that preceded it, 2016 did not see any such uptick in superlative software. Just six unique titles scored 90 or higher on consoles during the past year—and one of those was an expansion pack.
At least more than one of 2016's great games (INSIDE and Overwatch) were brand new IP, which is more than we could say for the year before, when just a single great new title (Bloodborne) was introduced.
That said, 2016 was not without its gems. A bit further down the page, we'll reveal this year's best-reviewed games for each major platform (including PC and handheld games). Before that, here's a quick look at how each of the gaming platforms compared during the past year:
Console/PC Comparison - 2016
Console
# of Scored
Games*
Score
Distribution
Average Metascore
Great Games**
(

90

or higher)
Good Exclusives**
(

75

or higher)
PlayStation 4
445

158,261,26

69.1
4
13
Xbox One
294

106,170,18

69.8
4
3
Wii U
44

20,18,6

68.5
0
4
PC
450

178,251,21

70.8
5
46
Handheld Comparison - 2016
Console
# of Scored
Games*
Score
Distribution
Average Metascore
Great Games**
(

90

or higher)
Good Exclusives**
(

75

or higher)
Nintendo 3DS
57

25,31,1

71.9
0
20
PS Vita
46

23,23,0

73.1
0
0
And here are 2016's best-reviewed titles, regardless of platform (iPhone/iPad games are excluded; they'll be ranked in a separate report coming later this week):
Best 2016 games by platform
PlayStation 4

| | |
| --- | --- |
| 2016 Avg. Metascore | 69.1 |
| vs. 2015 Avg. | 70.5 |
In 2015, there were six 90+ games released for Sony's latest console, tops among all platforms. This past year, that total was down to four—a figure matched by the Xbox One and exceeded by PC.
The average Metascore for PS4 games also declined by over a point from 2015 to 2016. Even worse, fewer than 36% of all PS4 games released during 2016 received positive reviews from critics. That's down from a 42% approval rate in 2015 and 50% in 2014.
Why such a decline? There's an easy answer: there were far more titles released for the PS4 during 2016 than in past years. We were able to calculate scores for 445 individual PlayStation releases in 2016. The previous year? There were just 276 scored releases. And that huge increase in quantity, unfortunately, brought with it a great deal of mediocrity.
But it did bring some good news as well. There were 13 PS4 exclusives in 2016 scoring 75 or higher, up from 11 in 2015 and just four in the console's first year. That exclusive list was topped by our overall game of the year, Uncharted 4: A Thief's End.
Below, browse all of this year's highest-scoring titles for the PS4 console:
Xbox One

| | |
| --- | --- |
| 2016 Avg. Metascore | 69.8 |
| vs. 2015 Avg. | 70.4 |
Like the PlayStation 4, Microsoft's console also saw a year-to-year decline in average Metascore as well as in the percentage of releases receiving positive reviews (40.7% in 2015 vs. just 36.1% in 2016).
Worryingly, the number of positively reviewed exclusives also dropped for the Xbox One, down from seven in 2015 to just three in 2016. And those good Xbox exclusives weren't exactly household names. Topping the list is FRU, an indie puzzle-platformer. (While reviews were fairly good, it's not exactly Uncharted 4). Xbox gamers also got to enjoy the semi-exclusivity of Forza Horizon 3, a well-reviewed title that was also available for PCs (but not PlayStation 4).
Here were the best games released for the Xbox One in 2016:
PC games
| | |
| --- | --- |
| 2016 Avg. Metascore | 70.8 |
| vs. 2015 Avg. | 70.6 |
The world of PC gaming appeared to be strong in 2016. For the second straight year, five separate PC releases achieved a Metascore of 90 or higher. (That total goes up to nine if you include games receiving fewer than seven reviews, which we typically use as a cutoff for our high score charts.)
There was no shortage of good computer games in 2016. In total, there were 178 PC games receiving positive reviews in the past year, more than in any other year since we began compiling these year-end surveys in 2009 (and far more than any other gaming platform this year).
Wii U

| | |
| --- | --- |
| 2016 Avg. Metascore | 68.5 |
| vs. 2015 Avg. | 67.1 |
Nintendo's underperforming Wii U console was on its last legs in 2016, though its follow-up (the Switch)—once expected to arrive in late 2016—isn't due until next year. As a result, there was little new content for the old console released in 2016.
How little? We were able to calculate Metascores for just 44 different Wii U titles this year, down from an already-low total of 80 in 2015. And not a single one of those 44 games exceeded the 90+ mark. In fact, only eight of those games even received positive notices from critics.
Here are the top 2016 releases for the Wii U:
Handhelds: Nintendo 3DS and PlayStation Vita

| | |
| --- | --- |
| 2016 Avg. Metascore | 71.9 |
| vs. 2015 Avg. | 69.0 |

| | |
| --- | --- |
| 2016 Avg. Metascore | 73.1 |
| vs. 2015 Avg. | 70.7 |
The number of games released for the two remaining handheld gaming devices (the ones that aren't also phones, that is) remained roughly constant for the few years leading up to last year. But both Nintendo's 3DS and Sony's PlayStation Vita saw their total number of releases drop significantly in 2016. Could one or both of them be on the way out?
As in 2015, neither handheld platform had game score 90+ in 2016. The 3DS had far more exclusives than the Vita (which had no good ones this year), though a higher percentage of Vita games were positively reviewed (and had a higher Metascore, on average) than titles released for the 3DS.
Here are the top 2016 releases for each handheld platform:
Bonus: The worst games of 2016
No year-end recap would be complete without a quick look the year's worst-reviewed releases:
What do you think?
What were your favorite games of 2016? Let us know in the discussion section below, and make sure to vote for your favorites in our 7th Annual Metacritic Users Poll.