Netflix and chill? Not in Cannes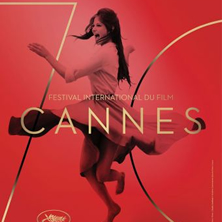 The 70th Cannes Film Festival began with a controversy over Netflix's inclusion in the competition (Netflix debuted both The Meyerowitz Stories (New and Selected) and Okja this year) and the resulting rule that the streaming giant would be barred from future festivals unless their films received a theatrical release in France. Stars, directors, executives, theater owners and festival organizers all weighed in, but with Netflix not going away, it will be an evolving story for years to come.
Opinions were also quite varied about the actual films screening at Cannes this year. Only one title left the festival with a Metascore in the 90s: Agnes Varda and JR's documentary Faces Places (Visages Villages). In the end, the jury spread the awards around and gave Nicole Kidman, who had three films and a TV miniseries (The Beguiled, The Killing of a Sacred Deer, How to Talk to Girls at Parties, and Top of the Lake: China Girl) at Cannes this year, a special 70th Anniversary Prize.
Overall, reviewers felt that this year's slate of films was weaker than those of the previous two years. But the jury, led by filmmaker Pedro Almodóvar, pleased most critics with their choices (especially after last year's jury awarded the Grand Prix to Xavier Dolan's middling Its Only the End of the World). The Square's Palme d'Or victory was a more popular choice amongst critics than 2016's I, Daniel Blake or 2015's Dheepan, but some critics were less forgiving of its overstuffed and shapeless nature than others. The only film to take away two awards (Best Screenplay and Best Actor) was Lynne Ramsay's fourth film, You Were Never Really Here, a bleak 85-minute contemporary noir that had the best Metascore of any competition title other than the Jury Prize winner, Loveless. Amazon Studios will be releasing You Were Never Really Here in theaters, and maybe Netflix will follow their distribution model in the future. Then again, probably not.
The award winners
Palme d'Or (1st place):
The Square
Drama | Sweden/Germany/France/Denmark | Directed by Ruben Östlund

Writer-director Ruben Östlund's latest "doesn't have the pure weapon-like clarity" of his 2014 Un Certain Regard Jury Prize winner Force Majeure, but "it sets out to make your jaw drop. And it succeeds," according to The Guardian's Peter Bradshaw. Rory O'Connor of The Film Stage agrees that while it's "not as slick and streamlined a film as Force Majeure it still hunts for that same meaty psychological game," resulting in an "acerbic, sphincter-tightening dark comedy that works as a sort of drawn-out spiritual castration for its über chic Stockholm art curator protagonist."

Picked as the favorite to take home the Palme d'Or by many critics attending the festival, BPM settled for second place at the 70th Cannes. Writer-director Robin Campillo's follow-up to Eastern Boys centers on ACT UP AIDS activists in Paris in the early 1990s as they fight against the indifference of their government. It's a "sexy, insightful, profoundly humane film," writes Variety's Guy Lodge, that focuses on the growing relationship between two members of the group, the outspoken Sean and newcomer Nathan. In his 5-star review, Peter Bradshaw of The Guardian praises the film's ability to combine "elegy, tragedy, urgency and a defiant euphoria."
Jury Prize (3rd place):
Loveless
Drama | Russia/France/Belgium/Germany | Directed by Andrei Zvyagintsev

After winning Best Screenplay for Leviathan in 2014, writer-director Andrei Zvyagintsev returned to the Cannes competition with a story that draws parallels between a divorcing couple's neglect for their 12-year-old child and the corruption infecting Russia. The New York Times's Manohla Dargis claims it's a "vision of breathtaking, casual cruelty that inexorably shifts from the personal into an indictment of a soul-sick country," and Peter Bradshaw of The Guardian believes the film has a "hypnotic intensity and unbearable ambiguity."
More awards
Other winners in the main competition this year include:
Outside the main competition, Mohammad Rasoulof's follow-up to Manuscripts Don't Burn, A Man of Integrity, won the top prize in the Un Certain Regard section of the Festival. Best Director there went to Taylor Sheridan for Wind River, which premiered at Sundance in January (and thus isn't listed below) and will hit U.S. theaters August 4th, and Michel Franco won the Jury Prize for April's Daughter. A special award for Best Poetic Narrative went to Mathieu Amalric's meta-biopic of French singer Barbara, starring Jeanne Balibar.
The Critic's Week sidebar awarded Emmanuel Gras' documentary Makala with the Nespresso Grand Prize, and Gabriel and the Mountain, directed by Fellipe Barbosa (Casa Grande), won the France 4 Visionary Award for best first or second feature. The Directors' Fortnight Art Cinema Award went to The Rider (detailed below) and Mediterranea director Jonas Carpignano's A Ciambra won the Europa Cinemas Label Award. Finally, this year's Palm Dog (presented for the best canine performance) went to Bruno, a standard poodle from Noah Baumbach's The Meyerowitz Stories. He's a very good boy.
Other notable films premiering at Cannes
Titles that previously debuted at another festival are not included here.
Want more?
Check out our previous film festival coverage for a recap of 2017's other major festivals.