Cowboys vs. aliens, indies vs. the Big 2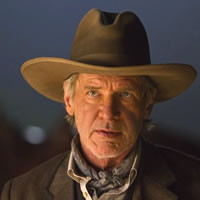 While fans coming out of Comic-Con might already be looking forward to next year's impressive lineup of major comic book adaptations (Ghost Rider 2, The Avengers, MIB 3, The Amazing Spider-Man, The Dark Knight Rises, Dredd), this Friday sees the release of one last comic book film for 2011, Cowboys & Aliens. Unlike many big screen adaptations of comic books, the source material for Cowboys doesn't come from the industry's two dominant players (Marvel and DC, of course), but an "indie," Platinum Studios. Do indie comics make for better movies than those from the two powers? In this article, we'll take a look at the varying degrees of success Marvel, DC, and the smaller publication houses have had in bringing their comic books and graphic novels to filmgoers everywhere.
The comic book adaptation has begun to monopolize the summer movie schedule, and while Marvel and DC characters, movies, remakes, reboots, and sequels dominate, movie studios are always looking for new material, so over the years, adaptations of properties like those from Dark Horse Comics, and now Platinum Studios' Cowboys & Aliens, have become more popular. Platinum's first comic book adaptation, Dylan Dog: Dead of Night, based on the Italian comic series, was a disappointment to critics and a notable box office flop when it (briefly) screened earlier this year. But hopes are high for Cowboys & Aliens, a $100 million production with director Jon Favreau (Iron Man, Iron Man 2), stars Daniel Craig, Harrison Ford and Olivia Wilde, and a loose adaptation that sticks to the themes and setting of the comic book, but re-imagines the story and characters.
So how have Marvel and DC fared compared to each other as well as the independents? We take a look below at comic book and graphic novel adaptations through the years, beginning with a head-to-head comparison. (Note to fans of The Phantom, Dick Tracy, Annie, and Dennis the Menace: our report does not include films based on comic strips; only graphic novels and comic books are included.)
Comic book movies by the numbers
Here is a comparison of how the movies of various comic book publishers have performed with critics and moviegoers. As you can see, while both DC and Marvel have similar average Metascores (as does Dark Horse, the largest individual indie publisher, with an average of 52for a dozen films), DC has a higher percentage of positively reviewed films.
Note that Scott Pilgrim vs. The World is the only movie based on an indie comic to receive positive reviews since 2008; Cowboys & Aliens hopes to become the second this week.
Average Critic Scores - Releases Since 1996
 
 
DC
Marvel
Indies + Foreign
Avg. Metascore
(All Films) *
52
16 films
54
25 films
53
34 films
% with Positive Reviews
(scoring

61

or higher)

44%

good

36%

good

35%

good
Last 5 Films

39

61

33

44

56

67

65

58

57

66

41

31

39

69

45


Movie Quality Breakdown - All Releases (including 1996 and earlier)
 
 
DC
Marvel
Indies + Foreign
# Great
4 (20%)
1 (4%)
3 (8%)
# Good
6 (30%)
8 (32%)
10 (27%)
# Mediocre
4 (20%)
11 (44%)
16 (43%)
# Bad
6 (30%)
5 (20%)
7 (19%)
# Awful

0

(0%)

0

(0%)
1 (3%)
(# Unscored)

10

4

18


Domestic Box Office Performance (Adjusted for Inflation) ** - All Releases
 
 
DC
Marvel
Indies + Foreign
Avg. Gross
$157.5m
$178.9m
$67.9m
Last 5 Films
$70.8m
$149.2m
$39.6m
Films > $100m
13 films (48%)
19 films (70%)
8 films (16%)
Biggest Hit
(inflation-adjusted)
$583.9 million
The Dark Knight (2008)
$546.2 million
Spider-Man (2002)
$429.3 million
Men in Black (1997)
Major Flop
(not inflation-adjusted)
$10.4m ($47m budget)
Jonah Hex (2010)
$6.9m ($15m budget)
Red Sonia (1985)
$4.1m ($25m budget)
Tank Girl (1995)
On the next page ...
We take a closer look at each comic publisher's films, starting with DC ...