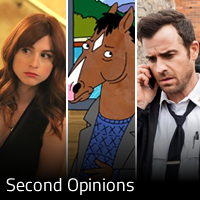 Sometimes, it pays to stick with a new program after a so-so start, and sometimes that optimism never gets rewarded. Below, we gather recent opinions from critics who have re-evaluated some of this summer's notable shows. In some cases, they've discovered gems that they dismissed when the shows first debuted.
Shows are listed in no particular order, and individual scores are given only in rare cases where the entire season was graded by a publication after the season finale.
Notable new shows
You're the Worst

FX | Comedy | Premiered July 17, 2014
What it is:
A single-camera comedy centering on two rather unlikable and self-centered people who decide to enter into a relationship with each other despite their aversion to romance. The season finale airs Thursday night (though all episodes can be found online), and FX has yet to renew the series.
Who's involved:
Stars Chris Geere (various UK series but little known in the US) and Aya Cash (The Wolf of Wall Street). Created by Stephen Falk (a writer for Weeds).
What critics said then:
Critics found instant chemistry between the leads, but found the material given to them in early episodes lacking. Many reviewers did see potential for improvement down the line. Two months later, Worst has become critics' favorite show of the summer ...
Recent comments from critics
The Leftovers

HBO | Drama | Premiered June 29, 2014
What it is:
A bleak drama (based on Tom Perrotta's novel of the same name) set in a world where 2% of the population mysteriously vanishes. The series finale aired on September 7th, and it will return next year for a second season despite lackluster ratings.
Who's involved:
Creators Damon Lindelof (Lost) and Perrotta (Election), stars Justin Theroux, Amy Brenneman, Ann Dowd, Christopher Eccleston, and Liv Tyler.
What critics said then:
It was divisive then, and it remains divisive now. Some critics wrote glowing reviews at the time of the premiere, while others dismissed it as incoherent and overly grim, slow, and uneventful. Even those who liked the show called it difficult to watch.
Recent comments from critics
BoJack Horseman

Netflix | Animation/Comedy | Premiered August 22, 2014
What it is:
Netflix's first animated original series for adults centers on a washed-up 1990s TV star (who happens to be a talking horse) as he tries to rebuild his career in Hollywood. All 12 episodes are available to stream on Netflix, and the show will return for a second season next year.
Who's involved:
The voices of Will Arnett, Aaron Paul, Amy Sedaris, Paul F. Tompkins, Alison Brie, Patton Oswalt, and many more.
What critics said then:
Critics actually liked some of the background humor in the early episodes sent for review, but many were unimpressed by the series, finding it too strange and unfunny. (It skews toward the Adult Swim crowd, which historically hasn't much overlapped with the critical community.) BoJack has actually escaped the notice of many critics, but the few who have watched it all the way through to the end note that it builds considerably as it progresses, and several wound up loving it. Consider it an under-the-radar gem.
Recent comments from critics
What it is:
A 1980s-set drama that finds a tiny Texas start-up attempting to develop a rival computer to IBM's PC. The first season has concluded, and AMC shocked observers by renewing the show for a second season despite miniscule viewership levels.
Who's involved:
Stars Lee Pace (Guardians of the Galaxy), Scoot McNairy (Argo), Mackenzie Davis (Smashed), and Kerry Bishé (Scrubs).
What critics said then:
Critics were only provided one episode at the time (unusual for a cable drama), and they found it a bit tentative and underdeveloped, though it was a solid enough beginning that they were cautiously optimistic that it could turn into a good show. That did indeed happen for some critics (see below), who felt that it finally came into its own in the last few episodes. Others, however, never warmed to the series.
Recent comments from critics
Tyrant

FX | Drama | Premiered June 24, 2014
What it is:
An Arab Spring-themed political thriller focusing on the exiled son of a dictator who returns to his war-torn Middle East nation (along with his American family) for the first time in 20 years and becomes caught up in his country's turbulent politics when his father dies. The first season wrapped up a few weeks ago, and the series has not yet been renewed.
Who's involved:
Creators Howard Gordon and Gideon Raff (both from Homeland) and Craig Wright (Six Feet Under); director David Yates (Harry Potter films); star Adam Rayner (Hawthorne).
What critics said then:
About a third of critics liked the premise (sort of a Middle Eastern take on The Godfather), but the rest complained about the acting and writing. Unfortunately, those problems only seemed to get worse as the season progressed ...
Recent comments from critics
The Strain

FX | Horror/Sci-fi | Premiered July 13, 2014
What it is:
A modern-day vampire thriller (about a mysterious viral outbreak) from Guillermo del Toro and Chuck Hogan, based on their own book trilogy. Three more episodes remain this season, and the series has already been renewed for a second season.
Who's involved:
Writer-director Guillermo del Toro (Hellboy, Pan's Labyrinth); producer Carlton Cuse (Lost); star Corey Stoll (House of Cards).
What critics said then:
Critics found the opening episodes genuinely creepy, though some found it silly or too superficial and uneventful after the opening hour. We'll know more about where critics now stand after the season finale in a few weeks but, judging from those writers covering the show on a weekly basis, recent episodes (well, maybe not the last one) have shown improvement compared to the first half of the season, even if the show as a whole still is far from great.
Recent comments from critics
Note that second opinions on Outlander or The Knick have yet to arrive, since critics received an unusually large batch of episodes for each show prior to the start of the season, and we haven't yet reached the point where reviewers are seeing new episodes for the first time. And while critics seem to be disappointed by CBS newcomer Extant (which concludes tonight), they generally haven't been writing about that show.
A few notable returning shows
What it is:
An acclaimed period drama about pioneering sex researchers William Masters and Virginia Johnson. A few episodes remain before the season finale on September 28th, and the show has been renewed for a 3rd season.
Who's involved:
Stars Michael Sheen, Lizzy Caplan, Caitlin Fitzgerald, and Teddy Sears; creator Michelle Ashford (The Pacific).
What critics said then:
Critics mostly loved the first few episodes of the season, which they felt surpassed last season in quality. Those high marks haven't necessarily held up, however, as some reviewers feel that the subsequent episodes have been far more uneven—especially in the moments spent away from its two leads.
Recent comments from critics
What it is:
A cross-border crime drama based on a Danish-Swedish series (though here, the setting is Texas and Mexico). Last year's serial killer story is long gone, replaced by a multitude of interconnected storylines in the same setting. FX has yet to announce a season 3 renewal, and very low ratings suggest that announcement isn't coming anytime soon.
Who's involved:
Stars Diane Kruger, Demián Bichir, Annabeth Gish, Matthew Lillard, and Emily Rios.
What critics said then:
Critics felt that the first episodes of season 2 were unfocused and overly complicated, though there was some praise for the show's attention to detail and ambition. Since then, a few reviewers have noticed that the show has quietly become one of the best dramas now airing on TV; at the very least, it's a definite improvement over the problematic first season.
Recent comments from critics
What do you think?
Have you been watching any of these shows this summer? Do you agree with the recent critic comments? Let us know in the comments section below.