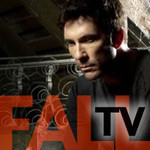 Our look ahead to the 2011 Fall TV season continues with a look at what the major cable networks have to offer over the next few months. When you are through here, consult our complete calendar of premiere dates for all shows; and, for shows on the major broadcast networks (as well as nightly primetime schedules), visit our already published night-by-night guide.
Fall cable highlights by network
The following is not meant to be an all-inclusive listing of upcoming cable shows; rather, we've selected the new and returning programs that are of particular interest to our readers.
Adult Swim
China, IL (Sunday nights at 12:15a, starting Oct. 2) Watch original short
This new animated series from comic book artist Brad Neely (who also created the America Now shorts for Adult Swim) originated as a series of Super Deluxe shorts. The central characters remain Frank and Steve Smith (aka "The Professor Brothers"), who teach history (poorly) at an Illinois state university.
The Heart, She Holler (Sunday nights at 12:15a, starting Nov. 6)
Patton Oswalt and Heather Lawless star in this live-action hillbilly soap opera spoof produced by Wonder Showzen creators PFFR.
Robot Chicken (Sundays at 11:30p starting Oct. 23)
The long-running stop-motion comedy returns with ten new episodes in October.
Coming in midseason:
Black Dynamite is a 30-minute animated show based on the 2009 blaxploitation spoof film of the same name; Michael Jai White, Tommy Davidson, and JB Smoove head the cast ...
Tight Bros is an animated comedy featuring two brothers who are religious by day and avid clubgoers by night ... Also premiering in the spring are new seasons of returning shows Delocated, Eagleheart, Metalocalypse, Marry Shelley's Frankenhole, and Squidbillies.
AMC
Hell on Wheels Watch trailer

(Sundays at 10p starting Nov. 6)

AMC's newest original series is a western that focuses on the rise of the railroad industry in the period immediately following the Civil War. Anson Mount (City by the Sea, Cook County) stars as a former Confederate soldier who seeks revenge against the Union soldiers who murdered his wife; the cast also includes Common, Ben Esler (The Pacific), and Colm Meaney (Star Trek: Deep Space Nine), and the series comes from Joe and Tony Gayton (Faster).
The Walking Dead Watch trailer

(Sundays at 9p starting Oct. 16)

A hit for AMC during its brief debut season last fall, zombie apocalypse tale The Walking Dead returns for a longer (13-episode) second season, but will do so without Frank Darabont, who was fired as showrunner in a much-publicized dispute with the network over the show's budget. Replacing him will be Glen Mazzara, who has worked on shows such as Hawthorne and The Shield and wrote Dead's fifth episode last season, but he'll have to deal with a budget that is reportedly $650,000 less per episode. Fans of Robert Kirkman's comics will recognize the Greene family farm, which is the setting for much of the action in year two. New cast members this season include Lauren Cohan (Supernatural) and Pruitt Taylor Vince (The Mentalist).
Coming in midseason: Mad Men returns in March for a fifth season after a longer-than-normal hiatus; star Jon Hamm will direct the premiere ... After alienating most of whatever viewers it had left at the conclusion of its debut season, The Killing returns for a second season next spring to finally reveal who killed Rosie Larsen.
BBC America
Luther Watch trailer

(Wednesdays at 10p starting Sep. 28)

Idris Elba (The Wire) earned an Emmy nomination for his portrayal of troubled detective John Luther in last year's debut season of the stylish, moody, and a bit over-the-top BBC crime drama Luther. In this new batch of episodes, Luther finds himself working in a new unit that focuses on serial killers, and his first target is busy carrying out ritualistic murders in historic locations throughout London. The second season is short even by British television standards; it runs for just four hours, divided into two cases.
24 Hours in the ER (Tuesdays at 9p starting Sep. 27) Watch trailer
This 14-part documentary series takes a look at real cases inside one of London's busiest emergency rooms.
Bedlam (Saturdays at 9p starting Oct. 1 at 10p) Watch trailer
Bedlam Heights may look like a hip new apartment building, but it comes with some baggage as a result of its former use as an insane asylum: the haunting of its current residents by ghosts of former inmates. This supernatural drama runs for six episodes, with a second season already in the works.
Free Agents (Saturdays at 11p starting Oct. 1)
While NBC's Americanized take on the BBC workplace rom-com Free Agents is debuting this fall, U.S. audiences will also get a chance to see the original six-episode British series for the first time. Both versions share a star: Anthony Head, who plays the boss in each.
The Nerdist (Saturday at 10p on Sep. 24)
Comedian Chris Hardwick brings his acclaimed Nerdist pop culture blog/podcast to the small screen, where he's joined by Craig Ferguson and Doctor Who's Matt Smith. For now, it's just a one-off special; if enough of you watch, it could be a series.
The Thick of It (Saturdays at 11:30p starting Nov. 12)
The Thick of It returns with eight new episodes this fall. This multiple BAFTA award-winning political comedy from Armando Iannucci about the inner workings of British government produced an even more acclaimed (and hilarious) movie spin-off, In the Loop. While an American adaptation never got off the ground, HBO will instead launch Veep, a different but similar series from Iannucci next spring.
Whitechapel (Wednesdays at 10p starting Oct. 26)
This six-part crime drama is set in London, where modern-day detectives must hunt down serial killers who are recreating famous crimes from the past, including those of Jack the Ripper and the Kray twins.
Discovery
Penn & Teller Tell a Lie (tbd October)
Penn & Teller's long-running Showtime series Bullshit! has concluded after eight seasons, but the comedy-magic duo are returning to cable in a new series, and this time, they will be the ones responsible for the BS. In each episode of Tell a Lie, the pair will present six or seven strange-but-true science-oriented stories, though one of them will be completely fabricated, leaving the audience to guess the lie each week (similar to the old Fox show Beyond Belief: Fact or Fiction, but presumably with more sarcasm).
FX
American Horror Story Watch trailer

(Wednesdays at 10p starting Oct. 5)

One of the most talked-about new fall shows, American Horror Story divided critics when they previewed the pilot last month during their summer press tour. The creepy thriller comes from Glee creators Ryan Murphy and Brad Falchuk, though its darker, weirder sensibility is much closer to Murphy's Nip/Tuck than to the hit Fox musical, and the overloaded first episode, at least, somehow seems to be even more over the top than Nip/Tuck ever was (observed Time critic James Poniewozik, "This pilot is insane"). Even critics who were skeptical, however, found it scarier than TV usually gets, and refreshingly different. Dylan McDermott (The Practice) and Connie Britton (Friday Night Lights) play the parents of a teenage girl who move from Boston into a Los Angeles home that may be haunted. The first-year cast also includes Oscar winner Jessica Lange (in her series television debut), Frances Conroy (Six Feet Under), Eric Close (Without a Trace), and Alexandra Breckenridge (True Blood). Frequent Joss Whedon collaborator Tim Minear is also a producer on the show.
It's Always Sunny in Philadelphia Watch trailer

(Thursdays at 10p starting Sep. 15)

The politically incorrect cult hit is back and bigger than ever—well, at least Mac is, since star Rob McElhenney gained 50 pounds in real life to fuel one of season 7's upcoming storylines. You can also expect to see the gang's high school reunion, a baby funeral, a trip to the Jersey shore, and a children's beauty pageant (though not all in the same episode). FX has already picked up the show for an eighth season to air in 2012.
Sons of Anarchy Watch trailer

(Tuesdays at 10p starting Sep. 6)

Kicking off with an intense 90-minute premiere on September 6, the critically acclaimed (though Emmy-neglected) biker gang drama—which also is FX's all-time highest-rated series—returns for a fourth season that takes place 14 months after last season's finale, with the focus returning to the town of Charming. Rockmond Dunbar (Terriers) joins the cast as the town's new sheriff, while Danny Trejo will guest in several episodes.
Archer (Thursdays at 10:30p starting Sep. 15)
FX's animated spy comedy doesn't officially return for its third season until early 2012, but fans won't have to wait quite that long; the first three new episodes of the season will air in September, forming a strong (if ephemeral) Thursday night comedy tandem with It's Always Sunny in Philadelphia.
The League (Thursdays at 10:30p starting Oct. 6)
Seth Rogen will guest (as the often mentioned but never before seen Dirty Randy) on the third season of FX's fantasy football comedy, which would have featured a non-football storyline this year in the event of a longer NFL lockout. That uncertainty, however, delayed the season premiere to October. SNL's Will Forte will also guest.
Coming in midseason: After Justified went from a good show in season 1 to a great one in its sophomore year, count us among those fans eager to see what the series does for an encore when it returns for a third season in early 2012.
On the next page ...
Continue reading for a look at new fall shows for HBO, Showtime, MTV, and more ...