Game of Thrones, Episode 210: "Valar Morghulis"

Original airdate: June 3, 2012 on HBO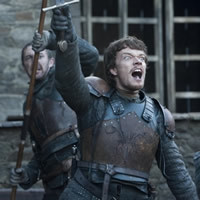 Spoiler warning: This page may contain descriptions of events in this and previous episodes.
Directed by Alan Taylor, Sunday night's 70-minute, second-season finale of HBO's Game of Thrones wrapped up a few loose ends while mainly serving to set up the action for the third season, which will air in 2013. Below is a sampling of the response from professional critics to this week's episode, followed by some additional comments about the season as a whole.
A.V. Club / David Sims
The only flaw with this episode is that it really leaves you wanting more. [Grade: A]
The Playlist / Oliver Lyttelton
There was an extra ten minutes to play with for the finale, and it really helped the show breathe a little more: the choppiness of some of the season was thankfully absent. [Grade: A]
Televisionary / Jace Lacob
A powerful episode that built up on the magnificent set piece of the Battle of the Blackwater that last week's episode provided. Despite the fact that, after such a momentous event, the final episode could have felt more like a denouement than a riveting installment in itself, "Valar Morgulis" instead further teased out more tension, drama, and dread, offering an ending to the season that was flooded with possibility, both of life and and of death... but ultimately of change.
Baltimore Sun / Luke Broadwater
It wasn't as thrilling an episode as last week's "Blackwater," but the season finale advanced at least seven major plotlines, including perhaps the two most important.
Cinema Blend / Jesse Carp
Okay, so "Valar Morghulis" was a pretty great episode even if it was betrayed by the sheer number of story lines to advance.
Cultural Learnings / Myles McNutt
For the most part, ... "Valar Morghulis" follows the example of last year's finale, largely focusing on pivoting towards future storylines. ... Both episodes also spent a lot of time with characters taking stock of what has happened, settling on a course for the future, and then largely disappearing as other storylines took over. The difference, though, is that there is something more substantial to take stock of. ... If last season's finale was designed to solidify that these characters are not simply meant to live normal lives, consigned to a life at the heart of this conflict whether or not they choose that life, "Valar Morghulis" was about how that experience has changed them, and how the beginnings of their journey will prepare them for what's to come. It may be the same structure, in other words, but the result is a stronger finale, and a good burst of momentum into a third season.
Den of Geek / Ron Hogan
After the focus of last week, it's a nice return to what's comfortable and traditional for the show.
Entertainment Weekly / James Hibberd
Overall, there's more closure in this episode than I would have thought possible.
Huffington Post / Maureen Ryan
Director Alan Taylor has not let us down yet; much of this episode had the visual poetry and compassionate precision that he generally brings to the show. He has an uncanny ability to find the emotional center of every part of the story, and though all of the Season 2 directors have been very good, Taylor was able to infuse large parts of this hour with an elegiac, even lyrical quality.
IGN / Matt Fowler
A great way to close out the season. [Grade: 9/10]
Screen Rant / Kevin Yeoman
Most impressive ... is the way the episode takes the elements that have largely existed as the nonessential story lines (Jon Snow and Daenerys Targaryen (Emilia Clarke), and position them to be the catalyst for season 3.
Time / James Poniewozik
Even where Benioff and Weiss simply needed to drop variations of "To Be Continued…" on us, they managed to do it in ways that deepened our feeling for and understanding of the characters.
TV.com / Tim Surette
Game of Thrones is like 10 shows in one, but the cool thing that was on display in the finale was how even though the world we see continues to get bigger, new characters are introduced, and other characters diverge into their own storylines, each plot is beginning to bleed into each other and we're seeing the series less as a bunch of characters occupying the same world and more as the story about that world as told through the eyes of the characters.
TV Fanatic / Matt Richenthal
I didn't go into "Valar Morghulis" with any preconceived notion that any storylines would really be tied up, but I still came out of it disappointed in a Season 2 finale that felt a lot more like a Season 3 prologue. [Grade: 3.9/5]
TV Overmind / Sam McPherson
While a few of the episode's storylines fell short (almost inevitable, given how many of them there were), "Valar Morghulis" ultimately both capped off an exciting season and managed to lead into what promises to be an even more exciting third season.
The Wall Street Journal / Marshall Crook
"Valar Morghulis" had more momentum than most of this season's episodes, though it would be hard to top last week's stunner "Blackwater."
CliqueClack TV / Carla Day
The finale of Game of Thrones was like much of the season — slow.
HitFix / Alan Sepinwall
It felt like an hour and ten minutes of "where are they now" epilogue material after the season properly climaxed with "Blackwater." ... But in a few individual moments — Theon speaking to Maester Luwin, Tyrion confessing to Shae why he can't leave this horrible place, even Dany being reunited with her beloved Khal Drogo in some kind of dream space — "Valar Morghulis" was completely, utterly, powerfully honest.
Variety / Brian Lowry
While the penultimate episode was a soaring highlight -- so good, in hindsight, that a letdown was perhaps inevitable -- the season's last hour buckled in places under the weight of having to juggle so many concurrent subplots.
What about the season as a whole?
Several critics have also taken a broader look at the just-concluded second season in addition to the finale episode:
"Why has the series' second season been so much better than its first? ... The answer lies in how the show structures its episodes. ... In its second season, Game Of Thrones has done something that seemed nearly impossible, and done it largely without breaking a sweat. The storylines move quickly, but still leave time for character development. The thematic development is rich, but it doesn't overwhelm the plot twists. And by organizing every episode in a soap-opera structure that allows the show's start-and-stop nature to feel organic, rather than forced, the series has solved a problem that's bedeviled TV producers for some time."

—Todd VanDerWerff, A.V. Club
"Season 2 as a whole has been tremendously satisfying, given how well it has distilled Martin's themes of love, loyalty and perseverance with coherence, compassion and spectacular -- no, stunning -- visuals."

—Maureen Ryan, Huffington Post
"If you can't understand 'Game of Thrones' without constant annotations from people who have read the books, then it has failed as a television show. There were a few instances here and there in the first season where I felt Benioff and Weiss did a poor job of letting newbies in on a key piece of information (that Theon was a well-kept hostage of the Starks, for instance), but for the most part, I could track it all. But as the scope of the series has expanded this season to include more characters, more locations, more kings, I'm starting to wonder if it's impossible to fully appreciate and enjoy all that's happening without that book knowledge. And I imagine that's only going to get trickier as the series moves along. "

—Alan Sepinwall, HitFix
"This season has not been without its failings. Chief among them was the pacing. Yes, it's hard to marshal a huge cast and a number of disparate storylines but I felt that the writers often dropped the wrong strands. ... [But] I would stress that I have loved this season, flaws and all."

—Sarah Hughes, The Guardian
"The final two episodes have demonstrated the dynamism that Game Of Thrones' tight serialization can provide, like no other show on television right now. On the other hand, there are serious issues with Game Of Thrones' structure. They can certainly be masked by momentum, but the connection—or lack thereof—of the myriad of stories has to be a constant concern for the series' fans and creators."

—Rowan Kaiser, Press Play
"I never loved Book Two, 'A Clash of Kings,' which served as the primary text for this second season. The book lacked momentum and Season Two often suffered the same pacing problems. In truth, I always felt the show was best when it deviated from the source material (i.e. the stolen dragons plot thread)."

—Marshall Crook, The Wall Street Journal
"The second season of this series attained a majesty and confidence beyond its already impressive first season. What the show has lost in the focus on a single family and protagonist, it's gained in establishing its own voice separate from the books. The show has managed to make the fantastical believable (visually and psychologically) so well that it's easy to forget that, before it started, people were wondering whether you could even pull off fantasy on TV. And it has managed to cat-herd the biggest sprawl of story and character on TV without (mostly) getting its larger überstories lost amid the details."

—James Poniewozik, Time
"This was a truly exciting and well-made season, one that may actually trump its predecessor – a rare feat in both television and film."

—Kevin Yeoman, Screen Rant
What do you think?
What did you think of last night's episode, and of the entire second season? Let us know in the comments section below. Feel free to discuss all events in the first two seasons of the show, but please DO NOT DISCUSS ANY ELEMENTS FROM THE BOOKS; we don't want to spoil the show for those viewers who have not read the novels.