Homeland, Episode 112: "Marine One"

Original airdate: December 18, 2011 on Showtime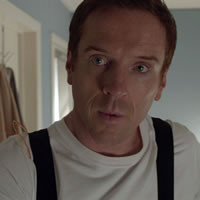 Spoiler warning: This page contains descriptions of events in this and previous episodes.
Showtime's first-year thriller Homeland was this fall's best-reviewed new series, and it just picked up three Golden Globe nominations (and will no doubt earn even more recognition at next year's Emmys). Did last night's finale manage to meet the heightened expectations that come with a critically acclaimed show? Below, we sample this morning's reaction from TV writers and critics.
The Atlantic / Scott Meslow
As a finale, "Marine One" was smart and impressively dark, paying off most of the series' major plot points and answering the central "Is Brody a terrorist?" question with a definitive yes. ... But as the first season ends with a bang, then a whimper, the question remains: Where can Homeland go from here?
The Atlantic Wire / Richard Lawson
The whole gist of the episode, basically whether or not Brody would follow through on his promise and blow everyone up, was fun to watch even if we knew at least basically where it was going.
A.V. Club / Todd VanDerWerff
I've seen people writing this episode off because Brody doesn't die, because, indeed, he figures out a way to play his utter failure to blow himself up to his advantage. And I get that impulse, particularly after this fall, where only a couple of shows had the guts to pull that trigger, and one of them was a show where the dead could stay in the cast. Yet I thought the use of showing why Brody doesn't ultimately do it was pretty masterful, all the same. [Grade: A]
Cinema Blend / Jesse Carp
Another impeccably acted and written episode, the drama stuck to the kind of storytelling that has made it both so believable and so riveting thus far.
Denver Post / Joanne Ostrow
If Showtime weren't compelled to produce a second season, the writer-producers of "Homeland" surely wouldn't have chosen the easy out they did. ... The sometimes unworthy final 90 minutes was too invested in setting up future storytelling possibilities, more concerned with exposition than genuine emotion or logic.
Entertainment Weekly / Ken Tucker
The finale's beautifully choreographed set-piece was the way Homeland maneuvered the bomb-rigged Brody into position next to Vice President Walden. ... All in all, a terrific end to a terrific first season of Homeland.
Grantland / Andy Greenwald
"Marine One" was a thrilling and devastating conclusion to what has been a supremely artful season of television. Homeland took the best of network TV — the sexy stakes, the Us vs. Them blueprint, the remarkably well-functioning face-recognition technology — and submerged them in the moral murk of cable. Straddling a divide that would have split lesser showrunners in two, creators Howard Gordon and Alex Gansa never stopped taking chances, doing their best work in the gray areas that 24, their previous collaboration, rejected.
HitFix / Alan Sepinwall
They did it. They stuck the landing, ended this season satisfyingly, while plausibly setting things in motion for season 2.
The Hollywood Reporter / Jethro Nededog
So while it was a tall order, Homeland achieves something it had done all season – balance the desires of both Carrie and Brody.
Huffington Post / Michael Hogan
Now that's how you end a season, ladies and gentlemen! There were no silly curveballs and no last-minute switcheroos in tonight's "Homeland" finale. True, Brody's "wardrobe malfunction" was a bit predictable, given that the episode promo had shown him in about five different scenes that hadn't yet happened at the point in the episode when he was supposed to press the detonator. But all in all, this was a monumentally satisfying, forward-leaning episode, one that resolved many of our most burning questions while leaving plenty of room for future drama.
Huffington Post / Maureen Ryan
Once again, the show's leads gave breathtaking performances that fully captured the intensity of the characters' experiences without ever going over the top. [The link above also includes an interview with the show's producers.]
Los Angeles Times / Mary McNamara
Throughout the season, creators Howard Gordon and Alex Gansa have been able to maintain the show's fever pitch not so much through plot as through composition. "Homeland" overcomes its histrionics through nothing more or less than a remarkable sense of balance, beginning with its main characters. ... The finale stayed true to this particular blend of high drama and humanity. Although the season could have easily ended with the failed bombing scene, it did not. We saw the next day and the next, the repercussions stacking themselves up, the truth refusing to be unveiled in some cheap magician's flourish because truth is rarely revealed that way.
The New York Times / Alessandra Stanley
For a show that has steadily improved from a very good start, Sunday's finale took a bold, unexpected step to lay the groundwork for a second season. It didn't finish the story, but put it on a tantalizing pause. Best of all it kept faith with this Showtime series's underlying mandate: sustaining some of the adrenalin rush of "24" with none of that Fox show's more cartoonish feints.
Orlando Sentinel / Hal Boedeker
The beauty of the "Homeland" season finale is it left you pulling for [Carrie] as never before. Great show.
Pittsburgh Post-Gazette / Rob Owen
Showtime's brilliant "Homeland" ended its first season last night by raising more questions than it answered. ... Rather than an ending, "Homeland" hit a reset button.
Salon / Matt Zoller Seitz
This was a mostly terrific debut season, maybe the most unpredictable single year of a drama that I've seen since the first season of "Breaking Bad." And there were enough plot threads left dangling to give "Homeland" somewhere to go next year. ... Whether the series tops itself, becomes an embarrassment, or just sort of runs in place until everyone forgets it's on, we'll always have this magnificent first year to marvel over and revisit.
Screen Rant / Kevin Yeoman
What the audience is left with is a tense, well-written and superbly acted 90-minute season finale that not only answers the pressing points of ambiguity and reason, but also introduces Homeland's ability to move beyond what may have been perceived as the corner it had been painted into.
Slate / David Haglund
The writers managed to craft a suitably dramatic ending, while also setting up Season 2. Just on that level, the show succeeded. They did not convince me that they are anything but opportunistic, though, which is my underlying problem with the show—not that it's poorly done, or that they won't be able to sustain it, but that the show is ultimately not serious.
Slate / June Thomas
I have some questions, some concerns, some annoyances, but I feel like I've just stepped off a roller coaster, and it's amazing when television can produce that kind of physical sensation. ... Finales—even of seasons—are often a letdown. This wasn't—its faults were the same faults it has had since the beginning.
Time / James Poniewozik
"Marine One," a tautly constricted and brilliantly acted episode, brought the first season to a thrilling end and used its talented two leads, Claire Danes and Damian Lewis, to show how each character dealt with the pressures of their lonely war and overcame them, or were overcome by them.
TV Fanatic / Dan Forcella
This season finale had me on the edge of my seat for the entire 90 minutes. [Grade: 5/5]
TV Guide / Matt Roush
I'm sure there will be some unwilling to forgive Homeland for pulling its punches at the last minute so the show could go on. ... But did it blink, really?
Variety / Brian Lowry
The extended finale was almost unbearably suspenseful, while hewing closely enough to recent real-life events so as to feel plausible.
Vulture / Joe Reid
A pretty great finale.
What do you think?
What did you think of last night's episode, and of the show as a whole this first season? Did it live up to the initial promise of the first few episodes? Let us know in the comments section below.