Homeland, Episode 212: "The Choice"

Original airdate: December 16, 2012 on Showtime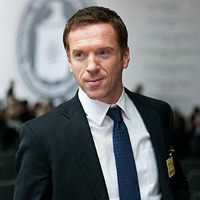 Homeland, a series that could seemingly do no wrong over much of its first two years on Showtime, finally showed signs of faltering during the later weeks of its sophomore season, thanks to a series of somewhat implausible plot twists more worthy of 24 than of a critically acclaimed, Emmy-winning series. Did last night's surprisingly explosive season finale right the ship? For some reviewers, it did, a bit; for others, the hour introduced new problems. Sample the morning-after response below.
A.V. Club / Todd VanDerWerff
I'm not sure this episode works as a season finale, even as I love it as an episode of television. [Grade: A-]
Collider / Allison Keene
The Brody Problem is one the show can't seem to address well — can't live with him, can't live without him. And as big of a fan as I am of the star-crossed lovers motif in general, there's something boring and, well, just plain annoying about Brody and Carrie's extended scenes together. [Grade: A-]
Entertainment Weekly / Ken Tucker
The tension of this finale was deftly achieved; it really worked: every time Carrie and Brody went into a clinch, I expected one of them to shoot the other in the back.
Grantland / Andy Greenwald
After a breathless return that saw the show binging on plot like Carrie Mathison left alone with a box of Chardonnay, recent episodes have ranged far from the reservation, alienating wavering viewers with an abundance of action and a sudsy indulgence in doomy romanticism. But 'The Choice' — last night's deeply satisfying, deeply moving season finale — was a reminder that this fundamental imbalance is Homeland's greatest achievement. ... So does one explosive finale make up for a few episodes of disappointing ticking? I'd say yes.
Huffington Post / Maureen Ryan
All in all, I'm satisfied with the finale. This felt more like the show I'd come to know over the first 20 hours of its existence, though I have reservations about Brody's continued presence.
IGN / Scott Collura
O.K., I guess Homeland has managed to keep me hooked with this second-season finale, which somewhat amazingly has rebounded from the increasingly erratic and outlandish outbursts of the past several episodes. Of course, in order to achieve that rebound, 'The Choice' had to get outlandish some more, while also giving us a good dose of nice character moments along the way. [Grade: 8.9/10]
Los Angeles Times / Margaret Eby
It's tempting to say that the second season finale has put the show squarely back on its feet. After the rat-tat-tat high jinks and wild terrorist plots of the last few episodes, this episode managed to balance finely tuned character moments with explosive plot twists. By the end, it seemed that "Homeland" had definitely gotten its groove back.
The New York Times / Alessandra Stanley
It was surprisingly good. ... For much of the second season, the writers had built up low expectations, giving even devoted viewers reason to feel cheated. The finale proved them wrong.
Screen Rant / Kevin Yeoman
Once the explosion rips through the CIA headquarters, there's a lot to like about the Homeland season finale.
ShowBuzzDaily / Mitch Salem
With its second season complete, it's fair to say that Homeland is a marvelously entertaining, spectacularly acted drama but not quite one of television's best. It simply lacks the thematic cohesion of a Mad Men or Breaking Bad, and it's prone to narrative messiness.
TV.com / Tim Surette
A satisfying, jarring, and uneasy hour of television. ... Overall, I dug the finale for putting Homeland back into a place where I think it's at its strongest: in uncertainty. It might not have atoned for some of the silliness that came before it, but there was an ample amount of course correcting so that we're at least back to a point of interest where the possibilities are plenty.
TV Equals / Adam Newland
In and of itself, this episode of Homeland was really well done. The action blended nicely with the interpersonal work that has become a hallmark of the show.
TV Fanatic / Dan Forcella
Maybe it was just that Carrie and Brody worked so poorly together as a couple, but the performances of Danes and Lewis didn't seem nearly as impressive this season in comparison to what we witnessed a year ago. Patinkin, on the other hand, gave us everything we enjoyed about Saul and more. [Grade: 3.5/5]
Cultural Learnings / Myles McNutt
The season makes more sense as a result of the events in "The Choice," but it didn't necessarily become any more successful than the mixed bad heading into the finale, capping off a season of television that I admire for its commitment and question for its choices.
HitFix / Alan Sepinwall
The last few episodes had been such a mess that the finale arrived with the show already screwed up, and ... we wanted 'The Choice' to retroactively make the stupid parts of recent weeks somehow much less stupid. And amazingly, it did accomplish that. ... But I'm still not sure how satisfying a finale it was, because so much of it hung on a relationship I haven't felt emotionally connected to in quite some time.
Indiewire / Alison Willmore
Part of what made that first season so fascinating is that the characters had a status quo to maintain -- bosses to please, facades to keep up, families to convince. Its domestic and terrorism storylines ran close and were dependent on one another. The leaps the show's made between storylines this season have become ever more jarring as that distance has grown, which is part of the reason the attempted return to normalcy in the first half of 'The Choice' felt so awkward. ... [But Saul] was the beating heart of this episode, and a reminder of how good the series can be.
Salon / Willa Paskin
If you apply standard-and-necessary-for-'Homeland' suspension of disbelief measures, the finale was a relatively satisfying stand-alone outing that — as with the two episodes before — continues to make hash of the season as a whole, because everything, even plausibility, is secondary to the Saga of Carrie and Brody.
Time / James Poniewozik
I spent a lot of this season loving how Homeland used its characters, while being confused or frustrated by its plot. The finale, especially at the end, was mainly the opposite. The plot worked–worked, in the sense that even if Abu Nazir's double-cross was as implausible as many things on this show, it did explain a lot. The character moment, Carrie and Brody saying goodbye in the woods, didn't as work as well for me.
Vulture / Matt Zoller Seitz
I have to give 'The Choice' credit for chutzpah and tactical smarts. It flipped the show upside down and may have given it a new lease on life. ... None of which should be construed as endorsement of how we got here. I prefer Homeland's first season to this one because, compared to 24, the Bourne trilogy, and other military-espionage tales, it was intimate and grounded. [Grade: 3/5]
The Hollywood Reporter / Tim Goodman
My worry for Homeland is that it's now precisely where the creators and Showtime want it to be – the spy who loved me thing, with the intricacies of making Carrie and Brody's doomed love ever find peace and happiness. Ugh. I'm utterly convinced, from talks with people near the show, that this was the long term plan. Unfortunately, what mucks the whole thing up is that setting the stage to get there was what made Homeland a great show.
Rolling Stone / Sean T. Collins
For every one thing that worked in 'The Choice,' Homeland's woeful second season finale, there were three things that didn't.
What do you think?
What did you think of last night's episode, and of the entire second season? Do you think there has been an overall drop in quality since season 1? Let us know in the comments section below.