The results of our 11th annual user poll are in ...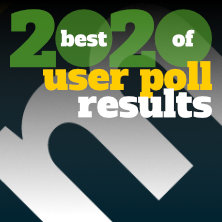 For the 11th straight year, we invited Metacritic users to list their favorite movies, TV shows, albums, and videogames of the past calendar year. Over 2,800 of you participated in this year's survey, and the results are tabulated below.
Participants were asked to rank their five favorite titles of 2020 in each category, and we assigned a value of 5 points to each first-place vote, 4 points for second place, and so on down to 1 point for each fifth-place vote.
Movies
It should come as no surprise in a year when heading to a movie theater was not an option for many Americans that the bulk of our users' favorite 2020 films were widely available on various streaming services. One notable exception: our users' #1 choice, Christopher Nolan's would-be blockbuster Tenet. That film is one of seven titles in our users' overall top 15 choices that is not found in our composite list of movie critic top 10 lists. Curiously, the critics' top choice, Nomadland, did manage to place #8 with users despite the fact that it won't receive a widespread public release until February. (That film, also Metacritic's official #1 film of 2020, had a limited virtual run in December to qualify for awards.) Our users' #2 pick, Pixar's Soul, placed 19th with critics, while the critics' #3 pick, Steve McQueen's Small Axe entry Lovers Rock, is one of several notable omissions in our user list (despite being widely available on Prime Video).
TV shows
While there was a wide discrepancy between critics and our users in film—driven in part by the lack of access to many of the films favored by critics—the two groups were much more in sync when it came to television. Thirteen of the top 15 selections by users can also be found ranked in the top 15 in our composite list of TV critic lists, albeit in a different order. (Users favored Netflix hit The Queen's Gambit, which placed second with critics; the latter group selected HBO's I May Destroy You at #1 while users placed it at #7.) Which two user picks didn't make the critics' top 15? One is Hulu's second-year comedy PEN15, which just missed the cut with critics, placing at #18. The other is the final season of Netflix sci-fi thriller Dark, often described as a German take on Stranger Things, which landed on only a handful of critic top 10 lists (though was well-reviewed at the time of its release).
Music
Ten of the 15 titles from our user list, below, can also be found in the top 15 in our composite list of music critic top 10s. Users failed to include critic favorites like Bob Dylan's Rough and Rowdy Ways, Waxahatchee's Saint Cloud, Chloe x Halle's Ungodly Hour, and two albums by Sault. Instead, users favored releases by Lady Gaga, The Strokes, Miley Cyrus, and Fleet Foxes, plus Taylor Swift's second album of 2020. Speaking of Swift: She was the overwhelming #1 choice of our users, while that album—Folklore—placed third with critics. The latter group chose Fiona Apple's Fetch the Bolt Cutters at #1 (and it was also Metacritic's highest-scoring album of 2020), while users placed it at #4.
Games
It wasn't even close: PS4 exclusive The Last of Us Part II was the favorite 2020 game of Metacritic users by a landslide. We don't compile game critic top 10 lists, but TLOS2 was the #2-ranked game of 2020 by Metascore. Our highest-scoring game of the year, Persona 5 Royal, placed just 13th with our users. And, yes, you'll notice that Cyberpunk 2077 managed to rank third in our user voting. We'll assume that all of those votes were for the PC edition.
Best Video Game of 2020 as Voted by Metacritic Users
Game
 
Points
1
The Last of Us Part II
PS4:
10,194
2
Ghost of Tsushima
PS4:
2,079
3
Cyberpunk 2077
PC: PS4: XB1:
1,691
4
Hades
PC: NS:
1,510
5
Doom Eternal
PC: PS4: XB1: NS:
1,062
6
Final Fantasy VII Remake
PS4:
1,044
7
Demon's Souls
PS5:
818
8
Animal Crossing: New Horizons
NS:
701
9
Ori and the Will of the Wisps
PC: XBX: XB1: NS:
694
10
Marvel's Spider-Man: Miles Morales
PS5: PS4:
615
11
Assassin's Creed Valhalla
PC: PS5: PS4: XBX: XB1:
596
12
Half-Life: Alyx
PC:
584
13
Persona 5 Royal
PS4:
487
14
Resident Evil 3
PC: PS4: XB1:
463
15
Nioh 2
PS4:
354
How did you do?
What do you think of the picks made by your fellow users? Let us know in the comments section below, and don't forget to visit our Best of 2020 and sections for complete coverage of the year's best releases.