The results of our 12th annual user poll are in ...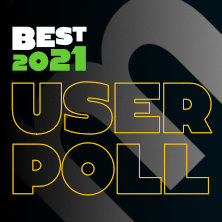 For the 12th straight year, we invited Metacritic users to list their favorite movies, TV shows, albums, and videogames of the past calendar year. Over 2,200 of you participated in this year's survey, and the results are tabulated below.
Participants were asked to rank their five favorite titles of 2021 in each category, and we assigned a value of 5 points to each first-place vote, 4 points for second place, and so on down to 1 point for each fifth-place vote.
Movies
Denis Villeneuve's new version of Dune, the first of a planned two-part adaptation of the classic sci-fi novel, was the #1 film among Metacritic users over the past year. That title was one of several overlaps between our users' top 15 films and the top 15 titles appearing on critics' year-end lists, though, as always, the orders differed between the two groups. Critics have Dune in fourth place, for example, while their #1 film, The Power of the Dog, was ranked fifth by Metacritic users.
But there was a greater mismatch between user and critic lists this year than in years past—which could be due, in part, to the difficulty in actually seeing many of these films as the pandemic dragged on for another year. In fact, 11 of the critics' top 15 consensus picks did not show up in our users' top 15 selections. Titles highly ranked by critics but not by our users include Japanese drama Drive My Car, documentary Summer of Soul, Steven Spielberg's West Side Story remake, Danish import The Worst Person in the World, and Nicolas Cage drama Pig, among many others. And user selections not showing up on critic lists with regularity include House of Gucci, The Suicide Squad and, most notably, Lamb, an Icelandic thriller starring Noomi Rapace that so far has only appeared on one (out of 265!) critic top-10 lists. Another example is Spider-Man: No Way Home, though the latter is a well-reviewed film that debuted so late in the year that many critics didn't get a chance to see it before publishing their lists.
TV shows
While critics and Metacritic users may have disagreed about 2021's best films, they were definitely on the same page when it came to TV. Not only did both groups agree on the year's best show—the third season of HBO's hit drama Succession—but the makeup of each group's consensus top 15 selections differed by just three titles. User favorites not among the critics' top selections include Netflix's League of Legends series Arcane, the Robert Kirkman animated series Invincible, and Marvel's Loki. Actually, all three of those titles did appear on numerous individual critic lists but landed just outside of the group's overall top 15. And the three critic favorites not qualifying for our users' top 15 were FX's Reservation Dogs (which nearly made the cut), Peacock's We Are Lady Parts, and Apple's For All Mankind.
Music
Well, so much for agreement. Metacritic users—at least those who submitted year-end picks—certainly had a different opinion about 2021's best albums than critics did. Only six of the top 15 consensus picks by music critics (including critics' overall #1 selection, Sometimes I Might Be Introvert by Little Simz, and their #2 pick, Tyler the Creator's Call Me If You Get Lost) also cracked our users' top 15. And none of our users' top six picks can be found among the critics' top selections. In fact, our users' #1 overall choice, Keys by Alicia Keys, does not even appear on a single one of the 173 critic top 10 lists we have compiled. Nor does #2 pick Formula of Love: O+T=<3 by K-pop group Twice, though that album, at least, received strong reviews upon its November release. The same can't be said about users' #3 selection, Kanye West's Donda, which ranks among the worst-reviewed major album releases of the year.
Games
It was the closest race we could remember in the history of our annual user poll, but the PS5 console exclusive time-loop shooter Deathloop finished atop our user selections—by a mere three points over #2 pick, the Xbox console exclusive Halo Infinite. In fact, the race was fairly close among the top five picks, reflecting a year in which numerous games were delayed to 2022, many of the year's best-reviewed titles (see our lists for PS, Xbox, PC, and Switch) were remasters or expansions, and no one game really dominated the conversation. (By comparison, our users had a very clear runaway #1 pick in our previous year's poll.)
How did you do?
What do you think of the picks made by your fellow users? Let us know in the comments section below, and don't forget to visit our Best of 2021 and sections for complete coverage of the year's best releases.