Episode VII: Cashing In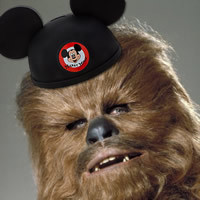 The big news of the week—that George Lucas sold Lucasfilm to Disney for $4.05 billion—came with even bigger news for Star Wars fans. Episode VII will be released in 2015, and it will be followed by new Star Wars films every two to three years. Immediately, discussion began amongst fans about what this means for the franchise. On the positive side is Disney's acquisition of Marvel. That has worked out pretty well so far, with The Avengers 69 becoming the top-grossing film of the year while being embraced by most fans of the comics as well as a majority of film critics. Those looking for negatives might point toward Disney's acquisition of Pixar, which has recently produced Cars 2 57 and Brave 69—neither up to the level of Pixar's best films—and a slew of planned sequels and 3D re-releases instead of original films (although those are coming in the next few years). Some might argue that Disney couldn't do any worse with the Star Wars franchise than what Lucas has done in the past dozen years. Episode I 51, II 53, and III 68 were horrible, and fans might be concerned that Disney will continue the trend of playing to a younger crowd with the new trilogy. Hopefully the success of the PG-13 Avengers film will convince Disney that is the most profitable route.
Betting odds on Star Wars VII director:
JJ Abrams (9/4)
Catherine Hardwicke (4/1)
Duncan Jones (4/1)
Joss Whedon (4/1)
Jon Favreau (9/2)
Steven Spielberg (5/1)
Peter Jackson (11/2)
Rian Johnson (11/2)
Sam Mendes (6/1)
Edgar Wright (7/1)
Guillermo del Toro (8/1)
Neill Blomkamp (8/1)
As of 11/2/2012. Source: Oddschecker.com
Though he will not direct future Star Wars films, Lucas will remain a creative consultant and has already supplied story treatments for VII, VIII, and IX to go along with all the ancillary books that already exist, even mentioning the possibility of more films to Mark Hamill, who told EW, "He did tell us last summer about wanting to go on and do Episodes VII, VIII, and IX, and that newly appointed Lucasfilm president Kathleen Kennedy would be doing them." Fans are already creating wishlists for the director of Episode VII -- Christopher Nolan (already handled a huge franchise), the Wachowskis (got the requisite FX skills), Duncan Jones (shown an interest in sci-fi storytelling), Rian Johnson (Looper, anyone?), Joss Whedon (already in house but probably tied up with Marvel), J.J. Abrams (rebooted the Star Trek franchise), Brad Bird (Mission:Impossible - Ghost Protocol, hasn't made a bad film), Jon Favreau (launched Marvel with Iron Man but has regressed and Jersey Boys just went into turnaround), Edgar Wright (bring the humor back), Matt Reeves (already on Dawn of the Planet of the Apes), Neill Blomkamp (the futuristic dystopias of District 9 and Elysium), Matthew Vaughn (not directing the X-Men sequel), Zach Snyder (let's hope not - unless Man of Steel is great), David Fincher (got his start at ILM working on Return of the Jedi, but too dark?). We could go on speculating, and everyone will until the announcement is made (we could even get into potential writers), but for now check out Disney chairman and CEO Bob Iger and George Lucas make the announcement and watch a quick interview with Lucas and Kathleen Kennedy on the sale, which also includes effects house Industrial Light & Magic as well as the video game division Lucas Arts, and the possibility of a Star Wars theme park.
Bob Iger and George Lucas announce the deal:

Lucas talking about the transition with now-Lucasfilm president Kathleen Kennedy:

Hansel & Gretel have a bloody good time in a new red-band trailer
Jeremy Renner plays Hansel, and Gemma Arterton plays Gretel in this long-delayed take on a question no one ever asked, "Whatever happened to Hansel and Gretel after they escaped from the witch's house?" Looks like that whole gingerbread house thing really inflicted some emotional scars on poor Hansel and Gretel, because they now kill witches for a living. Tommy Wirkola (Dead Snow 61) co-wrote and directed this continuation of the classic Grimm fairy tale that stars Famke Janssen as the leader of a coven of witches bent on ending Hansel and Gretel's witch-hunting ways. The latest trailer ups the blood and gore quotient while going for more laughs, but will it be worth the wait once Hansel & Gretel: Witch Hunters finally arrives in 2D, 3D, and IMAX theaters on January 25, 2013?
The trailer for Bullet to the Head
Walter Hill might have peaked early as a director with 48 Hrs. 71, but he recently helmed the very solid TV miniseries western Broken Trail 78, so he's getting another chance at the big screen for the first time since 2002's Undisputed 58. Unfortunately, Bullet to the Head looks like a pretty rote buddy-action romp. Sylvester Stallone plays a hitman who teams up with a cop played by Sung Kang (Fast Five) to hunt down Jason Momoa (Conan the Barbarian) who kidnapped Stallone's daughter (Sarah Shahi) and killed Kang's partner. Christian Slater and Adewale Akinnuoye-Agbaje (Mr. Eko) play supporting roles, and if you like the fight at the end of Hill's Streets of Fire, he seems to be harkening back to it with the axe showdown between Stallone and Momoa.  Bullet to the Head hits theaters February 1, 2013.
George Clooney's Monuments Men moves forward
Deadline reports that George Clooney's next film, The Monuments Men, is rolling now that Sony and Fox will co-finance the film. Clooney will produce, write (along with partner Grant Heslov), direct, and star in the story of a group of art experts selected to find artwork stolen by the Nazis during World War II. Joining him will be Daniel Craig, Bill Murray, Cate Blanchett, John Goodman, Jean Dujardin, Hugh Bonneville (Downton Abbey), and Bob Balaban. It looks like the previously rumored Paul Giamatti became unavailable, but with that cast and the crew from the Clooney-produced Argo 86 prepping for a March 1 start in Europe, this one is in good hands.
A look at Dustin Hoffman's Quartet
The most surprising thing about Quartet might be that it's Dustin Hoffman's first film as a director. The 75-year-old actor's directorial debut tells the story of three opera singers at a retirement home for aging musicians and the new arrival that ruffles their feathers. That newcomer is played by the great Maggie Smith, known recently for the Harry Potter series, The Best Exotic Marigold Hotel, and, of course, Downton Abbey. She disturbs the lives of her ex-husband, played by Tom Courtenay, as well as fellow singers Billy Connolly and Pauline Collins. Michael Gambon plays an opera director hoping to convince them all to sing at the home's annual benefit. Ronald Harwood (The Diving Bell and the Butterfly 92 and The Pianist 85) adapts his own play, and since its debut at TIFF critics have been kind to Hoffman's first film. See it in limited release beginning December 28th.
A Glee star is struck by lightning
While he's still playing Kurt Hummel on Glee, Chris Colfer might soon be known for his writing exploits as well. His first book, The Land of Stories, was recently published, and now there's an official first trailer for his screenwriting debut, Struck By Lightning. The young scribe sticks with high school for the setting of this story of an overachiever who blackmails his classmates into writing for his new literary magazine. Brian Dannelly (Saved! 62) directs a strong cast that includes Allison Janney, Christina Hendricks, Dermot Mulroney, Rebel Wilson (Pitch Perfect), Sarah Hyland (Modern Family), and Ashley Rickards (Awkward). Look for it in limited release beginning January 11, 2013.
G.I. Joe: Retaliation is back
This sequel to 2009's G.I. Joe: The Rise of Cobra 32 was originally slated to be one of this summer's would-be blockbusters, but Paramount decided to delay its release until March 29, 2013 in order to convert the film to 3D (and maybe change rising star Channing Tatum's fate in the film). This week's new international trailer reveals some new footage, but it looks like Tatum still might not survive the first 15 minutes of the film. Luckily, there's plenty of action elsewhere, including Ray Park's Snake Eyes and Elodie Yung's Jinx battling Cobra ninjas on the side of a mountain. Director Jon M. Chu (Step Up 2: The Streets 50 and Step Up 3D 45), who recently signed on the bring He-Man and the Masters of the Universe to theaters, has been overseeing the 3D conversion of the film that stars Dwayne Johnson as Roadblock, Bruce Willis as General Joe Colton, Adrianne Palicki as Lady Jaye, and D.J. Cotrona as Flint as well as Ray Stevenson as Firefly, Byung-hun Lee as Storm Shadow, and Arnold Vosloo as Zartan.
Captain America vs. Crossbones
According to Variety, Frank Grillo, who recently starred in Warrior, The Grey, and End of Watch, will play Crossbones in Captain America: The Winter Soldier. Crossbones (aka Brock Rumlow) typically appears as one of Red Skull's henchmen, and he does interact with Falcon, who will be played by Anthony Mackie, and the Winter Soldier (a returning Sebastian Stan as Bucky Barnes) in certain comic book storylines. Samuel L. Jackson, Cobie Smulders and Scarlett Johansson will also reprise their Marvel roles in the film, but the role of Sharon Carter is still up for grabs. It seems that directors Anthony and Joe Russo can't decide between Imogen Poots, Alison Brie, Teresa Palmer and Jessica Findlay-Brown. They have a little time. Captain America: The Winter Soldier won't arrive until April 4, 2014.
Yet another version of Dangerous Liaisons
Choderlos de Laclos' 1782 French novel Les Liaisons dangereuses inspired Christopher Hampton's 1985 play, which in turn was the basis for the 1988 film Dangerous Liaisons 74 starring Glenn Close, John Malkovich, and Michelle Pfeiffer. Milos Forman also directed Valmont 55, an adaptation of the novel starring Colin Firth and Annette Bening. Then came Cruel Intentions 56 (basically Dangerous Liaisons in high school), other TV versions around the world, and the Korean-set The Scandal 73. (And don't forget this week's episode of It's Always Sunny in Philadelphia.) Well, now a Chinese version of the story set in 1930s Shanghai and starring Ziyi Zhang (Crouching Tiger, Hidden Dragon), Dong-gun Jang (The Warrior's Way), and Cecilia Cheung will come to select theaters beginning November 9th.
Spoiler alert: John Dies at the End
Don Coscarelli is the man behind Phantasm (I, II, II, IV), and The Beastmaster, but it's been nine years since his last film, Bubba Ho-tep 57. Now, after a year on the festival circuit (Sundance, South by Southwest, TIFF, etc), his latest, John Dies at the End, will finally come to VOD December 27th and will get a limited theatrical run beginning January 25th. Based on David Wong's novel of the same name, Coscarelli's film is yet another weird trip, featuring a drug called Soy Sauce, alternate universes, strange masks and monsters. The film features Paul Giamatti, Clancy Brown, Rob Mayes, and Chase Williamson. Check out more at johndies.com.
The Comedy might upset you
Rick Alverson's The Comedy divided critics when it premiered at this year's Sundance Film Festival, and the featurette and clip below provide good insight into why. The film stars Tim Heidecker and Eric Wareheim (of Tim & Eric Awesome Show fame) and James Murphy (of LCD Soundsystem). Heidecker plays an aging Brooklyn hipster who pushes the boundaries of acceptable behavior more and more as he is about to inherent his father's estate. Look for it on VOD now and in limited release on November 9th (or don't, if the clips below make you angry).
Wes Anderson cracks the door on The Grand Budapest Hotel
Wes Anderson spoke to the L.A. Times this week about his new film The Grand Budapest Hotel and revealed that it "takes place 85 years ago" and is "inspired partly by Hollywood Europe" like the films of Ernst Lubitsch. "So I think we've got a little bit of that feel, that Europe on the Hollywood back lot, even though we're actually going to Europe to do it." The ensemble cast currently includes newcomers Saoirse Ronan, Ralph Fiennes and Jude Law as well as Anderson regulars Bill Murray, Jason Schwartzman, and Owen Wilson, and, yes, "a hotel figures prominently in it."
Quick notes: Rumors, release dates, casting news and more
Bryan Singer is now confirmed as the director of X-Men: Days of Future Past and The Moody Blues want credit for the title (kidding on that second part, but really). - Deadline
Jaime Foxx is in talks to play the villain Electro in the sequel to The Amazing Spider-Man, and Marc Webb sounds pretty excited about it. - Variety
Ride Along, directed by Tim Story and starring Ice Cube, Kevin Hart and John Leguizamo, will be released January 17, 2014.
The Guilt Trip, starring Seth Rogen and Barbra Streisand, will come out a few days earlier than originally planned, on December 19th.
Zero Dark Thirty will get an awards-season run in New York and Los Angeles beginning December 19th, but won't open wide until January 11, 2013.
RZA's directorial debut opens today, and he's already booked his next gigs: a biopic of Genghis Khan written by John Milius, and an action-thriller titled No Man's Land. - THR
John Cusack is in talks to star in the action-thriller Airspace with Roger Avary directing, and he's also lined up Stephen King's Cell. Avary, meanwhile, is also attached to write and direct an adaptation of the classic videogame Castle Wolfenstein. - Variety & Screen Daily & Heat Vision
Jaime King will return and Jamie Chung will replace Devon Aoki alongside Mickey Rourke, Jessica Alba, and Rosario Dawson in Robert Rodriguez and Frank Miller's Sin City 2. - Heat Vision
A sequel to The Best Exotic Marigold Hotel is in the works. - Vulture
Olivia Wilde and Hailee Steinfeld, and Nicole Behaire will star in the Civil War drama The Keeping Room. - THR
Gerard Butler will play soccer player Nikolai Trusevich in the "inspired by a true-story" Victory-like soccer drama Dynamo. - Deadline
Bone Tomahawk. Great title. Good film? Screenwriter S. Craig Zahler has cast Kurt Russell, Peter Sarsgaard, Richard Jenkins and Jennifer Carpenter in his directorial debut about a sheriff (Russell), a cowboy (Sarsgaard), and an old man (Jenkins) who team up to rescue a group of hostages from an ornery band of of cannibals. - Variety
Benedict Cumberbatch will play Beatles manager Brian Epstein in a biopic to be directed by Paul McGuigan (BBC's Sherlock, Lucky Number Slevin) . - THR
V/H/S 2 is in the works with directors Gareth Evans (The Raid), Eduardo Sanchez (Lovely Molly), Jason Eisener (Hobo With a Shotgun), and Timo Tjahjanto (Macabre). - Heat Vision
Mark Strong will star opposite Nicole Kidman in Brighton Rock director Rowan Joffe's Before I Go to Sleep, a psychological thriller about a woman who wakes up every morning with her memory wiped clean. - Variety
Imogen Poots will join Aaron Paul in Scott Waugh's Need for Speed adaptation. - Heat Vision
Vince Vaughn is set to star in the action-thriller Triple Time directed by Peter Billingsley (star of A Christmas Story, director of Couples Retreat).- Variety
Christoph Waltz is in talks to play an Interpol inspector in the Europe-set sequel to The Muppets. - THR
Jennifer Garner will replace Hilary Swank in The Dallas Buyer's Club starring a very skinny Matthew McConaughey. - Deadline
Harrison Ford and Zac Efron are in talks to star in Rob Reiner's You Belong to Me. Ford would play a psychiatrist suffering after the suicide of one of his female patients; Efron would play the patient's brother. - The Wrap
Frances Lawrence, who's currently directing The Hunger Games: Catching Fire, will direct the final two films (Mockingjay Part 1 and 2) as well. - Collider
Jason Statham and director Simon West will reunite for a remake of Heat, the 1987 Burt Reynolds film. They previously teamed up on the remake of The Mechanic. - Variety
Michael Fassbender and Colin Firth will star in Genius as novelist Thomas Wolfe (not Tom Wolfe) and his editor Max Perkins, respectively. Michael Grandage will direct, and John Logan will adapt the script from A. Scott Berg's National Book Award winning biography Max Perkins: Editor of Genius. - THR