New trailers and updates for upcoming films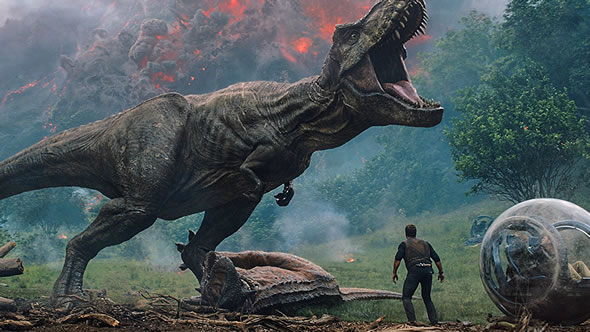 A final look at Jurassic World: Fallen Kingdom
Four years after the events of Jurassic World, Owen (Chris Pratt) and Claire (Bryce Dallas Howard) return to Isla Nublar in an attempt to rescue the remaining dinosaurs from destruction. But as the final trailer reveals, that's just the beginning of a plot that involves Owen's beloved Blue and the creation of the "most dangerous creature that ever walked the Earth." Directed by J.A. Bayona (A Monster Calls), Jurassic World: Fallen Kingdom features Rafe Spall, James Cromwell, Ted Levine, Justice Smith, and Toby Jones, as well as the return of BD Wong and Jeff Goldblum. Find it in theaters everywhere June 22.
Deadpool 2
The irreverent humor and extreme violence of 2016's Deadpool will return to theaters on May 18th in Deadpool 2. David Leitch (Atomic Blonde) takes over directing duties from Tim Miller, but Ryan Reynolds, Morena Baccarin, Brianna Hildebrand, Karan Soni, T.J. Miller, and Stefan Kapicic will all reprise their roles. The plot revolves around Deadpool and the X-Force protecting a kid (Hunt for the Wilderpeople star Julian Dennison) from Josh Brolin's Cable. The final trailer formally introduces Zazie Beetz as Domino, Terry Crews as Bedlam, Lewis Tan as Shatterstar, and Rob Delaney as Peter, who has no powers, but answered the ad.
The Equalizer 2
2014's The Equalizer reunited the director and star of Training Day, Antoine Fuqua and Denzel Washington. With The Equalizer 2, they are together again. Washington returns as Robert McCall, and this time it's personal. When his friend (Melissa Leo) is killed, he seeks revenge in typically brutal fashion. The July 20 release also stars Pedro Pascal, Bill Pullman, and Ashton Sanders.
Blindspotting
Written by and starring Rafael Casal and Daveed Diggs, Carlos López Estrada's debut feature about best friends who grew up together in Oakland but face an uncertain future hits theaters July 27th. Blindspotting received a variety of reactions, from very positive to mixed, when it premiered at Sundance in January.
Hereditary
With excellent reviews out of Sundance, Hereditary is one of the best-reviewed films of the year so far. Writer-director Ari Aster's debut feature stars Toni Collett as Annie, an artist, a wife (Gabriel Byrne plays her husband), and a mother to a teenager (Alex Wolff) and his younger sister (Milly Shapiro). After Annie's mother dies, a terror takes hold of the family. Find it in theaters beginning June 8th.
Life of the Party
The third collaboration (following Tammy and The Boss) between Melissa McCarthy and her husband/director Ben Falcone finds McCarthy playing a divorcée who returns to college with her daughter and finds herself loving the campus experience. With a strong supporting cast that includes Gillian Jacobs, Maya Rudolph, Julie Bowen, Matt Walsh, Molly Gordon, Stephen Root, and Jacki Weaver, Life of the Party hits theaters May 11th.
Hotel Artemis
In the action-thriller Hotel Artemis, Jodie Foster plays The Nurse, the manager of a members-only hospital for the criminal underworld. One riot-filled night in Los Angeles, Sterling K. Brown brings a wounded friend (Atlanta's Brian Tyree Henry) to the hotel. Unfortunately, they have something others want. This June 8 release is the directorial debut for writer Drew Pearce and features a supporting cast of Jeff Goldblum, Dave Bautista, Sofia Boutella, Charlie Day, Zachary Quinto, and Jenny Slate.
Mary Shelley
Mary Shelley, director Haifaa Al Mansour's follow-up to her debut, Wadjda (the first film directed by a woman in Saudi Arabia), earned mixed reviews at TIFF last year. Chronicling the life of Mary Shelley (Elle Fanning) leading up to the publication of her groundbreaking novel Frankenstein, the May 25 release features supporting work by Douglas Booth as Percy Bysshe Shelley, Bel Powley as Claire Clairmont, and Tom Sturridge as Lord Byron.
Puzzle
When Agnes (Kelly Macdonald), a devoted Connecticut housewife, discovers she has a passion and skill for puzzles, her hobby leads her to team up with Robert (Irrfan Khan), who introduces her to the world of puzzle competitions. Directed by Marc Turtletaub from a script by Oren Moverman (based on an Argentinian film by Natalia Smirnoff), Puzzle comes to select theaters beginning July 13.
Filmworker
Tony Zierra's documentary Filmworker profiles Leon Vitali, who, after playing Lord Bullingdon in Stanley Kubrick's Barry Lyndon, became the director's right-hand man until Kubrick's death in 1999. The May 11 release has earned good early reviews.
Boundaries
The latest from writer-director Shana Feste (Country Strong, Endless Love) stars Vera Farmiga as a single mother who takes a road trip from Seattle to Los Angeles with her marijuana-dealing father (Christopher Plummer) and troubled son (Lewis MacDougall). Coming to select theaters on June 22nd, Boundaries earned mixed reviews when it premiered at SXSW.
Short takes
Andrew Niccol (Good Kill) directs Clive Owen and Amanda Seyfried in Anon, a futuristic thriller that takes place in a transparent world where anonymity no longer exists. Find it on Netflix beginning May 4th.
In The Wife, Glenn Close plays the devoted wife of a Nobel Prize-winning writer (Jonathan Pryce). This August 3 release has good early reviews.
Coming to Netflix next Friday, Candy Jar stars Sami Gayle and Jacob Latimore as debate-team rivals who discover that opposites attract.
May 18 release Sollers Point tells the story of an ex-con (McCaul Lombardi) struggling to stay straight.
News and notes