New trailers and updates for upcoming films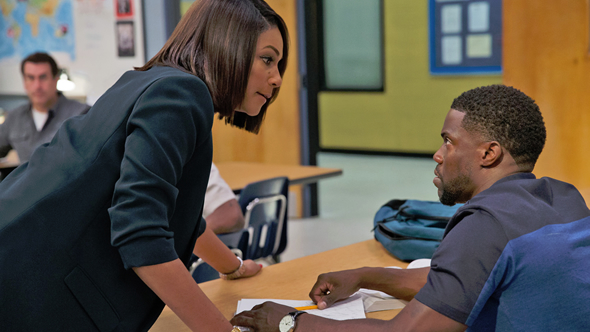 Night School
In director Malcolm D. Lee's follow-up to Girls Trip, he reunites with that film's break-out star, Tiffany Haddish, for a comedy about a successful salesman (Kevin Hart) who must get his GED to move up in the world. Coming to theaters September 28th, Night School features a strong cast of comedic actors, including Taran Killam, Ben Schwartz, Rob Riggle, Mary Lynn Rajskub, Romany Malco, and Keith David.
The First Purge
The latest chapter in The Purge series (The Purge, The Purge Anarchy, The Purge Election Year) goes back to the beginning, when the New Founding Fathers of America (NFFA) institute the first purge in an isolated community, only to find that it spreads across the nation. Directed by Gerard McMurray (Burning Sands) from a script by the original creator and director of the first three films, James DeMonaco, the July 4 release stars Y'Lan Noel, Lex Scott Davis, Joivan Wade, Luna Lauren Velez and Marisa Tomei.
How to Talk to Girls at Parties
A loose adaptation of a Neil Gaiman short story, How to Talk to Girls at Parties takes viewers to the 1977 punk scene in Croydon where Alex Sharp's Enn falls for Elle Fanning's Zan. Unfortunately for Enn, Zan is an alien, and she only has 48 hours to spend with him. Directed by John Cameron Mitchell (Rabbit Hole, Shortbus, Hedwig and the Angry Inch), the May 18 release has earned mixed early reviews.
Everybody Knows
As reported by Variety this week, Asghar Farhadi's Everybody Knows, starring Penélope Cruz and Javier Bardem, will open the 2018 Cannes Film Festival. Farhadi (About Elly, A Separation, The Past) one of the best writer-directors working today, won a screenplay award for The Salesman at the 2016 festival. His latest takes place in Spain, where unexpected events reveal hidden family secrets.
Johnny English Strikes Again
Rowan Atkinson returns as Johnny English in this third film in the spy-spoofing series. It has been 15 years since Johnny English and 7 since Johnny English Reborn, but when a cyber-attack reveals the identities of all of Britain's undercover agents, English is pulled back into the spy game to find the mastermind behind the hack. Could it be Olga Kurylenko? The October 12 release also features Emma Thompson, Ben Miller and Jake Lacy.
Upgrade
The latest from writer-director Leigh Whannell (Insidious: Chapter 3) stars Logan Marshall-Green as Grey Trace, a man who is paralyzed during a brutal mugging that leaves his wife dead. When he's approached about an experimental cure, Trace figures he has nothing left to lose, so he gets an AI implant called STEM that gives him superhuman abilities and the opportunity to avenge his wife's death. Upgrade hits theaters June 1st.
Generation Wealth
In 2012, Lauren Greenfield won the Sundance documentary directing award for The Queen of Versailles. Her latest film is part career retrospective and part film essay about a subject she's been covering for 25 years—materialism. Unfortunately, many critics at this year's Sundance Film Festival found the film to be better as a companion piece to her Generation Wealth exhibition and book than as a stand-alone work. Generation Wealth comes to theaters July 20th.
The Cleanse
The supernatural comedy The Cleanse stars Johnny Galecki as a heartbroken man looking to turn his life around. When he goes to a spiritual retreat and participates in their cleanse, he produces a physical manifestation of all the toxins in his body. Written and directed by Bobby Miller and featuring Anna Friel, Anjelica Huston, and Oliver Platt in supporting roles, this May 4 release has good early reviews.
Revenge
Writer-director Coralie Fargeat's debut feature, Revenge, has earned excellent reviews as it has made its way around festivals since premiering at TIFF last year. Matilda Lutz stars in this thriller about a woman seeking revenge on her rich boyfriend and his sleazy friends. Look for it in select theaters beginning May 11th.
Short takes
Martin Freeman tries to save his infant daughter from being infected by zombies in Cargo. Find it on Netflix beginning May 18th.
In the comedy Class Rank, two high school outsiders join forces to take over the local school board. This May 11 release is directed by Eric Stoltz.
Spike Lee brings Antoinette Nwandu's stage play Pass Over to Amazon Prime beginning April 20th. Early reviews are very good.
The Escape of Prisoner 614 follows two inept deputies (Martin Starr and Jake McDorman) as they try to get back in the good graces of their sheriff by capturing as escaped prisoner. The April 27 release is the feature writing and directing debut of Zach Golden.
News and notes