New trailers and updates for upcoming films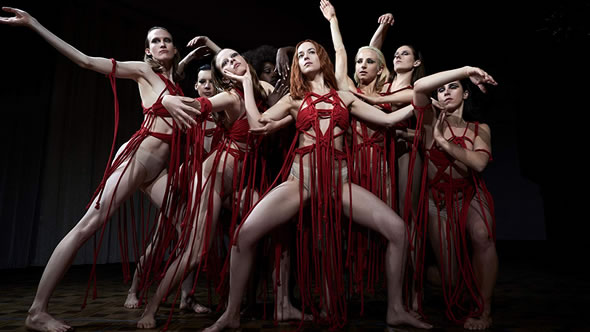 Suspiria redux
Luca Guadagnino's follow-up to Call Me by Your Name is a re-imagining of Dario Argento's Suspiria. The 1977 horror classic tells the story of an American dancer who joins a German ballet company only to find it is a front for something much more sinister. Reuniting the director with Dakota Johnson and Tilda Swinton (possibly playing two roles), who starred together in A Bigger Splash, the film features Mia Goth, Chloe Grace Moretz, original Suspiria star Jessica Harper, and the first feature film score by Radiohead's Thom Yorke. Suspiria will premiere at the Venice Film Festival before opening in New York and Los Angeles on October 26th and nationwide on November 2nd.
Netflix's prestige film slate heads to Toronto
The opening film of this year's Toronto International Film Festival is Outlaw King. The film reunites the director of Hell or High Water, David Mackenzie, with its star, Chris Pine, to tell the story of Robert the Bruce and his rebellion against England's occupation of Scotland. With a strong supporting cast of Florence Pugh, Aaron Taylor-Johnson, Billy Howle, Tony Curran, and Stephen Dillane, the film simultaneously opens in theaters and streams on Netflix on November 9th.
Hold the Dark is the latest from director Jeremy Saulnier (Blue Ruin, Green Room). Coming to Netflix on September 28th after making its world premiere at TIFF, this adaptation of William Giraldi's novel follows a wolf expert (Jeffrey Wright) to northern Alaska where he tries to track down the wolves that killed the son of a grieving mother (Riley Keough) whose husband (Alexander Skarsgård) is about to return from the war. James Badge Dale plays the local cop, and Saulnier's collaborator, Macon Blair (who also directed of the Netflix film I don't feel at home in this world anymore.), has a role and wrote the screenplay.
Writer-director Nicole Holofcener's first feature since 2013's Enough Said follows Anders Hill (Ben Mendelsohn) as he quits his job in finance and leaves his wife (Edie Falco), hoping that freedom will renew his passion for life. Based on Ted Thompson's 2014 novel, The Land of Steady Habits also stars Connie Britton, Thomas Mann, Charlie Tahan, and Elizabeth Marvel. Find it on Netflix beginning September 14th.
The Old Man and the Gun
David Lowery (A Ghost Story) directs Robert Redford again (they teamed up for Pete's Dragon) in this loose adaptation of David Grann's 2003 piece in The New Yorker about Forrest Tucker, a career criminal who escaped multiple prisons, including San Quentin, and pulled off a string of heists well into his 70's. Joining Redford in his last film are Lowery regular Casey Affleck as the detective who pursues Tucker, and Sissy Spacek as the woman who loves him despite his profession. With a strong supporting cast of Danny Glover, Tom Waits, and Tika Sumpter, The Old Man and the Gun comes to theaters September 28th.
Ben is Back
Premiering at TIFF before coming to theaters on December 7th, Ben Is Back stars Lucas Hedges as the title character, a 19-year-old who returns home unexpectedly on Christmas Eve morning, causing his mom (Julia Roberts) to worry about his well-being. Written and directed by Peter Hedges (Dan in Real Life), the film also features Courtney B. Vance and Kathryn Newton.
The Oath
Written and directed by star Ike Barinholtz, the October 12 release The Oath is a comedy about surviving Thanksgiving when politics comes up at the dinner table. Chris (Barinholtz) and his wife Kai (Tiffany Haddish) can't believe citizens are being asked to sign a loyalty oath to the President by Thanksgiving. As family (Meredith Hagner, Carrie Brownstein, Nora Dunn, Jon Barinholtz) gathers, the arrival of two federal agents (John Cho and Billy Magnussen) pushes their dinner into chaos.
Night School
In director Malcolm D. Lee's follow-up to Girls Trip, he reunites with that film's break-out star, Tiffany Haddish, for a film about a successful salesman (Kevin Hart) who must get his GED to move up in the world. Coming to theaters September 28th, Night School features a strong cast of comedic actors, including Taran Killam, Ben Schwartz, Rob Riggle, Mary Lynn Rajskub, Romany Malco, and Keith David.
Slice
Coming to theaters later this year, writer-director Austin Vesely's debut feature Slice follows Zazie Beetz and Chance the Rapper as they try to solve the mystery behind the killing of pizza delivery boys in a small town. The supporting cast includes Paul Scheer, Hannibal Buress, Y'lan Noel, Rae Gray, Will Brill and Joe Keery.
An Evening with Beverly Luff Linn
Director Jim Hosking's follow-up to The Greasy Strangler stars Aubrey Plaza, Craig Robinson, Jemaine Clement, and Emile Hirsch, but, according to reviews out of Sundance, An Evening with Beverly Luff Linn's more well-known cast did not result in a better film. The October 19 release stars Plaza as Lulu Danger, who flees her unsatisfying marriage to Hirsch's Shane Danger in order to seek out a man from her past, the mysterious Beverly Luff Linn (Robinson).
Summer '03
Summer '03 stars Joey King (The Kissing Booth) as Jamie, a 16-year-old who is sent reeling when her grandmother (June Squibb) reveals a slew of family secrets on her deathbed. Written and directed by Becca Gleason, this September 28 release also stars Jack Kilmer, Paul Scheer, and Andrea Savage.
Documentaries for a director and his star
Hal Ashby directed Jane Fonda to a Best Actress Oscar in 1979 for Coming Home. Both have career-spanning documentaries arriving in September. Hal attempts to capture the unique filmmaker of The Last Detail, Harold and Maude, and other iconic films of the 1970s. Look for it in select theaters beginning September 7th.
Jane Fonda in Five Acts received very good reviews when it premiered at Sundance earlier this year. Coming to HBO on September 24th, the film from director Susan Lacy (Spielberg) culls from 21 hours of interviews with Fonda.
Short takes
Here's a special sneak peek (featuring the Gal Gadot-voiced racing character Shank) for the November 21 release Ralph Breaks the Internet.
Free Solo documents Alex Honold's free climb of El Capitan. The film will premiere at TIFF in September.
Kusama - Infinity profiles artist Yayoi Kusama, the top-selling female artist in the world. Look for it in select theaters September 7th.
Coming to IMAX in March of 2019, Superpower Dogs profiles some of the world's most amazing dogs.
News and notes