New trailers and updates for upcoming films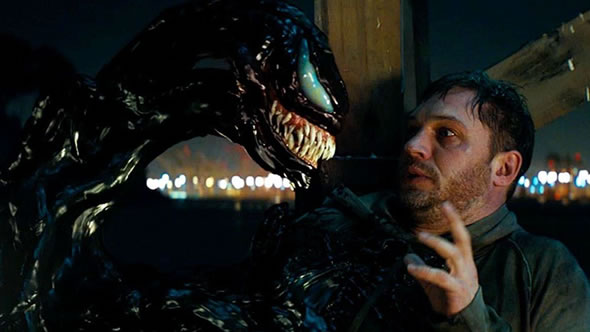 Another look at Venom
In Venom, Tom Hardy plays Eddie Brock, a reporter who is infected with an alien symbiote that creates the alternate being of the title. The man conducting the dangerous symbiote research is Riz Ahmed's Carlton Drake, a demented genius who, by the looks of the trailer, faces off against Venom in the form of the symbiote Riot. Ruben Fleischer (Gangster Squad) directs this October 5 release, and Michelle Williams, Jenny Slate, Woody Harrelson, and Reid Scott are supporting players.
From Moonlight to Beale Street
Barry Jenkins' follow-up to his best picture Oscar winner, Moonlight, is an adaptation of James Baldwin's 1974 novel If Beale Street Could Talk. The story follows Tish (Kiki Layne), a woman in Harlem who fights to prove her imprisoned fiancé's innocence while carrying their first child. The November 30 release, also starring Stephan James, Teyonah Parris, Regina King, Finn Wittrock, Ed Skrein, Emily Rios, Pedro Pascal, Colman Domingo, and Brian Tyree Henry, will premiere at the Toronto International Film Festival in September. The first trailer for If Beale Street Could Talk features audio from the author.
Mile 22
Following Lone Survivor, Deepwater Horizon, and Patriots Day, Mile 22 is the fourth collaboration between director Peter Berg and star Mark Wahlberg. Their latest follows a CIA operative who, with the help of two tactical teams, must deliver an asset (Iko Uwais) with critical information to an extraction point before the enemy takes them out. John Malkovich, Ronda Rousey, and Lauren Cohan also star in this August 17 release (which already has a sequel in the works).
Lizzie
Lizzie dramatizes the August 4, 1892 murder of Andrew (Jamey Sheridan) and Abby Borden (Fiona Shaw). Directed by Craig William Macneill (The Boy) and starring Chloë Sevigny as the suspected axe-murderess of the title and Kristen Stewart as her housemaid, lover, and possible co-conspirator, the film divided critics when it premiered at Sundance earlier this year. Coming a day before the 126th anniversary of the murder, the trailer for the September 14 release is appropriately unsettling.
The Happy Prince
Rupert Everett writes, directs, and stars in this look at three years in the life of Oscar Wilde. Covering Wilde's final years (1897-1900), The Happy Prince finds the writer out of jail as a vagabond who comes to rest in Paris, shunned by his old acquaintances. Colin Firth, Emily Watson, Colin Morgan, Edwin Thomas, Tom Wilkinson, and Anna Chancellor make up the fine supporting cast of this October 5 release that has received mostly good early reviews.
Nappily Ever After
Coming to Netflix on September 21st, Nappily Ever After stars Sanaa Lathan as Violet Jones, a successful career woman who begins to reassess her life after an accident at the hair salon. Directed by Haifaa Al-Mansour (Wadjda, Mary Shelley), this adaptation of the Trisha R. Thomas  novel features a supporting cast of Ricky Whittle, Lyriq Bent, Ernie Hudson and Lynn Whitfield.
Smallfoot
The animated film Smallfoot imagines what would happen if a Yeti wanted to prove the existence of humans. This September 28 release features the voices of Channing Tatum (as the lead Yeti, Migo), Zendaya, Gina Rodriguez, Danny DeVito, James Corden, Yara Shahidi, Common, Jimmy Tatro, and LeBron James.
Puppet Master: The Littlest Reich
Written by S. Craig Zahler (Bone Tomahawk, Brawl in Cell Block 99) and directed by Sonny Laguna and Tommy Wiklund, Puppet Master: The Littlest Reich follows the recently divorced Edgar (Thomas Lennon) as he returns to his childhood home where he finds a puppet he decides to sell at a convention celebrating the 30th anniversary of the Toulon Murders. Things do not go as planned, leading to much puppet-on-human violence. The August 17 release features a supporting cast of Charlyne Yi, Michael Pare, Barbara Crampton, Udo Kier, Jenny Pellicer, and Nelson Franklin.
The Wild Boys
Bertrand Mandico's The Wild Boys follows five adolescent boys (all played by actresses), who, after committing a brutal crime, are sentenced to board a boat with a ruthless captain. But their arrival on a tropical island transforms them in both body and mind. Look for it in select theaters beginning August 24th.
Short takes
Coming to select theaters and VOD beginning November 16th, The Last Race captures the struggles of the owner of a Long Island, NY stock car race track.
Inventing Tomorrow follows six teenagers from around the world as they prepare their projects for the Intel International Science and Engineering Fair. Look for it in select theaters beginning August 31st.
The August 31 release S.M.A.R.T. Chase stars Orlando Bloom as a security agent tasked with getting a valuable Chinese antique out of Shanghai.
News and notes