New trailers and updates for upcoming films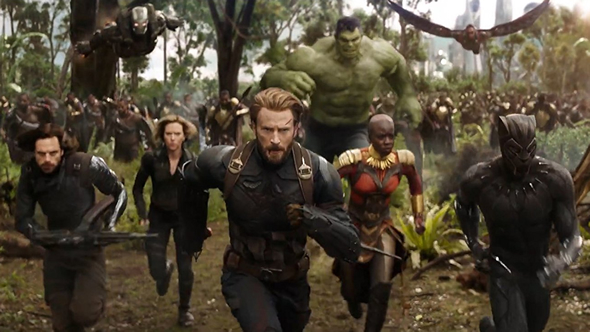 Infinite Avengers
In Avengers: Infinity War, Marvel's superheroes finally come face to face with Thanos (a CGI Josh Brolin). He wants to acquire all six infinity stones; they want to stop him. The May 4, 2018 release is the third Marvel film from directors Anthony and Joe Russo (Captain America: The Winter Soldier, Captain America: Civil War), and it will bring everyone together in one film, as the Avengers battle on Earth and Thor and the Guardians of the Galaxy help out in space. Now the only question is who will survive this war and appear in Avengers 4.
All the Money, none of the Spacey
On November 20th, Ridley Scott began reshoots on All the Money in the World, replacing Kevin Spacey with Christopher Plummer. Now that he's done filming (production reportedly wrapped in Rome yesterday), Scott is hurrying a rough cut to the Hollywood Foreign Press Association before their December 4 cut-off for Golden Globe consideration. The new trailer for the December 22 release features Plummer as billionaire J. Paul Getty, who refuses to pay the ransom for his kidnapped 16-year-old grandson (Charlie Plummer) despite the attempts of his advisor (Mark Wahlberg) and his grandson's mother (Michelle Williams) to convince him to do so.
Thoroughbreds
Writer-director Corey Finley's debut feature stars Olivia Cooke as Amanda and Anya Taylor-Joy as Lily, two childhood friends who, after drifting apart, bond over the prospect of killing Lily's stepdad (Paul Sparks). Their plan leads them to hire a local hustler (Anton Yelchin) to help in the matter. Thoroughbreds earned very good reviews when it premiered at Sundance in January. Find it in select theaters beginning March 9, 2018.
Birdboy: The Forgotten Children
Coming to select theaters December 15th, Birdboy: The Forgotten Children is a unique Spanish animated coming-of-age story. Stranded on an island in a post-apocalyptic world, teenager Dinky hatches a dangerous plan to escape, hoping to find a better life. Meanwhile, her old friend Birdboy, pursued by the police and haunted by demons, could be the key to bringing light back into the world.
Paddington 2
Early reviews have been excellent for Paddington 2. The sequel catches up with the Peruvian bear (voiced by Ben Whishaw), now happily settled with the Brown family. In hopes of surprising Aunt Lucy on her 100th birthday, Paddington takes on a series of jobs to buy the perfect present, only for it to be stolen. Paddington director Paul King returns for the January 12, 2018 release, as does Hugh Bonneville, Sally Hawkins, Imelda Staunton, Julie Walters, Peter Capaldi and Jim Broadbent. Joining the fun are Hugh Grant and Brendan Gleeson.
Love, Simon
In Love, Simon, 17-year-old Simon Spier (Nick Robinson) is struggling to tell his family that he's gay and uncover the identity of the classmate he's fallen in love with online. Adapted by Isaac Aptaker and Elizabeth Berger from Becky Albertalli's novel Simon vs. the Homo Sapiens Agenda and directed by TV producer/filmmaker Greg Berlanti, the March 16, 2018 release stars Katherine Langford, Alexandra Shipp, Logan Miller, Jennifer Garner, and Josh Duhamel.
Mary Magdalene
Coming to theaters on March 30, 2018, Mary Magdalene re-imagines the biblical story of Mary Magdalene (Rooney Mara), a young woman who defies her traditional family to follow Jesus of Nazareth (Joaquin Phoenix). Written by Helen Edmundson and Philippa Goslett and directed by Garth Davis (Lion), the film also stars Chiwetel Ejiofor and Tahar Rahim.
Short takes
In Midnight Sun, Bella Thorne plays Katie, a 17-year-old with a life-threatening sensitivity to the sun who begins a romance with her secret crush (Patrick Schwarzenegger). Find it in theaters on March 23, 2018.
Coming to DirecTV January 4, 2018 and select theaters February 9, Monster Family follows the Wishbones as they try to discover the secret behind a witch's curse.
Bruce Willis and Cole Hauser star in the human-trafficking thriller Acts of Violence. Find it On Demand or in theaters January 12th.
News and notes