This is the final Film Friday of 2017. We'll return in mid-January.
Opening this weekend
View a guide to this weekend's new theatrical releases including Star Wars: The Last Jedi, Ferdinand, and more.
New trailers and updates for upcoming films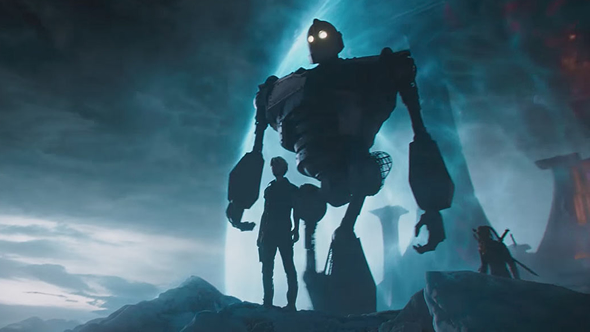 1-UP
Steven Spielberg's adaptation of Ernest Cline's 2011 science fiction best-seller Ready Player One stars Tye Sheridan as Wade Watts, a gamer who spends his time in the virtual reality world of the OASIS under the avatar of Parzival. When the creator of the OASIS dies, he offers his fortune to the first person to find an Easter egg. Battling other players and an evil corporation, Wade goes on a high-stakes 1980s pop culture treasure hunt to retrieve the Easter egg. Coming to theaters March 30, 2018, Ready Player One also stars Mark Rylance, Olivia Cooke, Ben Mendelsohn, T.J. Miller, and Simon Pegg.
The first look at Alex Garland's next film
Annihilation is writer-director Alex Garland's follow-up to Ex Machina. Adapted from Jeff VanderMeer's novel, the February 23, 2018 release follows an expedition team (Natalie Portman, Jennifer Jason Leigh, Gina Rodriguez, Tessa Thompson) as they enter Area X, a mysterious place Portman's husband (Oscar Isaac) already explored. Due to a disagreement between producers, Paramount sold the international rights to Netflix, where it will begin streaming 17 days after its U.S. opening.
Finally, a trailer for Alita: Battle Angel
After almost a decade in development, James Cameron's adaptation of the popular Battle Angel Alita manga series was finally handed off to Robert Rodriguez (Machete) to direct. (Cameron's a little busy with his Avatar franchise.) Set far in the future, the story centers on Alita (Rosa Salazar), a cyborg found in the scrapyard of Iron City by Dr. Ido (Christoph Waltz). With no memory or recognition of the world, Alita must learn to navigate the dangerous Iron City and find the truth behind her origin. With a supporting cast of Keean Johnson, Mahershala Ali, Ed Skrein, Michelle Rodriguez, Jackie Earle Haley, and Jennifer Connelly, Alita: Battle Angel hits theaters on July 20, 2018.
Clint Eastwood takes The 15:17 to Paris
Clint Eastwood's follow-up to Sully is another film based on a true story. On August 21, 2015, three Americans traveling through Europe thwarted a terrorist attack on Thalys train #9364 bound for Paris. The 15: 17 to Paris tells their story in a unique way: by casting the actual heroes—Anthony Sadler, Alek Skarlatos, and Spencer Stone—as themselves. Coming to theaters February 9, 2018, the film also features Jenna Fischer, Judy Greer, Ray Corasani, PJ Byrne, Tony Hale, and Thomas Lennon.
A last preview for Netflix's big-budget Bright
Will Smith re-teams with his Suicide Squad director, David Ayer, for this fantasy-action movie in which humans, orcs, elves, and fairies all live together. Smith and an unrecognizable Joel Edgerton play cops who encounter a strange force while out on a routine patrol one night. Noomi Rapace, Lucy Fry, Edgar Ramirez, Margaret Cho, and Ike Barinholtz make up the supporting cast. Written by Max Landis (American Ultra), Bright will premiere on Netflix next Friday, December 22nd.
One of the year's best foreign films is finally headed to theaters
After winning Best Screenplay for Leviathan in 2014, writer-director Andrei Zvyagintsev returned to the Cannes competition this year and won the Jury Prize for this story that draws parallels between a divorcing couple's neglect for their 12-year-old child and the corruption infecting Russia. Following brief qualifying runs in New York and Los Angeles, Loveless made the nine-film shortlist for Best Foreign Language Film. Look for it when it returns to theaters beginning February 16, 2018.
Spider-Man gets animated
The first trailer for Spider-Man: Into the Spider-Verse introduces the film's animation style and lead character, Miles Morales (voiced by Dope's Shameik Moore). Produced by Phil Lord and Christopher Miller, the directors who spawned a franchise with The LEGO Movie, the December 14, 2018 release expands the Spider-man universe.
Jack Black is The Polka King
For The Polka King, co-writers and directors Maya Forbes (Infinitely Polar Bear) and Wallace Wolodarsky (Seeing Other People) adapt John Mikulak and Joshua Von Brown's documentary The Man Who Would Be Polka King. The January 12, 2018 Netflix release tells the strange story of the rise and fall of Jan Lewan (Jack Black), who bilked investors to build a musical empire. The film features a strong supporting cast (Jenny Slate, Jackie Weaver, Jason Schwartzman) and earned decent reviews when it premiered at Sundance this year.
Clap on, clap off
In The Clapper, Ed Helms plays Eddie Krumble, a paid studio audience seat-filler who catches the eye of a late night talk show host played by Adam Levine. But Eddie's sudden fame threatens his burgeoning romance with Amanda Seyfried's Judy. After receiving a critical drubbing for the wartime drama Man Down, writer-director Dito Montiel's latest has earned equally withering reviews. Look for it on VOD and in select theaters on January 26, 2018.
Maze Runner: The Death Cure
Maze Runner: The Death Cure, the final installment in the Maze Runner trilogy, finds Thomas (Dylan O'Brien) leading the escaped Gladers into the WCKD-controlled Last City. Directed by Wes Ball (The Maze Runner, Maze Runner: The Scorch Trials), the January 26, 2018 release adds Walton Goggins to the franchise and returns Kaya Scodelario, Giancarlo Esposito, Patricia Clarkson, Nathalie Emmanuel, Katherine McNamara, Thomas Brodie-Sangster, Rosa Salazar, Ki Hong Lee, and Barry Pepper.
The Miracle Season
Coming to theaters April 13, 2018 is the true story of the West High School girl's volleyball team. After the the death of Caroline "Line" Found, the team's star player, the remaining players must band together under their coach (Helen Hunt) if they hope to repeat as state champs. The Miracle Season is directed by Sean McNamara (Soul Surfer).
Short takes
In Every Day, Angourie Rice (The Nice Guys) plays a a 16-year old girl who falls in love with a mysterious spirit named "A" who inhabits a different body every day. Find it in theaters February 23, 2018.
The Chinese animated feature Have a Nice Day received excellent reviews when it premiered at the Berlin Film Festival last year. Find it in U.S. theaters beginning January 26, 2018.
News and notes