New trailers and updates for upcoming films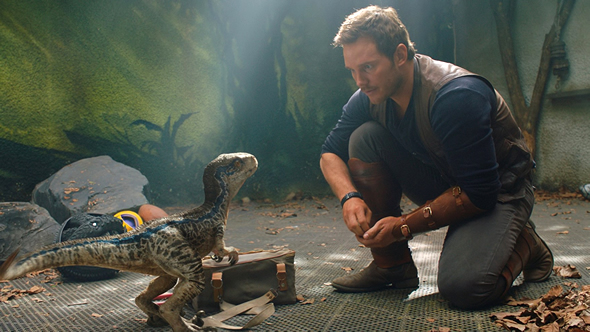 Jurassic World: Fallen Kingdom
Four years after the events of Jurassic World, Owen (Chris Pratt) and Claire (Bryce Dallas Howard) return to Isla Nublar in an attempt to rescue the remaining dinosaurs from the island's erupting volcano. Directed by J.A. Bayona (A Monster Calls), Jurassic World: Fallen Kingdom features James Cromwell, Ted Levine, Justice Smith, Geraldine Chaplin, Daniella Pineda, Toby Jones, Rafe Spall, and Isabella Sermon, as well as the return of BD Wong and Jeff Goldblum. Find it in theaters everywhere on June 22, 2018.
You Were Never Really Here
At this year's Cannes Film Festival, Joaquin Phoenix won best actor, and writer-director Lynne Ramsay (Ratcatcher, Morvern Callar, We Need to Talk about Kevin) took home a share of the best screenplay award for their work on You Were Never Really Here. Adapted from Jonathan Ames' novella, the April 6, 2018 release stars Phoenix as a traumatized veteran who specializes in finding young girls kidnapped into sex slavery.
Lean on Pete
When it premiered at the Venice Film Festival, writer-director Andrew Haigh's latest film proved to be more divisive than his previous two features, 45 Years and Weekend. Adapted from Willy Vlautin's 2010 novel, Lean on Pete stars Charlie Plummer as Charley Thompson, a 15-year-old who moves to Portland, Oregon with his single father. While working at a local racetrack, Charley forms a bond with an aging horse bound for slaughter, leading him to escape with his new friend across the American wilderness in search of his aunt. The March 30, 2018 release features Steve Buscemi, Chloë Sevigny, Travis Fimmel, and Steve Zahn in supporting roles.
7 Days in Entebbe
7 Days in Entebbe dramatizes the events of Operation Entebbe, a 1976 counter-terrorist rescue by Israel Defense Forces. On June 27, an Air France plane was hijacked by four people who hoped to secure the release of Palestinian prisoners. Diverting the plane to Entebbe, Uganda, the hijackers separated the Israeli hostages and waited for their demands to be met. José Padilha (RoboCop) directs Rosamund Pike, Daniel Brühl, and Eddie Marsan in this March 16, 2018 release.
Summer 1993
Spain's submission for the Best Foreign Language Film category at the 90th Academy Awards premiered to good reviews at the Berlin Film Festival, where it won Best First Feature. Co-written and directed by Carla Simon, Summer 1993 follows six-year-old orphan Frida as she moves in with her aunt and uncle and adjusts to her new environment. Look for it in select theaters in the spring of 2018.
Flower
In Flower, Zoey Deutch plays Erica Vandross, a rebellious 17-year-old who exposes her high school teacher's kinky secrets. Directed by Max Winkler from a script he wrote with Alex McAulay and Matt Spicer, this March 16, 2018 release earned mixed reviews when it premiered at the Tribeca Film Festival. The strong ensemble features Kathryn Hahn, Adam Scott, Tim Heidecker, Joey Morgan, and Dylan Gelula.
Please Stand By
Coming to theaters January 26, 2018, Please Stand By stars Dakota Fanning as a young autistic woman who runs away to Los Angeles to submit her Star Trek script to a writing competition. Written by Michael Golamco and directed by Ben Lewin (The Sessions), the film's strong supporting cast includes Alice Eve, Toni Colette, Tony Revolori, and Patton Oswalt.
Short takes
Rebecca Hall and Dan Stevens star in Permission, a look at what happens to a couple when they open up their relationship. Look for it in select theaters February 9, 2018.
Coming to select theaters January 12, 2018, Saturday Church tells the story of 14-year-old Ulysses, who finds a home at a program for LGBTQ youth.
The documentary Killing for Love chronicles the murder trial of Elizabeth Haysom and Jens Soering, who were accused of killing Elizabeth's parents. Find it on VOD and in select theaters next Friday.
News and notes