New trailers and updates for upcoming films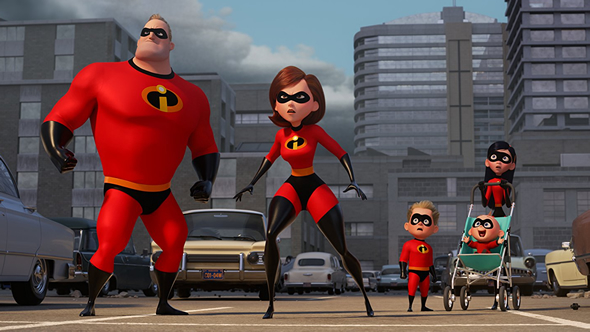 That's incredible
Incredibles 2, Brad Bird's sequel to The Incredibles, picks up immediately after the end of the first film. The Parr family (Bob, Helen, Violet, Dash, and Jack-Jack) must deal with The Underminer, but they face a bigger challenge when Helen/Elastigirl goes off to save the world, leaving Bob/Mr. Incredible in charge of the family. Samuel L. Jackson returns as Lucius Best/Frozone, and Bob Odenkirk joins the voice cast as Winston Deavor, a tycoon who wants to bring superheroes back. The Pixar film opens on June 15th.
Pacific Rim: Uprising
John Boyega stars as Jake Pentecost, the son of Idris Elba's Stacker Pentecost, in this sequel to Pacific Rim. Steven S. DeKnight (Marvel's Daredevil) takes over directing duties from Guillermo del Toro to tell the story of the next battle between Jaeger and Kaiju. Recruited back to the team his father once commanded, Jake joins Mako Mori (Rinko Kikuchi), Lambert (Scott Eastwood), and Amara (Cailee Spaeny) to save the world once again. Also featuring Jing Tian, Burn Gorman, Adria Arjona, and Charlie Day, Pacific Rim: Uprising hits theaters March 23rd.
Ready Player One
Ready Player One, Steven Spielberg's adaptation of Ernest Cline's 2011 science fiction best-seller, stars Tye Sheridan as Wade Watts, a gamer who spends his time in the virtual reality world of the OASIS under the avatar of Parzival. When the creator of the Oasis dies, he offers his fortune to the first person to find an Easter egg. Battling other players and an evil corporation, Wade goes on a high-stakes 1980s pop culture treasure hunt to retrieve the Easter egg. The March 30 release also stars Mark Rylance, Olivia Cooke, Ben Mendelsohn, T.J. Miller, and Simon Pegg.
The Rider
Chinese-American filmmaker Chloé Zhao's follow-up to Songs My Brothers Taught Me won the top award at the 2017 Cannes Directors' Fortnight. The film follows a young cowboy (Brady Jandreau) on the Pine Ridge Reservation as he struggles to come to terms with not being able to ride after a horse crushes his skull. With four Independent Spirit Award nominations, including best feature, and excellent early reviews, The Rider comes to select theaters April 13th.
A Quiet Place
John Krasinski directs and stars with his wife, Emily Blunt, in this thriller about a family who survives by being silent because any noise will awake a mysterious and, by the looks of it, deadly creature. A Quiet Place also stars Noah Jupe and Wonderstruck's Millicent Simmonds. The film will open the SXSW Film Festival on March 9th before coming to theaters on April 6th.
Rampage
Dwayne Johnson reunites with his San Andreas director, Brad Peyton, for this man-versus-monsters movie based on the 1980s arcade game. Johnson plays primatologist Davis Okoye, whose special bond with George, a silverback gorilla, comes in handy when a genetic experiment mutates the gentle ape into an enormous, and quite angry, creature. Helping Johnson save the world is Naomie Harris, while Jeffrey Dean Morgan seems to have other plans. Rampage barrels into theaters on April 20th.
Gringo
Coming to theaters March 9th, Gringo stars David Oyelowo as mild-mannered businessman Harold Soyinka. Sent to Mexico to deliver the formula for a new weed pill, Harold finds himself dealing with duplicitous business partners, Mexican drug lords, mercenaries, and the DEA. Directed by Nash Edgerton (2010's The Square), the film also stars his brother Joel Edgerton, Charlize Theron, Amanda Seyfried, Thandie Newton, and Sharlto Copley.
Overboard
In this gender-flipped remake of the Goldie Hawn/Kurt Russell comedy Overboard, Anna Faris stars as Kate, a single mom hired to clean the yacht of Leonardo (Eugenio Derbez), a selfish playboy. When Leonardo falls off his yacht and wakes up with amnesia, Kate poses as his wife and takes him "home," where comedy and personal growth ensue. Overboard hits theaters April 20th.
Uncle Drew
NBA All-Star Kyrie Irving stars as the titular character in this comedy about a street ball tournament at Rucker Park. Dax (Get Out's Lil Rel Howery) has lost his team to his rival, played by Nick Kroll. When he sees Uncle Drew playing, he convinces him to join his team for the tournament, but Uncle Drew has a one important requirement: he wants to reunite his old team (Shaquille O'Neal, Chris Webber, Reggie Miller, Nate Robinson, and Lisa Leslie), and prove old school can beat new school. Uncle Drew comes to theaters June 29th.
Marrowbone
Directed by writer Sergio G. Sánchez (The Orphanage, The Impossible), Marrowbone follows Jack (George MacKay) and his three younger siblings (Charlie Heaton, Mia Goth, Matthew Stagg) as they are haunted by a sinister presence after the death of their mother. Look for it on VOD and in select theaters April 13th.
The Last Movie Star
Written and directed by Adam Rifkin (Look), The Last Movie Star finds Burt Reynolds playing Vic Edwards, an aging celebrity who accepts an invitation to receive a lifetime achievement award at an amateur film festival in Nashville. With mixed early reviews, the film debuts on DirecTV February 22nd before coming to select theaters March 30th.
Short takes
Filmmaker Kaouther Ben Hania's Beauty and the Dogs follows a young Tunisian woman as she fights for justice after being raped by police officers. Find it in select theaters March 23rd.
Coming to select theaters and VOD on April 13th is 10x10, a thriller starring Luke Evans and Kelly Reilly.
The comedy Madame stars Rossy de Palma, Toni Collette and Harvey Keitel. Look for it on VOD and in theaters March 23rd.
News and notes