New trailers and updates for upcoming films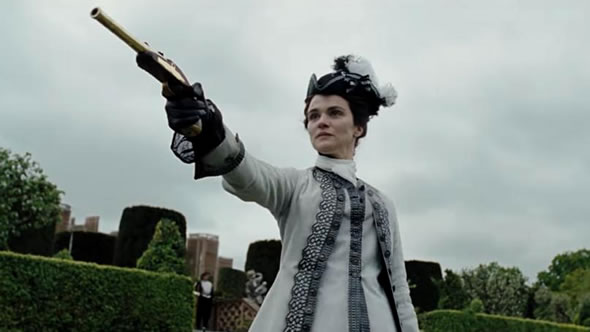 Yorgos Lanthimos returns with The Favourite
Ever-challenging director Yorgos Lanthimos (The Killing of a Sacred Deer, The Lobster) takes on 18th century England with this unique look at Queen Anne's court. Olivia Colman plays the Queen, a frail woman whose close friend Lady Sarah (Rachel Weisz) actually governs the country. When a new servant, Abigail (Emma Stone), charms Sarah, she mentors her, but soon Abigail becomes the Queen's companion as Sarah is consumed by the politics of war. The Favourite comes to theaters November 23rd.
Mary, Queen of Scots
Sixteenth century England is the setting for Mary, Queen of Scots, an exploration of the dramatic life of Mary Stuart (Saoirse Ronan). Queen of France at 16 and widowed at 18, Mary returns to Scotland in 1561 to reign over Scotland. But when she asserts her claim on the English throne, her cousin, Elizabeth I (Margot Robbie), doesn't take it too kindly. Theater director Josie Rourke makes her feature directorial debut with this December 7 release adapted by Beau Willimon (House of Cards) from John Guy's Queen of Scots: The True Life of Mary Stuart.
A Simple Favor
Anna Kendrick and Blake Lively star in this thriller from director Paul Feig, a change of pace from the director of Ghostbusters, Spy, and Bridesmaids. Kendrick plays Stephanie, a mommy vlogger who befriends Lively's mysterious Emily. When Emily disappears, Emily's husband Sean (Henry Golding) becomes a suspect. A Simple Favor hits theaters September 14th.
Colette
Keira Knightley stars as the groundbreaking writer of the title in this biopic from Wash Westmoreland, who directed Still Alice with his late partner Richard Glatzer. Detailing Sidonie-Gabrielle Colette's first marriage to Henry Gauthier-Villars (Dominic West), who took credit for writing her first four novels, the September 14 release dramatizes Collette's fight for creative ownership and independence. Colette's supporting cast includes Fiona Shaw, Denise Gough, Robert Pugh, Ray Panthaki, Aiysha Hart and Eleanor Tomlinson.
Life Itself
Coming to theaters September 21st, Life Itself tells a multi-generational love story that centers on a couple played by Oscar Isaac and Olivia Wilde. Taking place at different times and in multiple countries, the film is the return to the big screen for This Is Us creator Dan Fogelman. The impressive ensemble includes Antonio Banderas, Annette Bening, Olivia Cooke, Sergio Peris- Mencheta, Laia Costa, Alex Monner and Mandy Patinkin.
The Miseducation of Cameron Post
In her directorial follow-up to Appropriate Behavior, Desiree Akhavan adapts Emily M. Danforth's novel about a teenage girl (Chloë Grace Moretz) sent to a gay conversion therapy center when she's caught with another girl on prom night. Coming to select theaters on August 3rd ad featuring Sasha Lane, Forrest Goodluck, John Gallagher Jr. and Jennifer Ehle, The Miseducation of Cameron Post received very good reviews when it premiered earlier this year at Sundance, where it won the Grand Jury Prize.
Christopher Robin
Coming on the heels of the disappointing Goodbye Christopher Robin, this August 3 release stars Ewan McGregor as Christopher Robin. All grown up with a job and a family, Christopher encounters his childhood friend Winnie-the-Pooh and rediscovers the joys of life and the value of friendship. Directed by Marc Forester (Finding Neverland, World War Z), Christopher Robin stars Hayley Atwell and features the voices of Jim Cummings, Chris O'Dowd, Brad Garrett and Toby Jones.
Goosebumps 2: Haunted Halloween
In this sequel to Goosebumps, Jack Black's R.L. Stine does not return, but he does voice Slappy, the walking, talking ventriloquist dummy released by Jeremy Ray Taylor (It) and Caleel Harris. As Slappy sets out to wreak havoc on Halloween night, Taylor and Harris are helped by Madison Iseman (Jumanji: Welcome to the Jungle) in containing the chaos. Goosebumps 2: Haunted Halloween, directed by Ari Sandel (The DUFF) and also starring Ken Jeong, Wendi McLendon-Covey, and Chris Parnell, comes to theaters October 12th.
Wonder Park
Coming to theaters on July 9, 2019, Wonder Park tells the story of June (Brianna Denski), a creative, young girl who brings a magnificent amusement park to life. The film features the voices of Matthew Broderick, Jennifer Garner, Kenan Thompson, Ken Hudson Campbell, Ken Jeong, Mila Kunis and John Oliver.
Five coming to Netflix
The animated tale Duck Duck Goose follows a bachelor goose who must form a bond with two lost ducklings to help them fly south. Christopher Jenkins' directorial debut hits the streaming service next Friday.
Director Ben Young's follow-up to Hounds of Love stars Michael Peña as a man whose nightmares come true when Earth is invaded by aliens. Extinction also stars Lizzy Caplan as Peña's wife, and Mike Colter. Look for it beginning July 27th.
Also arriving on July 27th, the documentary The Bleeding Edge investigates the dangers of high-risk implanted medical devices. Kirby Dick (The Invisible War, The Hunting Ground) directs.
The comedy The Package follows five teens played by Daniel Doheny (Alex Strangelove), Geraldine Viswanathan (Blockers), Eduardo Franco (American Vandal), Sadie Calvano, and Luke Spencer Roberts on a spring break camping trip gone awry. Jake Szymanski (Mike and Dave Need Wedding Dates) directs this August 10 release.
Shannon Purser stars in the September 7 release Sierra Burgess Is a Loser. A modern twist on the Cyrano de Bergerac story, Sierra poses as the most popular girl in high school (Kristine Froseth) when Noah Centineo's Jamey accidentally texts her. Written by Lindsey Beer and featuring RJ Cyler, Chrissy Metz, Alan Ruck, and Lea Thompson, this is Ian Samuels's feature directing debut.
Short takes
Coming to theaters August 10th, Hope Springs Eternal follows Hope Gracin (Mia Rose Frampton) as she struggles to reveal that her cancer is cured.
In Trevor White's A Crooked Somebody, Rich Sommer plays a fraud who dupes people into believing he's psychic, but when a desperate man (Clifton Collins Jr.) kidnaps him, he sees an opportunity. Look for it in select theaters and on VOD beginning October 5th.
The horror film Don't Leave Home follows an American artist (Anna Margaret Hollyman) to Ireland where she finds herself in the increasingly dangerous home of a reclusive priest. The September 14 release from director Michael Tully (Ping Pong Summer) has received good early reviews.
News and notes