New trailers and updates for upcoming films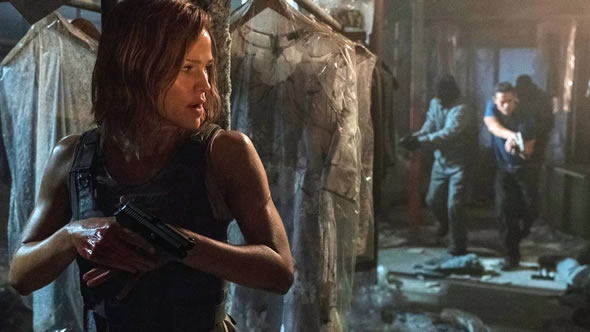 Peppermint
Jennifer Garner utilizes some of the skills she learned on Alias (let's just forget about Elektra) for this revenge picture directed by Pierre Morel (Taken, The Gunman). After a brutal attack kills her husband and daughter, Riley North (Garner) seeks revenge on the murderers and the corrupt system that kept them out of jail. After spending five years honing her skills, she takes on everyone—including the criminal underworld, the LAPD and the FBI. Peppermint hits theaters on September 7th.
Let the Corpses Tan
After indulging in their love of giallo films with Amer and The Strange Color of Your Body's Tears, directors Hélène Cattet and Bruno Forzani pay homage to 1970s Italian crime films with their latest, Let the Corpses Tan. Based on a novel by Jean-Patrick Manchette and featuring music by Ennio Morricone, the August 31 release involves a truck full of gold bars, a gang of thieves, two cops on motorcycles, a reclusive artist and her admirers, and plenty of bloody shootouts.
Hotel Artemis
In the action-thriller Hotel Artemis, Jodie Foster plays The Nurse, the manager of a members-only hospital for the criminal underworld. This new trailer introduces the characters that congregate at the hotel during one riot-filled night in Los Angeles. This June 8 release is the directorial debut of writer Drew Pearce. Check out the 1980s inspired introduction to the characters played by Sterling K. Brown, Brian Tyree Henry, Jeff Goldblum, Dave Bautista, Sofia Boutella, Charlie Day, Zachary Quinto, and Jenny Slate.
Night School
In Malcolm D. Lee's follow-up to Girls Trip, the director reunites with that film's break-out star, Tiffany Haddish, for a film about a successful salesman (Kevin Hart) who must get his GED to move up in the world. Coming to theaters September 28th, Night School features a strong cast of comedic actors including Taran Killam, Ben Schwartz, Rob Riggle, Mary Lynn Rajskub, Romany Malco, and Keith David.
The Third Murder
Before he won the Palme d'Or last month for Shoplifters, Hirokazu Kore-eda (After the Storm, Our Little Sister) took a dip in the genre pool with this murder mystery/courtroom drama. The film addresses the death penalty in Japan through a story involving defense attorney, played by Masaharu Fukuyama (Like Father, Like Son), who takes on the case of a murder suspect played by Kôji Yakusho (13 Assassins). While it's not Kore-eda's best-reviewed film, it does have a few strong supporters, including the Japanese Academy, who awarded the film best director, screenplay, editing, supporting actress, supporting actor and film. The Third Murder comes to select theaters beginning July 20th.
Dark River
After the impressive critical success of The Arbor and The Selfish Giant, writer-director Clio Barnard's latest could look like a disappointment, but many critics still found it riveting. The story follows Alice (Ruth Wilson) as she returns to her family farm for the first time in 15 years to confront her past and reunite with her estranged brother (Mark Stanley). Dark River
opens in select theaters June 29th.
McQueen
Ian Bonhôte and Peter Ettedgui's portrait of fashion designer Alexander McQueen covers his life from its modest beginnings to its tragic end by combining his personal archives, footage from his groundbreaking shows and interviews with his family and friends into something intimate. McQueen comes to select theaters on July 20th.
Under the Tree
Under the Tree is a dark comedy from Iceland. Directed by Hafsteinn Gunnar Sigurdsson, the film captures the rising acrimony between suburban neighbors over a tree that casts a shadow over the other's sundeck. This July 6 release has excellent early reviews.
Short takes
Pin Cushion chronicles the growing pains experienced by Lyn and her daughter Iona when they move to a new town. Look for it in select theaters beginning July 20th.
June 15 release The Mimic updates a classic Korean ghost story about a mother who begins to question whether a lost girl she's caring for is actually human.
The futuristic time-travel mystery 7 Splinters in Time stars Edoardo Ballerini and Emmanuelle Chriqui. Look for it in theaters July 13th.
News and notes