New trailers and updates for upcoming films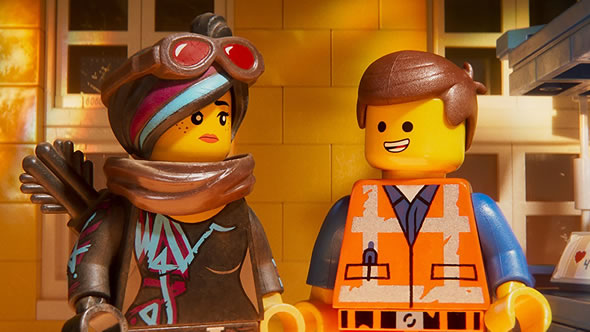 The LEGO Movie 2: The Second Part: The First Trailer
The 2014 hit The LEGO Movie already spawned 2017's The LEGO Batman Movie and The LEGO Ninjago Movie. Coming to theaters five years after the original, The LEGO Movie 2: The Second Part will continue the original story of Emmet, Lucy, and all their friends as they travel to new worlds, including a galaxy where everything is a musical. Director Mike Mitchell (Trolls) takes over for Phil Lord and Christopher Miller (who helped write and produce this time), but Chris Pratt, Elizabeth Banks, Will Arnett, Alison Brie, and Nick Offerman reprise their roles. Joining them are Tiffany Haddish as Queen Watevra Wa-Nabi, Stephanie Beatriz as Sweet Mayhem, and Arturo Castro as Ice Cream Cone. The first trailer for the February 8, 2019 release provides plenty of clues about who's telling the story this time.
Suspiria
Luca Guadagnino's follow-up to Call Me by Your Name is a re-imagining of Dario Argento's Suspiria. The 1977 horror classic tells the story of an American dancer who joins a German ballet company only to find it is a front for something much more sinister. Reuniting the director with Dakota Johnson and Tilda Swinton (possibly playing two roles), who starred together in A Bigger Splash, this November 2 release also features Mia Goth, Chloe Grace Moretz, original Suspiria star Jessica Harper, and the first feature film score by Radiohead's Thom Yorke.
The Girl in the Spider's Web
After three films starring Noomi Rapace, and one with Rooney Mara in the lead and David Fincher behind the camera, Lisbeth Salander is back on the big screen, portrayed this time by The Crown's Claire Foy. Fede Alvarez (Don't Breathe) directs this adaptation of the first of the Millennium book series not written by Stieg Larsson. The Girl in the Spider's Web, adapted by Steven Knight, Jay Basu and Alvarez and featuring Sverrir Gudnason, Sylvia Hoeks, Claes Bang, Cameron Britton, LaKeith Stanfield, Vicky Krieps, and Stephen Merchant, comes to theaters November 9th.
Halloween
Jamie Lee Curtis returns as Laurie Strode in this continuation of the Halloween series that began with John Carpenter's 1978 film. Directed by David Gordon Green (Stronger, Pineapple Express) from a script he wrote with Jeff Fradley and Danny McBride, this October 19 release finds Laurie ready to take on a newly escaped Michael Myers. Halloween also stars Judy Greer as Laurie's daughter and Andi Matichak as her granddaughter.
A Star Is Born
The love story at the heart of 1937's A Star Is Born has now inspired three Hollywood remakes: a 1954 version starring Judy Garland and James Mason, a 1976 film starring Barbra Streisand and Kris Kristofferson that moved the story into the rock world, and now this October 5 release directed by Bradley Cooper and starring Cooper and Lady Gaga. Set in the world of country music, Cooper plays Jackson Maine, who discovers and falls in love with Gaga's Ally, a struggling artist he brings into the spotlight. 2018's A Star Is Born also features Dave Chappelle, Andrew Dice Clay, and Sam Elliott.
White Boy Rick
White Boy Rick is based on the true story of Ricky Wershe Jr. (newcomer Richie Merritt), who in 1980s Chicago became the youngest FBI informant in history at the age of 14. By 17, he was in jail for drug trafficking. The film follows Ricky and his father (Matthew McConaughey) through the events that led to Jr.'s arrest. Yann Demange ('71) directs this September 14 release that features Jennifer Jason Leigh, Bruce Dern, Bel Powley, Piper Laurie, RJ Cyler, and Brian Tyree Henry.
Widows
Steve McQueen's first feature since 2013's 12 Years a Slave tells the story of four women who team up to settle the debt their dead husbands left behind. Adapted by Gillian Flynn and McQueen from a British television series, Widows is set in Chicago and follows Veronica (Viola Davis), Alice (Elizabeth Debicki), Linda (Michelle Rodriguez) and Belle (Cynthia Erivo) as they work to make their own future. The November 16 release has a strong supporting cast that includes Colin Farrell, Brian Tyree Henry, Daniel Kaluuya, Garret Dillahunt, Carrie Coon, Jacki Weaver, Jon Bernthal, Manuel Garcia-Rulfo, Robert Duvall, and Liam Neeson.
The Old Man and the Gun
David Lowery (A Ghost Story) directs Robert Redford again (they teamed up for Pete's Dragon) in this loose adaptation of David Grann's 2003 piece in The New Yorker about Forrest Tucker, a career criminal who escaped multiple prisons, including San Quentin, and pulled off a string of heists well into his 70's. Lowery regular Casey Affleck plays the detective who pursues Tucker, and Sissy Spacek plays the woman who loves him despite his profession. With a strong supporting cast of Danny Glover, Tom Waits, and Tika Sumpter, The Old Man and the Gun comes to theaters September 28th.
Operation Finale
Operation Finale tells the true story of Mossad agent Peter Malkin's 1960 mission to infiltrate Argentina and capture Adolf Eichmann, the Nazi officer behind the transportation of millions of Jews to their deaths in concentration camps. Directed by Chris Weitz (A Better Life), the September 14 release stars Oscar Isaac, Ben Kingsley, Melanie Laurent, Nick Kroll, Joe Alwyn, Haley Lu Richardson, Greta Scacchi, and Lior Raz.
Serenity
Serenity, the latest from writer-director Steven Knight (Locke), is a thriller about a fishing boat captain (Matthew McConaughey) whose life is turned upside-down when his his ex-wife (Anne Hathaway) tracks him down and asks him to kill her violent husband (Jason Clarke). The October 19 release features a supporting cast of Djimon Hounsou, Diane Lane, and Jeremy Strong.
Bad Times at the El Royale
In Bad Times at the El Royale, seven strangers check into a hotel one night in 1969 and their dark pasts come bubbling up to the surface. Written and directed by Drew Goddard (The Cabin in the Woods), this October 5 release stars Jeff Bridges, Chris Hemsworth, Jon Hamm, Dakota Johnson, Cynthia Erivo, Cailee Spaeny, Lewis Pullman, and Nick Offerman.
How to Train Your Dragon: The Hidden World
Coming to theaters on March 1, 2019, How to Train Your Dragon: The Hidden World completes writer-director Dean DeBlois' planned trilogy that began in 2010 with How to Train Your Dragon and continued in 2014 with How to Train Your Dragon 2. The third film finds Hiccup (Jay Baruchel) and Astrid (America Ferrera) ruling Berk as a dragon utopia, but when their peaceful home is threatened by Grimmel (voiced by F. Murray Abraham) and Toothless meets a female Light Fury, they travel to a mythic realm to fight and protect the world they've built.
Spider-Man: Into the Spider-Verse
The new trailer for Spider-Man: Into the Spider-Verse introduces Peter Parker (Jake Johnson), Gwen Stacy (Hailee Steinfeld), and Miles Morales' (voiced by Dope's Shameik Moore) dad (Brian Tyree Henry). The voice cast of this December 14 release also includes Mahershala Ali as uncle Aaron, Luna Lauren Velez as Miles' mother, Lily Tomlin as Aunt May, and Liev Schreiber as the Kingpin.
Ralph Breaks the Internet: Wreck-It Ralph 2
In this sequel to 2012's Wreck-It Ralph, Ralph and Vanellope von Schweetz go from Litwak's Arcade to the world wide web to search for a replacement part to fix Vanellope's video game, Sugar Rush. John C. Reilly and Sarah Silverman return to voice Ralph and Vanellope, and Taraji P. Henson joins the voice cast as Yesss, the head algorithm of the site BuzzzTube. Ralph Breaks the Internet: Wreck-It Ralph 2 hits theaters November 21st with plenty of Disney branding.
Mortal Engines
Visual-effects artist Christian Rivers (King Kong) makes his directorial debut with this adaptation of Philip Reeve's award-winning book series set thousands of years after civilization was destroyed and humanity developed gigantic moving cities. Based on the first novel in the series, Mortal Engines follows Hester Shaw (Hera Hilmar) and Tom Natsworthy (Robert Sheehan) as they forge and unlikely alliance to take on Hugo Weaving's Thaddeus Valentine. This December 14 release is produced by Peter Jackson.
Bumblebee
This December 21 release is a spin-off of the Transformers series. Set in 1987, Bumblebee follows Charlie (Hailee Steinfeld) as she discovers the titular Transformer in a junkyard only to learn that it's no ordinary VW bug. Travis Knight makes his live-action directing debut after the critical hit Kubo and the Two Strings.
Short takes
For further evidence that Tom Cruise is crazy ... good at doing his own stunts, check out this halo jump for Mission: Impossible - Fallout.
The critically acclaimed Araby tells the story of Cristiano, a factory worker in Brazil. Look for it in select theaters beginning June 22nd.
London Fields, the long-delayed, Amber Heard-starring adaptation of Martin Amis's 1989 novel, will finally come to theaters this August in a newly edited cut. Vulture has the new trailer.
News and notes
Al Pacino, Damian Lewis, Luke Perry, Emile Hirsch, Dakota Fanning, and Clifton Collins have joined DiCaprio, Brad Pitt, Margot Robbie, Burt Reynolds, and Timothy Olyphant. in Quentin Tarantino's Once Upon a Time in Hollywood. - Variety
Reese Witherspoon will return as Elle Woods in Legally Blonde 3, opening February 14, 2020. - Deadline
Jared Leto's Joker from Suicide Squad will get his own movie. - Variety
Eddie Murphy will play blaxpoitation star Rudy Ray Moore in the Netflix biopic Dolemite Is My Name. Craig Brewer (Hustle & Flow) will direct from a script by Scott Alexander and Larry Karaszewski (Man on the Moon). - Deadline
Val Kilmer will return as Iceman in Top Gun: Maverick. - TheWrap
Doug Liman is in talks to direct Warner Bros.' reboot of The Cannonball Run. - Deadline
Amy Seimetz has joined Jason Clarke and John Lithgow in Starry Eyes directors Kevin Kolsch and Dennis Widmyer's reboot of Stephen King's Pet Sematary. - Variety
Michael Pena, Diane Wiest, Laurence Fishburne, Alison Eastwood, and Taissa Farmiga have joined Clint Eastwood and Bradley Cooper in The Mule. - THR
Amanda Seyfried has joined Kevin Bacon in David Koepp's supernatural thriller You Should Have Left. - Heat Vision
Tika Sumpter (Ride Along) is in talks to join James Marsden in the live-action/animation movie based on Sonic the Hedgehog. - Variety
Ryan Gosling, Donald Glover, and Ezra Miller are on the shortlist to play Willy Wonka in Paddington 2 director Paul King's planned prequel/origin story. - Collider
Writer-director John Ridley's time-travel romance, Needle in a Timestack, an adaptation of Robert Silverberg's short story, will star Leslie Odom Jr., Freida Pinto, Cynthis Erivo, and Orlando Bloom.
Luke Evans has joined Jennifer Aniston and Adam Sandler in the Netflix comedy Murder Mystery. - Heat Vision
Yoson An has been cast as Chen Honghui, Mulan's love interest, in Niki Caro's live-action update of the story. - Heat Vision
Eugenio Derbez is in talks to join Isabela Moner in James Bobin's live-action feature adaptation of Dora the Explorer. - Heat Vision
Mr. Robot's Rami Malek and Sam Esmail will star in and direct, respectively, an adaptation of American Radical, the memoir of an undercover Muslim FBI agent, written by Tamer Elnoury and Kevin Maurer.- THR