New trailers and updates for upcoming films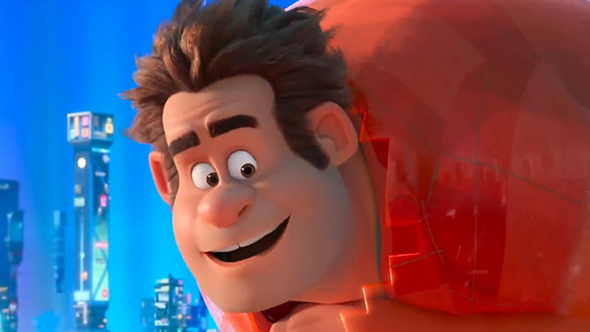 Wreck-It Ralph returns
In the sequel to 2012's Wreck-It Ralph, Ralph and Vanellope von Schweetz go from Litwak's arcade to the world wide web to search for a replacement part to fix Vanellope's video game, Sugar Rush. John C. Reilly and Sarah Silverman return to voice Ralph and Vanellope, and Taraji P. Henson joins the voice cast as Yesss, the head algorithm of the site BuzzzTube. Ralph Breaks the Internet: Wreck-It Ralph 2 hits theaters November 21st.
The Death of Stalin
The latest from writer/director Armando Iannucci (In the Loop, Veep, The Thick of It) is a comic look at the political landscape of 1950's Russia. In the aftermath of Joseph Stalin's death, different factions fight to control the future of the country, but the main (and difficult) goal is to stay alive. Based on the French graphic novel by Fabien Nury and Thierry Robin and starring Steve Buscemi, Andrea Riseborough, Olga Kurylenko, Paddy Considine, Simon Russell Beale, Rupert Friend, Jason Isaacs, Michael Palin, and Jeffrey Tambor, The Death of Stalin has received excellent early reviews. Find it in select theaters beginning next Friday.
Final Portrait
Actor Stanley Tucci's latest film as director is based on A Giacometti Portrait, writer James Lord's memoir of his time sitting for portrait artist Alberto Giacometti. Set in 1964, the film provides a unique look at the creative process as Armie Hammer's Lord observes a frustrated Giacometti (Geoffrey Rush) strive for something he can't complete, delaying Lord's return home several times. With very good early reviews, Final Portrait comes to select theaters March 23rd.
Thoroughbreds
Writer-director Corey Finley's debut features stars Olivia Cooke (Me and Earl and the Dying Girl) as Amanda and Anya Taylor-Joy (Split) as Lily, two childhood friends who, after drifting apart, bond over the prospect of killing Lily's stepdad (Paul Sparks). Their plan leads them to hire a local hustler (Anton Yelchin) to help in the matter. Thoroughbreds earned very good reviews when it premiered at Sundance last year. Find it in select theaters beginning next Friday.
The Week Of
Coming to Netflix on April 27th, The Week Of stars Adam Sandler as a middle class father determined to pay for his daughter's wedding despite the wealth of Chris Rock's father of the groom. As disasters pile up, the very different families begin to bond. Comedy veteran Robert Smigel (the voice and writer behind Triumph the Insult Comic Dog) makes his feature directing debut from a script he wrote with Sandler.
Chappaquiddick
Jason Clarke stars as Ted Kennedy in this recounting of the events of July 18, 1969, when Kennedy drove his car off a bridge on the titular Massachusetts island, killing Mary Jo Kopechne (Kate Mara). Directed by John Curran (Tracks) from a script by Andrew Logan and Taylor Allen, Chappaquiddick received good early reviews at TIFF last year and comes to theaters April 6th.
Book Club
Starring Diane Keaton, Jane Fonda, Candice Bergen, and Mary Steenburgen, Book Club follows four lifelong friends as their lives change after reading 50 Shades of Grey. Co-written (with Erin Simms) and directed by Bill Holderman (making his debut as director), the May 18 release features Andy Garcia, Craig T. Nelson, Don Johnson, and Richard Dreyfuss in supporting roles.
Let the Sunshine In
When it premiered at the Director's Fortnight section of the Cannes Film Festival last year, the latest from Claire Denis shared the SACD Award for best French film with Philippe Garrel's Lover for a Day. Written by Denis with novelist Christine Angot and inspired by Roland Barthes' Fragments: A Lover's Discourse, the film stars Juliette Binoche as an artist, mother and divorcee looking for love but unable to find a compatible match. Let the Sunshine In
arrives in select theaters on April 27th.
Short takes
Written and directed Tom Gould and John Serpe, The Happys follows 21-year-old Wisconsin transplant Tracy and her adventures with a group of interesting characters in Los Feliz. Find it in select theaters March 16th.
News and notes