New trailers and updates for upcoming films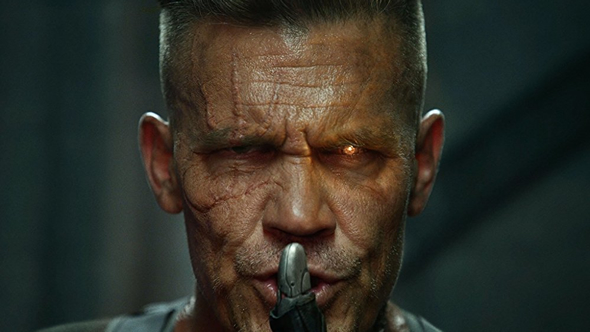 Deadpool 2
The irreverent humor and extreme violence of 2016's Deadpool will be returning to theaters on May 18th in Deadpool 2. David Leitch (Atomic Blonde) takes over directing duties from Tim Miller, but Ryan Reynolds, Morena Baccarin, Brianna Hildebrand, Karan Soni, T.J. Miller, and Stefan Kapicic will all reprise their roles. The new trailer confirms the formation of X-Force and provides a rough sketch for the plot: Josh Brolin's Cable wants "the kid" (Hunt for the Wilderpeople star Julian Dennison), and Deadpool needs help stopping him. Joining the fun are Zazie Beetz as Domino and Terry Crews as Bedlam.
Sicario: Day of the Soldado
The director (Denis Villeneuve) and lead actor (Emily Blunt) of 2015's Sicario are not back for the sequel, but Josh Brolin and Benicio del Toro are, as is screenwriter Taylor Sheridan. Directed by Stefano Sollima, Sicario: Day of the Soldado pits Brolin's Matt Graver and del Toro's Alejandro against each other after a mission goes bad and Alejandro decides to protect the daughter (Isabela Moner) of a Mexican kingpin. Look for it in theaters June 29th.
Tag
Based on a true story, Tag follows five friends (Ed Helms, Jake Johnson, Hannibal Buress, Jon Hamm and Jeremy Renner) who have been playing the same game of tag for one month of every year since first grade. This year the game happens to occur at the same time as the wedding of their only undefeated player (Renner), and he's not ready to give up the crown. Directed by Jeff Tomsic, the June 15 release features a supporting cast of Annabelle Wallis, Rashida Jones, Isla Fisher, and Leslie Bibb.
Under the Silver Lake
Coming off the success of the horror film It Follows, writer-director David Robert Mitchell shifts into noir with his latest, Under the Silver Lake. The June 22 release follows Sam (Andrew Garfield) as he searches for the truth behind the disappearance of a mysterious woman (Riley Keough) he meets one night as she swims in the pool of his apartment complex.
The Spy Who Dumped Me
In The Spy Who Dumped Me, Audrey (Mila Kunis) and Morgan (Kate McKinnon) are best friends who are pulled into an international conspiracy when Audrey's ex-boyfriend (Justin Theroux) reveals that he's a spy being hunted by deadly assassins. As they go on the run through Europe, Audrey and Morgan have to come up with a plan to save the world. Directed by Susanna Fogel from a script she wrote with David Iserson, the August 3 release features a supporting cast that includes Gillian Anderson, Sam Heughan, Hasan Minhaj, and Ivanna Sakhno.
Can You Ever Forgive Me?
Melissa McCarthy stars in this true story of celebrity biographer turned forger Lee Israel. Directed by Marielle Heller (The Diary of a Teenage Girl) from a script based on Israel's memoir, the October 19 release picks up in 1991, when Israel is struggling to pay rent and resorts to forging letters from famous authors. Richard E. Grant plays her confidant, Jack, while Jane Curtin, Dolly Wells, and Anna Deavere Smith have supporting roles.
A Ben Kingsley double feature
Ben Kingsley has two films coming out next month. The first, An Ordinary Man, is due April 13th and stars Kingsley as a war criminal who forms a relationship with his maid (Hera Hilmar). The film is written and directed by Brad Silberling (Land of the Lost).
Coming to theaters on April 27th, Backstabbing for Beginners is based on a true story. Directed by Per Fly from a script based on Michael Soussan's memoir and co-written with Daniel Pyne, the film follows a UN employee who uncovers a global conspiracy involving his boss (Kingsley).
Action Point
Johnny Knoxville combines a little Bad Grandpa and a lot of Jackass for his comedy Action Point. Knoxville stars as D.C., the owner of a low-rent amusement park. When a brand new theme park opens nearby, D.C. tries to save his park and his relationship with his daughter by creating the most dangerous amusement park ever. Look for it in theaters June 1st.
Coming to Netflix in April
Amateur tells the story of 14-year-old basketball phenom Terron Forte (Michael Rainey Jr.) and his struggles at an elite prep school that funnels players to the NCAA. Written and directed by Ryan Koo, the April 6 streamer co-stars Josh Charles.
Chiwetel Ejiofor stars as pastor Carlton Pearson in the true story Come Sunday. Directed by Joshua Marston (Maria Full of Grace, The Forgiveness of Blood), the film co-stars Jason Segel, Lakeith Stanfield, Danny Glover and Martin Sheen as Oral Roberts. It streams April 13.
Three documentaries coming to theaters
Early reviews are good for Won't You Be My Neighbor?, a profile of children's television host Fred Rogers by director Morgan Neville (20 Feet From Stardom). Look for it in select theaters beginning June 8th.
In The Devil and Father Amorth, The Exorcist director William Friedkin follows an official exorcist of the Diocese of Rome, 91-year-old Father Gabriele Amorth, on his house calls. The April 20 release has mixed early reviews.
Director Sophie Fiennes' Grace Jones: Bloodlight and Bami profiles artist-singer-actor Grace Jones. Find it in select theaters April 13th.
Short takes
Coming to theaters June 15 is SuperFly, a remake of 1972's Super Fly. Directed by Director X from a script by Alex Tse, the film re-imagines the story in contemporary Atlanta. Jason Mitchell, Trevor Jackson, and Michael Kenneth Williams star.
In Hotel Transylvania 3: Summer Vacation, Mavis surprises her dad, Dracula, with a luxury Monster Cruise. Find it in theaters July 13th.
Wildling stars Bel Powley (The Diary of a Teenage Girl) as a young girl who has been raised in isolation for a reason. When she is introduced to the real world under the protection of a police officer (Liv Tyler), she finds herself drawn to the forest. Find it on VOD and in select theaters beginning April 13th.
News and notes