Opening this weekend
View a guide to this weekend's new theatrical releases including Murder on the Orient Express, Daddy's Home 2, and Three Billboards Outside Ebbing, Missouri.
New trailers and updates for upcoming films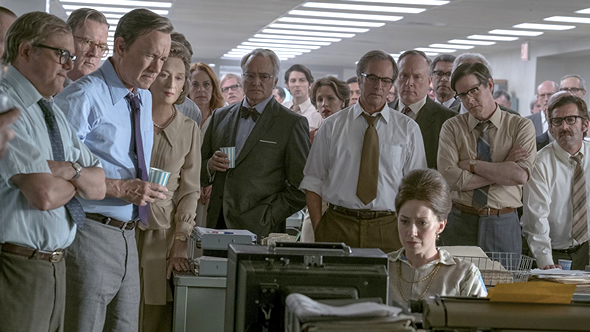 Your first look at Spielberg's Oscar contender The Post
Steven Spielberg directs Tom Hanks and Meryl Streep (appearing together in a film for the first time) in this drama about the efforts of the Washington Post and The New York Times to declassify the Pentagon Papers during the Vietnam War. Streep plays The Post's Katharine Graham, the first female publisher of a major American paper, and Hanks plays Times editor Ben Bradlee. The strong supporting cast includes Alison Brie, Carrie Coon, David Cross, Bruce Greenwood, Tracy Letts, Bob Odenkirk, Sarah Paulson, Jesse Plemons, Matthew Rhys, Michael Stuhlbarg, Bradley Whitford, and Zach Woods. The Post opens on a few screens on December 22nd before expanding nationwide on January 12, 2018.
Guillermo Del Toro's gem The Shape of Water
Director Guillermo Del Toro (Crimson Peak) won the Golden Lion at the Venice Film Festival for this original, adult fairy tale co-written with Vanessa Taylor. Set in 1963 America, the film stars Sally Hawkins as Elisa, a mute, who forms a connection with a creature in a high-security government laboratory. Arriving in New York theaters December 1st before expanding elsewhere throughout the month, The Shape of Water also stars Octavia Spencer, Michael Shannon, Michael Stuhlbarg, and Richard Jenkins.
It's almost time for Game Night
A murder mystery party gets out of hand for Rachel McAdams, Jason Bateman, and Kyle Chandler in this comedy from directors John Francis Daley and Jonathan M. Goldstein (2015's Vacation). Coming to theaters on March 2, 2018, Game Night also stars Jesse Plemons, Sharon Horgan, Billy Magnussen, Chelsea Peretti, Michael C. Hall. Lamorne Morris, and Danny Huston.
52 Shades of Grey?
Fifty Shades Freed, the final chapter in the Fifty Shades franchise, arrives in theaters February 9, 2018. Jamie Dornan and Dakota Johnson return as Christian Grey and Anastasia Steele. Now newlyweds, they hope to spend the rest of their lives together in marital bliss, but new threats arise, jeopardizing their (inevitable) happy ending. James Foley, the director of Fifty Shades Darker, returns, as do Kim Basinger, Rita Ora, and Marcia Gay Harden.
On the Beach At Night Alone
Coming to select theaters next Friday, On the Beach at Night Alone is one of three films writer-director Hong Sang-soo premiered at festivals this year. Following the critical success of Right Now, Wrong Then, the writer-director gets personal with a story starring actress Kim Min-hee (winner of the Berlin festival's Best Actress prize) as a famous actress coming to terms with the end of an affair with a married film director, a story that parallels the real-life relationship between Hong and Kim. Early reviews have been excellent.
One last trailer for Pixar's Coco
Early reviews have been very good (though not great) for Pixar's Coco. The November 22 release, directed by Lee Unkrich (Toy Story 3) and Adrian Molina, follows the music loving Miguel (newcomer Anthony Gonzalez) as he and his dog, Dante, find themselves in the Land of the Dead, struggling to unlock his family's generations-old ban on music and return home. The voice cast includes Benjamin Bratt, Gael García Bernal, Edward James Olmos, and Cheech Marin.
Early Man
From the mind of Nick Park, the director of Shaun the Sheep Movie, Wallace & Gromit: The Curse of the Were-Rabbit, and Chicken Run, comes the prehistoric comedy Early Man. Set at the dawn of time, the February 16, 2018 release tells the story of Dug, a courageous caveman (Eddie Redmayne), and his best friend Hognob as they unite their tribe against Lord Nooth (Tom Hiddleston) and his Bronze Age City.
Short takes
Directed by Simon West (The Expendables 2), the January 5, 2018 release Stratton starts Dominic Cooper as a British Special Boat Service commando on the tail of an international terrorist.
In Forever My Girl a country music superstar meets the daughter he never knew he had. Look for it in theaters beginning January 19, 2018.
News and notes