Opening this weekend
View a guide to this weekend's new theatrical releases including Justice League, Mudbound, Wonder, and more.
New trailers and updates for upcoming films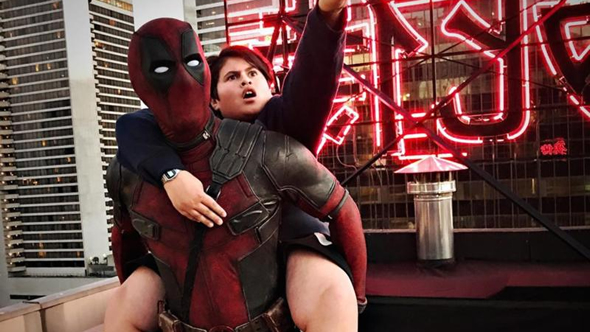 Your first (brief) glimpse at Deadpool 2
Deadpool is a big Bob Ross fan, or if Deadpool isn't, Ryan Reynolds is. The first teaser for Deadpool 2 features Reynolds in Deadpool's suit and a Bob Ross wig, painting trees and talking about his love of cocaine. There is about ten seconds of footage from the June 1, 2018 release. David Leitch (Atomic Blonde) takes over for Deadpool director Tim Miller, and Josh Brolin and Zazie Beetz have joined returning cast members Morena Baccarin, Brianna Hildebrand, T.J. Miller, Karan Soni, and Stefan Kapicic.
A Quiet Place
John Krasinski directs and stars with his wife, Emily Blunt, in this thriller about a family who survives by being silent because any noise will awake a mysterious and, by the looks of it, deadly creature. A Quiet Place also stars Noah Jupe and Wonderstruck's Millicent Simmonds. Look for it in theaters beginning April 6, 2018.
Rampage
Dwayne Johnson reunites with his San Andreas director, Brad Peyton, for this man versus monsters movie based on the 1980s arcade game. Johnson plays primatologist Davis Okoye whose special bond with George, a silverback gorilla, comes in handy when a genetic experiment mutates the gentle ape into an enormous, and quite angry, creature. Helping Johnson save the world is Naomie Harris, while Jeffrey Dean Morgan seems to have other plans. Rampage hits theaters April 20, 2018.
The Greatest Showman
The Greatest Showman is an original musical starring Hugh Jackman as P.T. Barnum. Determined to give his family a better life, Barnum creates a spectacle unlike anything seen before, featuring acts that spur protests from "civilized" society. Directed by Michael Gracey and featuring songs by La La Land's Benj Pasek and Justin Paul, the December 20 release stars Zac Efron, Michelle Williams, Rebecca Ferguson, and Zendaya.
Hostiles
Set in 1892, Hostiles follows an Army Captain (Christian Bale) as he reluctantly escorts a dying Cheyenne chief (Wes Studi) and his family back to tribal lands. On the journey from New Mexico to Montana, their party picks up a widow (Rosamund Pike) whose family has been murdered. This December 22 release (look for it nationwide beginning January 19th), directed by Scott Cooper (Black Mass, Out of the Furnace) and also starring Adam Beach, Ben Foster, Jesse Plemons, Rory Cochrane, and Q'orianka Kilcher, received solid reviews when it premiered at the Telluride Film Festival.
Happy End
When Happy End, the latest from writer-director Michael Haneke, premiered at Cannes earlier this year, the film received good reviews, but not the overwhelming positive reception of his previous competition films Amour and The White Ribbon. A look at the pathological sickness of a bourgeois family in Calais, the film has a strong cast (Isabelle Huppert, Jean-Louis Trintignant, Mathieu Kassovitz) and features Haneke's typical precision, but critics were underwhelmed by his reliance on themes he investigated in previous films. Look for it beginning December 22nd.
The Other Side of Hope
Aki Kaurismäki's follow-up to 2011's Le Havre earned him the Silver Bear Best Director award at this year's Berlin Film Festival. Returning to his native Helsinki, the director has produced another deadpan delight that chronicles the friendship between Khaled, a Syrian refugee, and Wikström, a local restaurant owner. The Other Side of Hope opens in select theaters December 1st.
Small Town Crime
Written and directed by Eshom Nelms and Ian Nelms, Small Town Crime stars John Hawkes as Mike Kendall, an ex-cop who discovers the dead body of a young woman and decides to find her killer. As he attempts to solve the case, he puts his sister (Octavia Spencer) and best friend (Anthony Anderson) in danger. Coming to DirecTV December 21st and theaters in January, the film has good early reviews and a strong supporting cast of Robert Forster, Clifton Collins, Jr., Michael Vartan, James Lafferty, and Dale Dickey.
The Pirates of Somalia
Previously titled Dabka when it screened at the Tribeca Film Festival, director Bryan Buckley's follow-up to The Bronze tells the true story of Jay Bahadur, a rookie journalist who traveled to Somalia to embed with the country's pirates. Based on the resulting book, The Pirates of Somalia stars Evan Peters as Bahadur and Barkhad Abdi as his translator. Find it in select theaters beginning December 8th.
The Party
Sally Potter's varied filmography (Ginger & Rosa, Yes, The Man Who Cried, The Tango Lesson, Orlando) continues to diversify with this black comedy hitting select U.S. theaters on February 16, 2018. Written by Potter, the film features strong performances by Patricia Clarkson, Kristin Scott Thomas, Timothy Spall, Bruno Ganz, Cherry Jones, Emily Mortimer, and Cillian Murphy. The Party earned good reviews when it premiered earlier this year in Berlin.
The Strangers: Prey at Night
In this quasi-sequel/reboot of 2008's The Strangers, a family's road trip turns deadly when they arrive at a secluded and empty mobile home park. As night falls, three masked psychopaths begin to hunt the family down. Directed by Johannes Roberts (47 Meters Down) and starring Christina Hendricks, Martin Henderson, Bailee Madison and Lewis Pullman, The Strangers: Prey at Night hits theaters March 9, 2018.
Short takes
In Hotel Transylvania 3: Summer Vacation, Mavis surprises her dad, Dracula, with a luxury Monster Cruise. Look for it in theaters September 21, 2018.
Coming to theaters January 19, 2018, the unique documentary The Road Movie is a compilation of dashboard camera footage from Russian roads.
Kaleidoscope stars Toby Jones as an ex-con still traumatized by his domineering mother (Anne Reid). Find it on VOD and in select theaters beginning December 8th.
News and notes