Opening this weekend
View a guide to this weekend's new theatrical releases including Thor: Ragnarok, A Bad Moms Christmas, Lady Bird, Last Flag Flying, and more.
New trailers and updates for upcoming films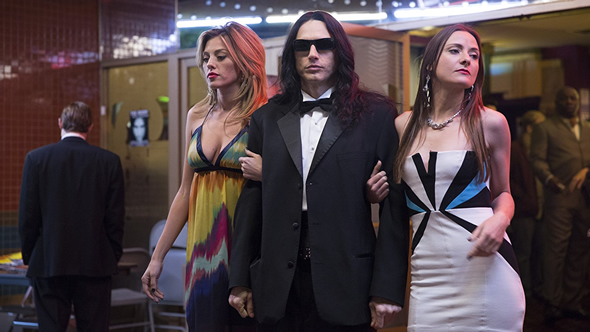 Go back inside The Room with James Franco
James Franco's adaptation of Greg Sestero's The Disaster Artist: My Life Inside the Room, The Greatest Bad Movie Ever Made earned very good reviews when it premiered as a work in progress at the SXSW Film Festival. Franco stars as The Room's writer, director and star Tommy Wiseau and is the focus of the latest trailer, adopting his unique accent and strange combination of ineptitude and earnestness. Coming to a few theaters on December 1st before expanding the next week, The Disaster Artist also stars Dave Franco as Sestero and Seth Rogen as script supervisor Sandy Schklair, as well as Alison Brie, Zoey Deutch, Eliza Coupe, and Josh Hutcherson.
A pair of new trailers for I, Tonya
Craig Gillespie (The Finest Hours, Lars and the Real Girl) directs Margot Robbie as infamous figure skater Tonya Harding in this unconventional biopic that received good reviews when it premiered in Toronto. Joining Robbie are Sebastian Stan as her ex-husband Jeff Gillooly and Allison Janney in a highly-praised performance as her mother LaVona Golden. I, Tonya opens in select theaters December 8th.
Another look at Alexander Payne's Downsizing
The latest from writer-director Alexander Payne combines sci-fi and comedy to take a satirical look at American society. The film stars Matt Damon as an everyman who decides to take advantage of new shrinking technology to improve his life. However, he finds that his new community, Leisureland, has the same problems as the larger one he left. Coming to theaters December 22nd, Downsizing has received a wide range of reactions from early screenings.
In the Fade
After the critical success of Head On, The Edge of Heaven (Best Screenplay at Cannes in 2007), and Soul Kitchen, director Fatih Akin failed to impress most critics with The Cut. Unfortunately, his new film, In the Fade, starring Diane Kruger as a woman who seeks justice and then revenge when her husband and child are killed in a bomb attack, also earned mixed reviews when it premiered at Cannes this year. But the December 27 release does feature a performance by Kruger that many think could earn her a nomination for best actress.
Daddy's Home 2
The success of Daddy's Home, which was released on Christmas Day in 2015, has resulted in a sequel that introduces Mel Gibson and John Lithgow as Mark Wahlberg and Will Ferrell's fathers. Daddy's Home 2 also expands John Cena's role and returns Linda Cardellini and Alessandra Ambrosio. Find it in theaters next Friday.
Permanent
Set in 1982, Permanent follows 13-year-old Aurelie Dickson (Kira McLean) and her parents, Jeanne and Jim (Patricia Arquette and Rainn Wilson), as they struggle through major life changes together. This feature from Colette Burson, the writer and director of Hung, hits theaters, On Demand, Amazon and iTunes on December 15th.
Blame
This debut feature from 22 year-old writer-director and star Quinn Shephard follows high school outcast Abigail (Shephard) as she enters a relationship with her drama teacher (Chris Messina) after he casts her in a production of Arthur Miller's The Crucible. Their relationship sparks jealousy in her classmate, Melissa (Nadia Alexander), who plots against her. Blame comes to select theaters and VOD on January 5, 2018.
A Prayer Before Dawn
Based on Billy Moore's memoir, A Prayer Before Dawn follows Moore, played by Joe Cole, as he tries to box his way to a better life when he's thrown into a Thai prison. Shot in an actual Thai prison with a cast made up of real inmates, Jean-Stephane Sauvaire's film premiered in Cannes to solid reviews and comes to theaters in 2018.
The Strange Ones
In The Strange Ones James Freedson-Jackson (winner at SXSW for Breakthrough Performance) and Alex Pettyfer play mysterious companions making their way across a remote American landscape. What appears to be a simple vacation soon gives way to a dark and complex web of secrets. Lauren Wolkstein and Christopher Radcliff direct this December 7 DirecTV release that comes to select theaters on January 5, 2018.
Short takes
A short new trailer for Star Wars: The Last Jedi revealed some new footage from the film this week.
Coming to theaters in 2018, writer-director Austin Vesely's Slice stars Chance the Rapper, Zazie Beetz, and Paul Scheer in a horror mystery story about the murders of pizza delivery boys.
Song of Granite is a portrait of traditional Irish singer Joe Heaney. See it in New York beginning November 15th and in Los Angeles on December 8th.
News and notes