New trailers and updates for upcoming films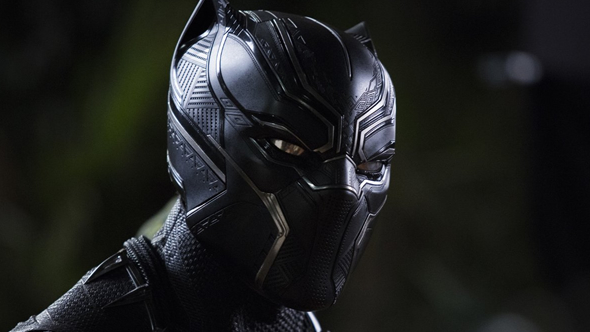 Next up in the Marvel Cinematic Universe: Black Panther
The new trailer for Black Panther provides an even more detailed look at Wakanda, the technologically advanced country where T'Challa/Black Panther (Chadwick Boseman) faces challengers to his throne. Directed by Ryan Coogler (Creed, Fruitvale Station), this February 16, 2018 release features Michael B. Jordan as Erik Killmonger, one of the enemies Black Panther must face off against; Lupita Nyong'o and Danai Gurira as members of the Milaje, a security force protecting king and country; plus Martin Freeman, Daniel Kaluuya, Letitia Wright, Winston Duke, Angela Bassett, Forest Whitaker, and Andy Serkis.
12 Strong
12 Strong dramatizes the true story of the first soldiers who fought in Afghanistan after 9/11. Led by their Captain, Mitch Nelson (Chris Hemsworth), the U.S. Special Forces team had to convince Northern Alliance General Dostum (Navid Negahban) to join forces with them to fight their common enemy: the Taliban and their Al Qaeda allies. Based on Doug Stanton's book Horse Soldiers, the January 19, 2018 release has a cast that includes Michael Shannon, Trevante Rhodes, Michael Peña, Austin Stowell, Ben O'Toole, Geoff Stults, Austin Hebert, Kenneth Miller, Kenny Sheard, Jack Kesy, and Elsa Pataky.
I, Tonya
Craig Gillespie (The Finest Hours, Lars and the Real Girl) directs Margot Robbie as infamous figure skater Tonya Harding in this unconventional biopic that received good reviews when it premiered in Toronto. Joining Robbie are Sebastian Stan as her ex-husband Jeff Gillooly and Allison Janney in a highly-praised performance as her mother LaVona Golden. I, Tonya opens in select theaters December 8th.
I Love You, Daddy
Co-written (with Vernon Chatman), directed by, and starring Louis C.K., I, Love You Daddy was one of the most talked-about films at the Toronto International Film Festival. Knowingly provocative, the divisive film stars C.K. as a very successful television writer-producer whose 17-year-old daughter (Chloë Grace Moretz) becomes involved with a much older film director (John Malkovich) whose reputation with younger women parallels Woody Allen's. Rose Byrne, Charlie Day, Pamela Adlon, Edie Falco, and Helen Hunt also star in this November 17 release.
It Happened in L.A.
Previously titled L.A. Times when it premiered at the Sundance Film Festival, It Happened in L.A. follows Annette (writer-director Michelle Morgan), who upon breaking up with her boyfriend Elliot (Jorma Taccone), discovers that dating in L.A. is as bad as her best friend Baker (Dree Hemingway) already knows. Look for Morgan's debut feature in select theaters and on VOD beginning November 3rd.
The Ballad of Lefty Brown
Coming to select theaters December 15th, The Ballad of Lefty Brown stars Bill Pullman as the titular character, an aging sidekick to Peter Fonda's Eddie Johnson. When Johnson is killed, Lefty must confront the difficult realities of frontier justice. With a supporting cast that includes Kathy Baker, Jim Caviezel, Tommy Flanagan and Diego Josef, writer-director Jared Moshe's film has earned good early reviews.
24 Hours to Live
Coming to select theaters and VOD on December 1st, 24 Hours to Live stars Ethan Hawke as Travis Conrad, an assassin who has 24 hours to avenge the death of his wife and daughter. Brian Smrz directs a cast that includes Rutger Hauer, Liam Cunningham, Paul Anderson, and Xu Qing.
Jim & Andy: The Great Beyond
Jim & Andy: The Great Beyond—Featuring a Very Special Contractually Obligated Mention of Tony Clifton chronicles Jim Carrey's transformation into Andy Kaufman on the set of Milos Foreman's Man on the Moon. Directed by Chris Smith (American Movie, The Yes Men), the November 17 Netflix release uses footage of Carrey on the set shot by Kaufman's former girlfriend, Lynne Margulies, and former writing partner, Bob Zmuda.
Mr. Roosevelt
Written, directed by, and starring Noël Wells (Master of None), Mr. Roosevelt tells the story of Emily Martin, a struggling comic who moves to Los Angeles after graduating college in Austin, Texas. After receiving a phone call from her ex-boyfriend (Nick Thune) about her ailing cat, she jumps at the chance to return to Austin, only to find it not as welcoming as it once was. The film opens next Friday.
Princess Cyd
Written and directed by Stephen Cone (Henry Gamble's Birthday Party), Princess Cyd follows 16-year-old Cyd Loughlin (Jessie Pinnick) while she visits her novelist aunt (Rebecca Spence) in Chicago. Over the summer, Cyd falls for a Katie, a local barista. Look for it in select theaters beginning November 3rd.
Short takes
Coming to theaters on October 31st for one night only at 10 PM, Keep Watching follows a family as they are imprisoned in their own home by intruders and forced to play a deadly game.
Writer-director Marianna Palka stars as a housewife who starts to act like a canine in Bitch. Look for it in select theaters November 10th.
Coming to VOD on November 24 and select theaters December 22, Hangman stars Al Pacino as a homicide detective who partners with a criminal profiler (Karl Urban) to catch a serial killer.
News and notes