New trailers and updates for upcoming films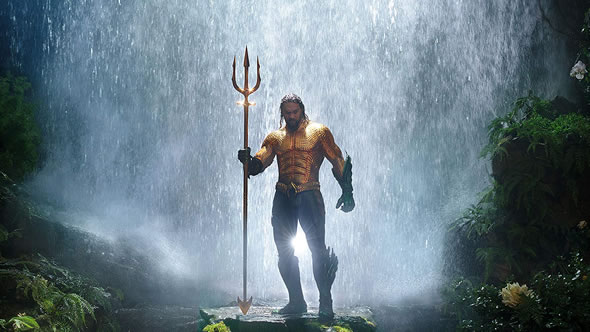 An extended look at Aquaman
There's plenty of action in this new extended look at Aquaman. Introduced in Justice League, Aquaman/Arthur Curry (Jason Momoa) is the son of Thomas Curry (Temuera Morrison), a human, and Queen Atlanna (Nicole Kidman). The plot of the December 21 release revolves around a powerful trident that interests Patrick Wilson's Orm/Ocean Master and Black Manta (Yahya Abdul-Mateen II), seen here shooting up a village with his robotic goons. Featured in this new trailer for Furious 7 director James Wan's film is Amber Heard's Mera, who serves as Aquaman's guide to the seven kingdoms of Atlantis.
Holmes & Watson
Talladega Nights and Step Brothers co-stars Will Ferrell and John C. Riley are back together in Holmes & Watson, a comedic take on the characters created by Sir Arthur Conan Doyle. Written and directed by Etan Cohen (Get Hard), the December 21 release finds Holmes (Ferrell) and Watson (Riley) attempting to solve a case before the Queen is killed. The supporting cast includes Ralph Fiennes as Moriarty, Rebecca Hall as Dr. Grace Hart, Kelly Macdonald as Mrs. Hudson, and Hugh Laurie as Mycroft.
Vice
Adam McKay's follow-up to The Big Short explores how Dick Cheney became Vice President to George W. Bush and reshaped the country and the world during his eight years in power. Christian Bale stars as Cheney, Amy Adams as Lynne Cheney, Sam Rockwell as George W. Bush, Steve Carell as Donald Rumsfeld, Tyler Perry as Colin Powell, LisaGay Hamilton as Condoleezza Rice, and Lily Rabe and Alison Pill as Liz and Mary Cheney. Vice opens on December 25th.
The Mule
Clint Eastwood steps in front of the camera for the first time since 2012's Trouble with the Curve in this December 14 release based on the life of World War II veteran Leo Sharp. Directing himself for the first time since 2008's Gran Torino, Eastwood stars as Earl Stone, a man facing foreclosure on his business who unknowingly signs up to be a drug courier for the Mexican cartel. Bradley Cooper plays the DEA agent who takes an interest in Earl. The Mule's supporting cast includes Laurence Fishburne, Michael Peña, Dianne Wiest, Andy Garcia, Alison Eastwood, and Taissa Farmiga.
Spider-Man: Into the Spider-verse
The latest trailer for Spider-Man: Into the Spider-Verse reveals there are at least six spider-derived superheroes in this animated feature: Peter Parker (Jake Johnson), Miles Morales (voiced by Dope's Shameik Moore), Gwen Stacy/Spider-Gwen (Hailee Steinfeld), Spider-Man Noir (Nicolas Cage), Spider-Ham (John Mulaney), and Peni Parker (Kimiko Glenn), who controls SP//dr, a psychically-powered mech suit. The voice cast of this December 14 release also includes Brian Tyree Henry as Miles' dad, Mahershala Ali as Aaron Davis/Prowler, Lily Tomlin as Aunt May, and Liev Schreiber as the Kingpin.
The Upside
This remake of The Intouchables stars Bryan Cranston as a rich quadriplegic and Kevin Hart as his inexperienced caregiver. Directed by Neil Burger (Limitless, Divergent), the film earned mixed reviews when it premiered at TIFF in 2017, and its release was delayed because it was originally a Weinstein Company production. The Upside finally hits theaters January 11, 2019.
Cold War
Writer-director Pawel Pawlikowski's follow-up to the Oscar-winning Ida is a love story inspired by his parents. Taking place in 1950s Poland, Berlin, Yugoslavia and Paris, the film follows two mismatched musicians, Wiktor (Tomasz Kot) and Zula (Joanna Kulig) through their up and down romance. Cold War is Poland's official entry for this year's best foreign language film Oscar race. See it in select theaters beginning December 21st.
Rocketman
Taron Egerton stars as Elton John in Rocketman, a look at the singer-songwriter's breakthrough years. Directed by Dexter Fletcher (Eddie the Eagle, Sunshine on Leith) from a script by Lee Hall (Billy Elliot), the May 17, 2019 release also stars Jamie Bell as Bernie Taupin, Bryce Dallas Howard, Richard Madden, Steven Mackintosh, and Gemma Jones.
Robin Hood
The latest film version of Robin Hood stars Taron Egerton as Robin of Loxley and Jamie Foxx as Little John. Together, they lead a revolt against the English crown and Ben Mendelsohn's Sheriff of Nottingham. Coming to their aid are Jamie Dornan's Will Scarlet, Eve Hewson's Maid Marian, and Tim Minchin's Friar Tuck. Robin Hood opens November 21st.
Short takes
Been So Long is a musical-romance starring Michaela Coel as single mother living in London's Camden neighborhood. Find it on Netflix beginning October 26th.
Stephen Dorff and Melissa George star as parents struggling with the death of their daughter in Don't Go. Look for it in select theaters and On Demand beginning October 26th.
With solid early reviews from Fantastic Fest, Overlord hits theaters November 9th. Here's a short final trailer.
News and notes