New trailers and updates for upcoming films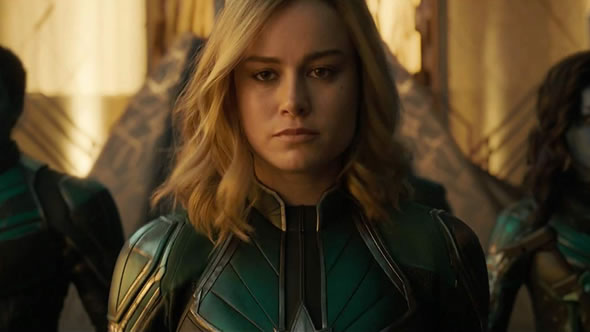 Captain Marvel
Coming to theaters on March 8, 2019, Captain Marvel follows the adventures of Carol Danvers (Brie Larson) in the 1990s as she becomes one of the universe's most powerful superheroes. As a member of the Kree military team called Starforce, she's part of the Kree-Skrull War, but she ends up back on Earth where she meets a younger version of Nick Fury (Samuel L. Jackson). Directed by Anna Boden and Ryan Fleck (Mississippi Grind), the latest Marvel movie sees the return of Clark Gregg as Phil Coulson, Lee Pace as Ronan the Accuser, and Djimon Hounsou as Korath, as well as the addition of Jude Law, Ben Mendelsohn, Gemma Chan, and Lashana Lynch. After watching the trailer below, head to Slashfilm for a breakdown of the trailer.
The Girl in the Spider's Web
After three films starring Noomi Rapace, and one with Rooney Mara in the lead and David Fincher behind the camera, Lisbeth Salander is back on the big screen. This time, she's portrayed by The Crown's Claire Foy. Fede Alvarez (Don't Breathe) directs this adaptation of the first of the Millennium book series not written by Stieg Larsson. The Girl in the Spider's Web features Sverrir Gudnason, Sylvia Hoeks, Claes Bang, Cameron Britton, Lakeith Stanfield, Vicky Krieps, and Stephen Merchant. Find it in theaters beginning November 9th.
If Beale Street Could Talk
Barry Jenkins follows his best picture Oscar winner, Moonlight, with an adaptation of James Baldwin's 1974 novel about Tish (Kiki Layne), a woman in Harlem who fights to prove her imprisoned fiancé's innocence while carrying their first child. Starring Stephan James, Teyonah Parris, Regina King, Brian Tyree Henry, Ed Skrein, Emily Rios, and Colman Domingo, If Beale Street Could Talk opens in theaters November 30th. Early reviews have been excellent.
Mary Poppins Returns
Mary Poppins Returns is set in 1930s London, where Michael (Ben Whishaw) and Jane (Emily Mortimer) Banks are now grown up. After Michael loses his wife, Mary Poppins (Emily Blunt, taking over the role Julie Andrews made famous in 1964) returns to help the Banks family with the aid of a street lamplighter played by Lin-Manuel Miranda. This December 19 release directed by Rob Marshall will feature new songs and introduce new characters from PL Travers' books, including Meryl Streep's Topsy and Angela Lansbury's Balloon Lady.
First Man
Damien Chazelle directs his La La Land star, Ryan Gosling, in this adaptation of James R. Hansen's book First Man: The Life of Neil A. Armstrong. Coming to theaters October 12, First Man focuses on the astronaut's life during the 1960s as NASA plans and executes its mission to the moon. Claire Foy plays Armstrong's wife, Janet, and Corey Stoll, Kyle Chandler, Pablo Schreiber, and Ethan Embry also star.
Beautiful Boy
Based on the best-selling memoirs by David and Nic Sheff, Beautiful Boy stars Steve Carell as David and Timothée Chalamet as Nic. Directed by Felix Van Groeningen (The Broken Circle Breakdown), the October 12 release chronicles Nic's struggles with addiction over several years. Despite strong performances from Carell and Chalamet, the critical reception of the film from its premiere in Toronto was disappointing.
Apostle
After making his name with The Raid and The Raid 2, director Gareth Evans shifts from action to horror with Apostle. Set in 1905, the film follows Thomas Richardson (Dan Stevens) as he travels to an island where he hopes to rescue his sister from a religious cult. While on the island, Thomas discovers the cult, led by Prophet Malcolm (Michael Sheen), is more evil than he ever imagined. See it on Netflix beginning October 12th.
Prospect
Expanding an earlier short film, the debut feature from Chris Caldwell and Zeek Earl combines the genres of sci-fi and western to tell the story of a teenage girl (Sophie Thatcher) and her father (Jay Duplass) struggling to strike it rich by harvesting special gems on a remote alien moon where they encounter other ruthless inhabitants (Pedro Pascal, Andre Royo). Prospect comes to select theaters beginning November 2nd.
The Oath
The third trailer in five weeks for The Oath is the first to flaunt its R rating. Written and directed by star Ike Barinholtz, the October 12 release is a comedy about trying to survive Thanksgiving when politics comes up at the dinner table. Chris (Barinholtz) and his wife Kai (Tiffany Haddish) can't believe citizens are being asked to sign a loyalty oath to the President by Thanksgiving. As family (Meredith Hagner, Carrie Brownstein, Nora Dunn, Jon Barinholtz) gathers, the arrival of two federal agents (John Cho and Billy Magnussen) pushes their dinner into chaos.
Ralph Breaks the Internet
In this sequel to 2012's Wreck-It Ralph, Ralph and Vanellope von Schweetz go from Litwak's Arcade to the world wide web to search for a replacement part to fix Vanellope's video game, Sugar Rush. John C. Reilly and Sarah Silverman return to voice Ralph and Vanellope, and Taraji P. Henson, Gal Gadot, and Alan Tudyk join the voice cast. Ralph Breaks the Internet hits theaters November 21st.
The Grinch
Benedict Cumberbatch voices the Grinch in this new animated adventure for one of Dr. Seuss' classic creations. Directed by Scott Mosier and Yarrow Cheney (The Secret Life of Pets), The Grinch will reveal more about the Grinch's home, his relationship with his dog, Max, and, of course, his plan to steal Christmas from his neighbors in Who-ville. The November 9 release features new songs from Tyler, the Creator.
Shirkers
Winner of the Directing Award in the World Cinema Documentary Competition at this year's Sundance Film Festival, Sandi Tan's unique documentary is about what could have been her narrative debut—a film shot in 1992 titled Shirkers starring Tan as a teenage killer. But the footage was stolen by her American mentor on the film, Georges Cardona, and was only found 20 years later, inspiring Tan to investigate why Cardona stole the film and the effect it had on her life. Shirkers comes to Netflix on October 26th.
El Angel
Based on the true story of Carlos Robledo Puch, the longest-serving prisoner in the history of Argentina, El Angel received mixed reviews when it premiered in Cannes earlier this year. Taking place in 1971 Buenos Aires, the November 9 release details the baby-faced killer's thefts, capture and eventual celebrity.
The New Romantic
At the SXSW Film Festival, the Special Jury Recognition For First Feature went to writer-director Carly Stone for this story of a college journalist (Jessica Barden) who, in pursuit of a story she hopes will win a $50,000 journalism grant named after Hunter S. Thompson, becomes a sugar baby to an economics professor. With mixed early reviews, The New Romantic hits select theaters November 9th and VOD November 13th.
Short takes
Nigerian Prince explores the relationship between a Nigerian-American teenager and the Nigerian scammer he hopes will get him a ticket home. See it in select theaters and on VOD beginning October 19th.
Leviathan directors Lucien Castaing-Taylor and Verena Paravel turn their cameras on Japanese cannibal Issei Sagawa in Caniba. Find it in select theaters October 19th.
The October 19 release Change in the Air stars Emmy winner Rachel Brosnahan as a mysterious woman who has a special impact on a small community.
News and notes