Better late than never?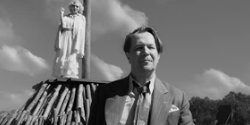 A few months later than originally planned, the Academy of Motion Picture Arts and Sciences finally revealed the nominees for the 93rd Academy Awards early Monday morning, recognizing the best films, filmmakers, and on- and off-screen talent of 2020.
Leading all films with 10 nomiinations was David Fincher's long-gestating pet project Mank, a black-and-white Netflix drama about the writing of the screenplay for the all-time classic Citizen Kane, a film that itself only received nine Oscar nominations. (Remember, however, that Kane only actually won a single Oscar—for that screenplay, a category in which Mank wasn't nominated.). Six of the seven remaining best picture nominees (all but Promising Young Woman) tied for second with six nominations apiece.
Mank helped Netflix collect 35 nominations on the morning, leading all studios/distributors this year. A year ago, Netflix was nominated 24 times but won just twice.
Note that the Academy tweaked a number of rules this year to reflect the pandemic-related changes to the movie industry in 2020. Not only was the eligibility period extended by two months (through February 28, 2021), but the usual theatrical release requirement was waved for the first time in Oscar history, allowing streaming-only films to be considered (provided that they were once intended to be released in theaters). Drive-in screenings also counted toward eligibility, another Oscar first.
Listed below are the 2021 Academy Award nominees in all 23 categories (down one from recent years, thanks to the combination of Sound Editing and Sound MIxing into a single category).
Best picture and director
Best picture
Metascore / Film / Producers
The Father

David Parfitt, Jean-Louis Livi and Philippe Carcassonne

Judas and the Black Messiah

Shaka King, Charles D. King and Ryan Coogler,

Mank

Ceán Chaffin, Eric Roth and Douglas Urbanski

Minari

Christina Oh

Nomadland

Frances McDormand, Peter Spears, Mollye Asher, Dan Janvey and Chloé Zhao,

Promising Young Woman

Ben Browning, Ashley Fox, Emerald Fennell and Josey McNamara

Sound of Metal

Bert Hamelinck and Sacha Ben Harroche

The Trial of the Chicago 7

Marc Platt and Stuart Besser
While none of the eight nominated films are surprises, there are still many snubs, most notably Ma Rainey's Black Bottom and One Night in Miami. Next year, the best picture field will be fixed at 10 nominees, rather than fluctuating each year (with anywhere from 5-10 nominees) based on voting results as it has since 2011. The Father and Judas and the Black Messiah are the two films here that took advantage of the extended eligibility period; both opened in February 2021 rather than in 2020. The latter is also the first best picture nominee in Oscar history with an all-Black producing team.
Note that Golden Globe best picture nominee Hamilton, a filmed stage production of the hit Broadway musical, was deemed ineligible for Oscar consideration by a decision of the Academy's rules committe. That film will be eligible for Emmy consideration later this year instead, as will Steve McQueen's Small Axe Prime Video anthology series (whose individual films were also deemed ineligible for Oscars as they were never intended for theatrical release).
Director
Prior to this year, just five women had ever been nominated for a best director Oscar (most recently Greta Gerwig for 2017's Lady Bird). Emerald Fennell (in her directorial debut) and Chloé Zhao are now the sixth and seventh, and both are also the first women ever nominated for best director and best picture (as a producer) in the same year. Zhao has also made Oscars history as the most-nominated woman in a single year, thanks to additional nominations for writing and editing. (That's still not close to the overall record; Walt Disney once had six nominations in one year, though if Zhao wins in all four of her categories she would match Disney's record total for wins in one year.) Having two women nominated in this category in the same year is another first, coming on a morning when the Academy awarded a record of 76 nominations to women.
Thomas Vinterberg is easily the most surprising inclusion—and the only one of the nominees whose film didn't get a best picture nomination—while the many snubs include Sound of Metal's Darius Marder, One Night in Miami's Regina King, The Trial of the Chicago 7's Aaron Sorkin, and The Father director Florian Zeller.
Writing
Original screenplay
If there's an omission here, it is probably the Mank screenplay by Jack Fincher. That said, it's hard to say which of the nominated films is a surprise inclusion.
Adapted screenplay
While nothing here is too shocking—though if there is one surprise, it might be The White Tiger—notable omissions include Ruben Santiago-Hudson for Ma Rainey's Black Bottom and (to a lesser extent) Charlie Kaufman for I'm Thinking of Ending Things.
Acting
Lead actress
It's hard to say there are any surprises here, though it would also have been unsurprising to see a field that included, say, Sophia Loren (The Life Ahead)—or possibly even Michelle Pfeiffer (French Exit) rather than Andra Day, whose worthy performance came in a film that didn't receive great reviews.
Because category co-favorite (along with Carey Mulligan) Frances McDormand is also a Nomadland producer, she is now the first woman ever nominated in acting and best picture categories for the same film. (Multiple men have accomplished the double, including Bradley Cooper in 2018.)
Lead actor
The category turned out as predicted. Steven Yeun is the first Asian-American lead actor nominee in this category in Oscar history. If Chadwick Boseman ultimately wins the best actor trophy (and he is a favorite, along with Hopkins), he will become just the second posthumous winner in the category following Network star Peter Finch in 1977.
Supporting actress
While there was some minor late-building buzz for Dominique Fishback (Judas and the Black Messiah), and a few predictions for Pieces of a Woman's Ellen Burstyn, News of the World's young co-star Helena Zengel, and Jodie Foster (who just won a Golden Globe), the field doesn't contain any major shocks—though Glenn Close (whose film was widely panned) is the closest thing here to a surprise.
Supporting actor
Leslie Odom Jr. also received a nomination in the original song category, marking the third straight year with an acting/song double nomination (following Harriet's Cynthia Erivo last year and Lady Gaga for A Star Is Born two years ago).
Lakeith Stanfield (originally expected to land in the lead actor category instead) is the biggest surprise among the supporting actor nominees—his co-star, Kaluuya, had been the one getting most of the awards-season buzz—while Chadwick Boseman (for Da 5 Bloods) is the most notable omission.
Other best film nominations
Animated feature
If Pixar's Soul wins here—and it is the favorite to do so—it will make Pete Docter the first three-time animated feature winner in Oscar history following his prior wins for Up and Inside Out. (It's Docter's fourth nomination in the category, which is also a record.) The Croods: A New Age is the sole snub (only because it had been widely predicted to be here, not necessarily because it's a great film), while Farmageddon is the biggest surprise, though only a mild one.
Documentary feature
Collective is a double nominee, also landing in the international feature category. Shortlisted films that failed to land a nomination include All In: The Fight for Democracy, Boys State, and—most shocking of all, the oft-awarded and critically praised Dick Johnson Is Dead—(while semi-surprise omissions from the shortlist announced last month included The Social Dilemma, A Thousand Cuts, and City Hall). The most surprising inclusion is probably The Mole Agent, which had less buzz than some of the snubbed titles.
International feature
Voting in this category was opened up to the entire Academy this year after previously being restricted only to those members who specifically signed up to view a set number of qualifying films, and the shortlist was doubled in size and taken out of the hands of a special committee that could add and subtract from the titles selected by voters. Shortlisted films that did not make the final cut include La Llorona and Night of the Kings (while the highest-profile film to miss out on the mostly surprise-free shortlist was Portugal's Vitalina Varela). Semi-surprise inclusion The Man Who Sold His Skin (which has yet to be screened to the general public in the U.S.) marks Tunisia's first-ever Oscar nomination. (It's just the 10th African film ever nominated.)
Short subjects
Animated Short
Burrow
Madeline Sharafian and Michael Capbarat
Genius Loci
Adrien Mérigeau and Amaury Ovise
If Anything Happens I Love You
Will McCormack and Michael Govier
Opera
Erick Oh
Yes-People
Gísli Darri Halldórsson and Arnar Gunnarsson
Documentary Short
Colette
Anthony Giacchino and Alice Doyard
A Concerto Is a Conversation
Ben Proudfoot and Kris Bowers
Do Not Split
Anders Hammer and Charlotte Cook
Hunger Ward
Skye Fitzgerald and Michael Scheuerman
A Love Song for Latasha
Sophia Nahli Allison and Janice Duncan
Live-Action Short
Feeling Through
Doug Roland and Susan Ruzenski
The Letter Room
Elvira Lind and Sofia Sondervan
The Present
Farah Nabulsi
Two Distant Strangers
Travon Free and Martin Desmond Roe
White Eye
Tomer Shushan and Shira Hochman
Music
Original score
Composer
Film
Career Oscar Totals
Noms.
Wins
Terence Blanchard
Da 5 Bloods
2
0
Trent Reznor & Atticus Ross
Mank
4/4
1/1
Emile Mosseri
Minari
1
0
James Newton Howard
News of the World
9
0
Trent Reznor, Atticus Ross and Jon Batiste
Soul
4/4/1
1/1/0
Original song
Technical categories
Cinematography
If we had to pick a surprise here, it would probably be Phedon Papamichael, whose inclusion likely comes at the expense of Tenet's Hoyte van Hoytema. Whoever ultimately collects the trophy will be a first-time Oscar winner. Richards has been dominating on the awards circuit so far this year and appears to be the frontrunner.
Film Editing
Costumes/Makeup
Sound
Prior to this year, awards were given in two distinct sound categories: Sound Editing and Sound Mixing. (This is a permanent change and not pandemic-related, driven by the fact that the winners in both categories were often the same film.)
Visuals
More Oscar coverage to come
The belated 93rd Annual Academy Awards ceremony will air live on ABC on Sunday, April 25 at 8p ET/5p PT, and will take place for the first time at Los Angeles' Union Station, though additional details about the nature of this year's broadcast (including the name of the host) have yet to be revealed. Look for additional Oscars coverage on our site over the coming weeks, including a chance for you to predict this year's winners as well as a roundup of Oscar predictions from dozens of critics and industry experts. You can also check out our 2020-21 Film Awards Scorecard for a compilation of all of this season's movie awards from 66 different organizations.
What's your take?
What do you think of the Academy's nominations this year? Let us know in the comments section below.