Will Joker have the last laugh?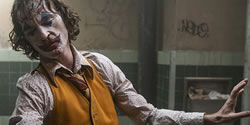 The Academy of Motion Picture Arts and Sciences revealed the nominees for the 92nd Academy Awards early Monday morning, recognizing the best films, filmmakers, and on- and off-screen talent of 2019.
The somewhat surprising leader among all nominated films is Todd Phillips's controversial Joker, which edged out Martin Scorsese's The Irishman, Quentin Tarantino's Once Upon a Time in Hollywood, and Golden Globe best picture winner 1917. All three of those films scored far better reviews than Joker.
Prior to today, Netflix had received 29 Academy Award nominations in its history (many coming for Roma, the service's only best picture nominee prior to this year). You can add 24 more to that list, including two more best picture nominees (The Irishman and Marriage Story).
Listed below are the 2020 Academy Award nominees in all 24 categories.
Best picture and director
Best picture
In case you were wondering, Bombshell, The Farewell, Knives Out, Pain and Glory, The Two Popes, and Uncut Gems were the films that were believed to have had a shot here but didn't make the final cut.
Parasite becomes the 11th film not in the English language to crack the best picture field, following last year's Roma. Two producers (David Heyman and Emma Tillinger Koskoff) have two nominees apiece, becoming just the sixth and seven producers to score two best picture nominations in one year.
By the way, it is indeed uncommon for a film with a yellow Metascore (suggesting far-from-stellar reviews) to crack the best picture field. While there was one such nominee last year (Bohemian Rhapsody), that had been the first time since 2012. It is especially rare to find two in the same year.
Director
Yes, it's an all-male bunch. (The Academy is touting the fact that nearly one-third of this year's nominees were women, but the directors' branch seems to be lagging some of the others.) Who missed out here? The obvious omissions are the directors whose films were nominated for best picture: Noah Baumbach (Marriage Story), Greta Gerwig (Little Women) and Taika Waititi (Jojo Rabbit). There's also Ford v. Ferrari's James Mangold, though, unlike the others, he hasn't been getting nominated elsewhere.
Interestingly, all of the nominees here had a total of three Oscar nominations this year (also landing in the best picture and screenplay races) with the exception of Martin Scorsese, who "only" had two. You can effectively give a fourth nomination to Bong Joon-ho for also appearing in the international film category, though the country rather than the producer is the named nominee there.
Writing
Original screenplay
The surprise inclusion here is 1917, which is probably a good sign for the film's best picture chances. Some experts gave The Farewell and comedy Booksmart a chance here, while Pedro Almodovar (Pain and Glory) was another possibility.
Adapted screenplay
There aren't any surprises here, though the team of Micah Fitzerman-Blue & Noah Harpster (A Beautiful Day in the Neighborhood) did get some nominations elsewhere.
Acting
Lead actress
It may not look like it from those career totals, but there are two first-time Oscar nominees here: Cynthia Erivo was also nominated in the original song category, while Scarlett Johansson also picked up a supporting actress nomination. Snubs here include The Farewell's Awkwafina (the film as a whole was completely ignored by the Academy) as well as Lupita Nyong'o (Us), who has been winning big on the awards circuit over the past month. But it's hard to say the five nominees include any surprises.
Lead actor
Robert De Niro is the sole member of The Irishman's big three to miss out on an acting nomination, though he was nominated (in the best picture category) as a producer of the film. Other omissions include Rocketman star Taron Egerton, Christian Bale (Ford v. Ferrari), and ex-SNLers Eddie Murphy (Dolemite Is My Name) and Adam Sandler (Uncut Gems). Jonathan Pryce is perhaps the most surprising inclusion, while Adam Drive and Joaquin Phoenix probably have the best chance at collecting the trophy.
Supporting actress
The most notable omission here is Jennifer Lopez (Hustlers), who has picked up a dozen supporting actress awards elsewhere this awards season. Less major snubs include Annette Bening (The Report) and Zhao Shuzhen (The Farewell).
Supporting actor
The field here looks pretty much as expected. Of the actors nominated by other groups in this category, the most notable omission is Willem Dafoe (The Lighthouse).
Other best film nominations
Animated feature
Disney's hit Frozen II is the only notable snub here.
Documentary feature
Metascore / Film / Producers
American Factory

Steven Bognar, Julia Reichert and Jeff Reichert

The Cave

Feras Fayyad, Kirstine Barfod and Sigrid Dyekjær

The Edge of Democracy

Petra Costa, Joanna Natasegara, Shane Boris and Tiago Pavan

For Sama

Waad al-Kateab and Edward Watts

Honeyland

Ljubo Stefanov, Tamara Kotevska and Atanas Georgiev
The dominant documentary winner on the awards circuit in recent weeks (and easily the highest-grossing doc of 2019), Apollo 11 is the obvious snub in this field. (And, yes, it was on the shortlist.) The surprising nominee in its place is The Edge of Democracy, which has been mostly ignored elsewhere. Honeyland is the rare documentary to also be nominated in a second category (in this case, international feature).
International feature (formerly "Foreign Language")
Despite the name change, the rules for this category remain the same as in previous years. Note that France opted to submit Les Miserables rather than Portrait of a Lady on Fire (last year's #2-ranked film and a frequent honoree by other awards groups), so the latter's omission is not the Academy's fault. Cannes Grand Prix winner Atlantics, which was eligible, is the biggest snub, while Corpus Christi (which has yet to open in theaters) is the most surprising inclusion. Note that Parasite's inclusion is the first ever nomination in this field for South Korea.
Short subjects
Animated Short
Dcera (Daughter)
Daria Kashcheeva
Hair Love
Matthew A. Cherry and Karen Rupert Toliver
Kitbull
Rosana Sullivan and Kathryn Hendrickson
Memorable
Bruno Collet and Jean-François Le Corre
Sister
Siqi Song
Documentary Short
In the Absence
Yi Seung-Jun and Gary Byung-Seok Kam
Learning to Skateboard in a Warzone (if you're a girl)
Carol Dysinger and Elena Andreicheva
Life Overtakes Me
John Haptas and Kristine Samuelson
St. Louis Superman
Smriti Mundhra and Sami Khan
Walk Run Cha-Cha
Laura Nix and Colette Sandstedt
Live-Action Short
Brotherhood
Meryam Joobeur and Maria Gracia Turgeon
Nefta Football Club
Yves Piat and Damien Megherbi
The Neighbors' Window
Marshall Curry
Saria
Bryan Buckley and Matt Lefebvre
A Sister
Delphine Girard
Music
Original score
John Williams's final Star Wars score gives him his record 47th nomination in this category (and, yes, he has been the record-holder for quite a while). Randy Newman is another of today's double nominees, also landing in the original song category.
Original song
Song/Composer
Film
"I Can't Let You Throw Yourself Away"
by Randy Newman
Toy Story 4
"(I'm Gonna) Love Me Again"
by Elton John and Bernie Taupin
Rocketman
"I'm Standing With You"
by Diane Warren
Breakthrough
"Into the Unkown"
by Kristen Anderson-Lopez and Robert Lopez
Frozen II
"Stand Up"
by Joshuah Brian Campbell and Cynthia Erivo
Harriet
Technical categories
Cinematography
While the field includes no surprises, Phedon Papamichael (Ford v. Ferrari), Hoyte van Hoytema (Ad Astra), and Hong Kyung-pyo (Parasite) have received some nominations elsewhere.
Film Editing
This is always an interesting field because the eventual best picture winner is usually nominated for editing. That could spell bad news for Once Upon a Time in Hollywood (whose Fred Raskin had a chance to get a nomination) and especially 1917, whose editor Lee Smith has been winning awards from other groups for his work in making the film appear to be one continuous shot. And the somewhat surprising of both Jojo Rabbit and Joker here could help those films' best picture chances.
Costumes/Makeup
Sound
Visuals
More Oscar coverage to come
The 92nd Annual Academy Awards ceremony—which will go without a host for the second straight year—airs live on ABC on Sunday, February 9 at 8p ET / 5p PT. (If that seems earlier than normal, it may be because it's the earliest date ever for an Oscars ceremony.) Look for additional Oscars coverage on this site over the coming weeks, including a chance for you to predict this year's winners as well as a roundup of Oscar predictions from dozens of critics and industry experts. You can also check out our 2019-20 Film Awards Scorecard for a compilation of this season's movie awards from 63 different organizations.
What's your take?
What do you think of the Academy's nominations this year? Let us know in the comments section below.