Updated February 23. Below is our roundup of reviews for the new PS Vita. We'll be adding additional reviews here over the next week as they are published, so be sure to check back.
What it is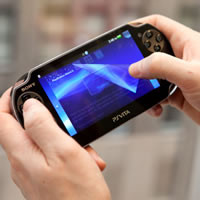 PlayStation Vita Reviews
(through February 23)

| | |
| --- | --- |
| Great | 9 |
| Good | 29 |
| Mixed | 6 |
| Bad | 0 |
| Awful | 0 |
On February 22 (or February 15, for anyone ordering the "First Edition" bundle), Sony's latest portable gaming device arrives in North American stores after debuting in Japan late last year. The PlayStation Vita is the company's follow-up to the PlayStation Portable, and it boasts a 5-inch OLED touch screen, an additional touchpad on the rear, front-and-rear cameras, new analog controls, and various improvements under the hood.
Pricing
There are two distinct versions of the new device, plus a special limited edition launch bundle. The entry-level Vita is equipped with WiFi and retails for $250. Note that you'll also need a memory card to do virtually anything, and the unit doesn't come with one, so expect to shell out another $20 or so (or up to $100 for a high-capacity card).
If you want 3G connectivity in addition to the WiFi, the price jumps to $300, though Sony is bundling a small memory card with this higher-priced unit for a limited time. A 3G data plan will run you another $15-$30 per month, depending on how much data you need. Finally, the First Edition bundle sells for $350, and that 3G system also comes with a memory card, as well as a limited edition carrying case, a copy of the game Little Deviants, and the bragging rights that come with getting the device a week before everyone else.
Launch titles
Be sure to visit Metacritic's new PS Vita section for a complete listing of Vita games and their reviews. The launch lineup is impressive for its quantity (25 individual titles), and possibly even its quality, at least compared to the launch titles associated with other recent devices. Some of the better Vita games available separately at launch include:
Other games expected to land on the Vita later this year include sci-fi shooter Resistance: Burning Skies (due May 29), the stylish action game Gravity Rush (originally set to be a launch title but now delayed), and the addictive music platformer Sound Shapes.
What critics are saying
The bottom line? Many critics agree that while the Vita is excessively expensive, it easily represents the best handheld gaming option on the market, and boasts stunning graphics. They also agree that the device is geared toward hardcore gamers and not those looking for the occasional casual game, and some have doubts about Sony's commitment to bringing enough quality titles to the platform in the future. Here are some of the specific features critics have been highlighting:
PSP comparison: While the Vita and the original PSP have a very similar shape and outward appearance, many reviewers stressed that the Vita—which is slightly larger and heavier than the PSP—isn't just an updated PSP, but an entirely new device. In addition to the front and rear touch screens, the Vita also adds a second analog control stick lacking on the original PSP. Note that the Vita is backwards compatible with downloadable PSP games (but not any on UMD, since the new device utilizes a different format).
Overall look and feel: The device is definitely on the big side, which hinders its portability (or at least its pocketability), and the glossy screen loves to pick up fingerprints and smudges (which any iPhone owner will be familiar with). Otherwise, critics had few complaints about the Vita's look and ergonomics, and generally found the hardware solidly built and pleasing, if familiar.
Battery life: Reviewers seem to be getting about 4-5 hours of gameplay on a full charge (less with 3G enabled), which is disappointingly short to many critics though that figure is actually on the high end of Sony's claims, and is superior to the battery life of the competing 3DS. Watching video rather than playing games adds an extra hour or so of battery time (even longer if you are just listening to music), and standby battery life seems to be superior to that of the PSP. One other word of caution: charging is done via a Sony proprietary cable, so you can't use any of your existing USB cables.
3G: Note that the products tested by reviewers did not have working 3G access, so that functionality has not been evaluated.
Operating system: The built-in, smartphone-like OS is receiving mostly high marks from reviewers for its ease of use and speedy responsiveness, as well as its ability to multitask, though it might lack Apple's sense of style, and at least one critic is complaining about the excessive number of clicks need to perform any task. And there are many complaints about trying to transfer data and photos from the Vita to your computer (it's doable, but cumbersome). Built-in apps are fairly straightforward and unspectacular, though the web browser is especially subpar. Shopping for games in the included online store can also be a bit tedious, though reviewers note that it is much more streamlined and easier to use than its PS3 counterpart.
Video: While there are many complaints about the terrible quality of the cameras, no one is complaining about that 5-inch, 960 x 544 OLED screen; it's simply gorgeous, and every game played on it looks terrific, with near-HD quality graphics. The screen is impressively large, and seems clear and bright even at an angle (which certainly sets it apart from Nintendo's 3DS).
Media and memory: Nearly every reviewer complains about the requirement for a memory card and Sony's failure to include one with the Vita; they see it as a sneaky way to increase the overall price of the unit. They also complain that it is yet another Sony proprietary memory card, meaning that you have few options other than to buy Sony's expensive cards. Games themselves come on yet another type of proprietary card, which is different from that used by the PSP (and are so tiny that they can be tricky to get in and out and are easy to misplace), though reviewers seem encouraged by Sony's increasing reliance on downloadable games. Note that games on physical media can be slow to load.
Gameplay controls: Buttons, D-pad, and analog sticks are all responsive and easy to use, though some reviewers noted that having two sicks protruding from the unit makes the Vita less pocket-friendly than other handhelds. (They also note that the sticks will seem a tad limited in motion for anyone accustomed to the PS3's DualShock controllers, but nevertheless are happy to have the controls, which they feel will translate into a better hardcore gaming experience than anything found on other handhelds.) Critics find the front touchscreen incredibly responsive, especially when compared to that of the 3DS. Only a few reviewers seem to have much use for the rear touchpad (which theoretically permits touch input without needing to block your view of the game), which reviewers see as a gimmick more than something entirely necessary. A few critics complain more vociferously, noting that it is far too easy to accidentally touch the pad while playing, though some games actually take this into account and correct for such inadvertent touches.
Below is a publication-by-publication sampling of the critical response to Sony's new device. We have grouped the reviews based on the general level of enthusiasm for the product, from most to least positive. If a publication assigned a score to the review, it is listed below (converted to a 100-point scale if necessary for purposes of comparison); otherwise, we did not attempt to assign scores to reviews that did not have them. Click on any publication name to read the full review.
Loved It
BeefJack
I love my 3DS, I sincerely do, but there's no denying that this is a sturdier, sexier machine. What it lacks in gimmicks, it makes up for in features; where it falls down in terms of portability, it raises itself back up with vastly superior controls and an astonishing touch-screen display.
Crave Online
What the PS Vita does best, even beyond control and graphical prowess, is that it makes portable gaming feel more like home gaming than ever before.
The Globe and Mail
A few quibbles aside (the proprietary memory card and weak battery are particularly irksome), the Vita is pretty much the handheld game platform this hardcore gamer has always wanted. But I'm also pretty sure that I'm a member of a dying breed: Those willing to pay for and lug around a high-end device the primary purpose of which is gaming.
Kotaku
If the Vita is going to be an argument for the worth of dedicated handhelds, then it is a nearly perfect argument. This new machine is an extraordinarily capable device—for gaming. It already rivals its handheld peers and even home consoles in terms of quality gaming experience. It sparkles not just because of its hardware but because of its services, which even on Launch Day Minus 1, are already some of the best-engineered in the medium's history.
Pocket-lint
90

We're in little doubt that serious games players will be scrabbling over each other to get hold of one. It only takes a modicum of playtime to see that it is a games-playing demon; a genuine next gen home games console that fits into the palm of your hand. [Grade: 4.5/5]
Silicon Republic
Effectively, what Sony has succeeded with here is a digital hub that pretty much can do anything. To truly capitalise on this, I can't wait to see what Sony does in terms of mobile apps. For all intents and purposes, it is not only a gaming console, it is a tablet computer and Sony should see it that way.
TechCrunch
As a device, the Vita is stellar. It has all the right pieces in all the right places – the huge, bright screen, the dual analog sticks, the acceptable battery life, the size, shape, and weight. I wish all Sony products were like this – intelligently designed, handsome, and usable.
Telegraph
100

If it all sounds too good to be true, it's because Sony's launch plan for Vita appears to have every base covered: terrific hardware, a strong launch line-up and a commitment to a wide range of software and features. [Score: 5/5]
USA Today
A dazzling device that should please nearly any avid video game player.
Liked It
1UP
75

How much of a future does Vita have? It's a great piece of hardware sporting some really smart design innovations, and it's both powerful and refined compared to its predecessor. But it's a tough world out there. The games market is changing. Despite its compelling abilities and surprisingly good price (Sony surely can't be making any money on this thing at $250), its sales have been sluggish in Japan, and we're not confident in its adoption in the U.S., either. [Grade: B]
Ars Technica
The Vita is a beautiful, well-thought-out piece of technology that, despite some quibbles, is probably the best-designed piece of gaming-focused portable hardware I've ever seen.
A.V. Club
75

The Vita isn't an excellent machine yet, but it's a good one. [Grade: B]
CNET
82

The Vita is easily the most impressive portable gaming device that I've ever handled. ... Sure, the cost of getting started is probably more than you thought, but the Vita's fantastic launch lineup, laundry-list of features, cool apps, silky smooth OS, and promising future definitely make a great case for owning one. [Grade: 8.2/10]
ComputerAndVideoGames.com
Hardcore gamers with money to spend will be rewarded for taking a risk on Vita. With its supremely impressive 5-inch capacitive OLED touch screen, dual analogue sticks built in (nudge, nudge, Nintendo) and strong launch line-up, PlayStation Vita really is a gaming enthusiast's handheld dream. ... Eventually, the handheld's flexibility will likely open up to wider possibilities - there's no reason Vita shouldn't be at least attempting to offer those bite-sized Angry Birds style experiences that work so well on iOS. But for now it feels very much like a hardcore gamer's machine.
Consumer Reports
The terrific graphics, classic controls, and innovative games will appeal to hardcore gamers, and those features along with the responsive touch screen and touch panel offer a lot of appeal to casual and younger gamers—even those who are attached to smart-phone and tablet games and the Nintendo 3DS.
Destructoid
Sony's new handheld has come out of the gate strong, with a hearty, varied selection of launch titles and some genuinely cool applications to play with. ... Whether it can follow through remains to be seen, but I feel good about the Vita right now. Fans of Sony products will absolutely fall in love with it, while the more cynical among us should give it a chance. It may very well impress even your hardline skeptics.
Digital Trends
85

If there were really any question before this, let's go ahead and settle it right now: The PlayStation Vita is a much better piece of hardware than the Nintendo 3DS. That doesn't necessarily mean you'll enjoy it more, but in terms of hardware specs, there is really no comparison. [Grade: 8.5/10]
Engadget
Sony's new portable eclipses Nintendo's latest on more battlefields than ever before, outclassing it not only in graphical output, but in touchscreen technology, controls and button layout, user interface design and, perhaps most importantly, game selection at launch. ... Still, no amount of software updates can undo that disappointing runtime. Without performance-enhancing peripherals, the PlayStation Vita won't be getting you through long flights or cross-country road trips. For gamers spoiled by the endurance of the original PSP and DS systems, it's a tough sell.
Eurogamer.net
PlayStation Vita is potentially the most powerful and flexible gaming handheld ever, but it is already a fantastic one.
Game Informer
91

The Vita is not a flawless system, but when it comes to the important features that make a handheld gaming console worthwhile, it hits most of the notes. Incredible graphics, responsive touchscreen and tilt mechanics, and the extra control stick make the Vita one of the most well-rounded handhelds we've ever seen. [Grade: A-]
The Guardian
80

I'm not sure how long that thrill will last, and Vita has yet to realise much of its great technical promise, but for now, it is a teeny bit thrilling. [Grade: 4/5]
IGN
85

While the system still suffers from the limitations of its proprietary technology, unintuitive software and steep price, my experience with the U.S. version has me hopeful for the future of Sony's new portable platform. [Grade: 8.5/10]
Joystiq
The only consideration that really matters for a game system is its capacity to play games, and in that regard the PlayStation Vita is a resounding success. It offers the most power, the widest variety of input methods, and the most convenient method of getting new games, of any handheld system in history.
Just Push Start
80

Despite the short battery life and mediocre camera, the PS Vita's other features show us how much handheld gaming and technology as a whole has grown exponentially over the last five years. [Grade: 4/5]
MTV Multiplayer
Overall, the Vita feels like it was crafted to be an extension of the PlayStation 3 (and probably the PlayStation 4 eventually), and with such a robust offering, on both the hardware and software front, it actually feels like it succeeds.
New York Daily News
The Vita can go toe-to-toe with your favorite living room console, and it has some great forward-thinking control touches for enterprising developers.
The Observer [UK]
Physically, then, the Vita is a marvel, and in combining touch interfaces with so many buttons and sticks, it has a significant advantage over most of its competitors ... Yet there is a sense of anachronism that remains difficult to dispel.
PC Advisor
80

While the hardware gets the big picture right, it stumbles a little in the fine details. The Vita's twin thumb sticks were slightly too small for me to use comfortably during my tests, and I could see that minor annoyance becoming a major one during periods of prolonged play. The sensitivity of the Sony PlayStation Vita's touchscreen also seemed slightly off, requiring just a bit too much of a push and taking a moment too long to respond to really feel natural. ... However, a lot of those problems fall away when you start actually playing with the Sony PlayStation Vita's games. The graphics in first-generation Vita games such as Virtua Tennis 4 and Uncharted: Golden Abyss are amazing for a handheld. The games really do feel at times like playing a console game on your handheld.
PC World
80

All told, the PlayStation Vita is an excellent handheld gaming console that's worth paying for if you demand more from your mobile gaming experience than smartphone or tablet games can provide. [Grade: 4.0/5]
Popular Science
I'm not a hardcore gamer, and I found the Vita to be not just the most powerful handheld console ever made, but also an awful lot of fun. ... The only real drawbacks are the price and the battery life, but I think neither should be a dealbreaker if you're hungering for some real mobile gaming. The Vita is a games system, and it's awesome at playing games.
San Jose Mercury News
Like other modern systems, the PlayStation Vita isn't a finished product out of the box. It's not perfect, but it can become a must-have machine. It just needs to evolve in the right direction to keep handheld gaming going in the right direction.
Slide to Play
Core console gamers ... will find a portable experience here unavailable anywhere else. Having all the bells and whistles of a high-end tablet or smartphone with responsive console controls is a great thing, and the Vita's true ace in the hole.
TechRadar
90

It improves on the PSP in almost every way, adding the dual sticks that developers can't do without, as well as the touchscreens and motion controls of other gaming systems. Still, it does feel like a reaction, rather than an innovation. [Score: 4.5/5]
Time (Techland Blog)
Why buy a Vita in what's quickly become a smartphone/tablet world? Because you want to play serious, console-style games (with console-style controls) on the go.
UGO
91

Even with its high cost, the PlayStation Vita is worth it; it's a system with few flaws and big potential that anyone looking for the next big thing in handhelds will love. [Grade: A-]
VentureBeat
The Vita is an extraordinary piece of equipment, far better than any smartphone or tablet for gaming. ... But just a gaming device. Every non-gaming feature on the Vita is lacking and often severely. The camera is flat-out terrible, the content management system is frightfully bad, the browser is worse than Internet Explorer 1.0, and LiveArea does a better job annoying users than acting as the Vita's home menu. There's so much wrong with everything non-gaming about the Vita that it looks like a team of amateur software engineers baked it in a garage.
The Verge
85

The PlayStation Vita is quite simply the most desirable handheld gaming device yet released. From the beautiful display to the horsepower behind it, from the well-executed traditional controls to the new touch inputs, Sony has thought of almost everything and the result is a portable system that should be able to handle virtually any kind of game you care to mention. [Grade: 8.5/10]
Wired
70

The beefy processing power, stunning OLED display and console-like controls can come together to produce experiences like Uncharted that feel like miniaturized home games. The open question is whether software makers will want to invest the time and money into crafting exclusive Vita games that take advantage of all that capability. [Grade: 7/10]
Mixed Feelings
AllThingsD
Not surprisingly, I found the PS Vita did best with games and pretty well with the programs over which it seemed to have the most control. Other features seemed like they were added just for the sake of adding them and didn't work nearly as well.
Boston Globe
In all, it is the best hand-held gaming device I have ever tried. But the Vita will have limited appeal for several simple reasons: It's too large, it's too expensive, and it doesn't make phone calls.
Gizmodo
70

Should I buy it? No, unless you're the the most devout of devout gamers, too impatient to make it back to your dorm or living room. It's a wonderful looking eye-ride clad in great armor, but everything non-essential about the Vita feels so very non-essential. Sony, by jamming in the capacious functionality of a smartphone or tablet, is clearly making a bid for what gets your hands' attention. ... The Vita feels uncomfortably without a place that makes sense, falling short of either side—it's not out-phoning your phone or out-consoling your console. [Score: 3.5/5]
San Francisco Chronicle
The real test of gaming hardware is in everyday use. And it's there that Vita falters, thanks to painfully slow load times that will frustrate the hard-core gamers Sony hopes will buy it.
Technologizer
It's easy to forget about those drawbacks [battery life, cameras] when you're playing a game that feels like it was made for an Xbox 360 or Playstation 3. That's when the Vita is at its best. At its worst, the Vita tries to shove touch and motion controls down players' throats.
Washington Post
Although the gaming is excellent on the handheld, it is not mind-blowingly better than really killer smartphone gaming experiences. ... At the end of the day, the Vita feels very much like an enthusiast device, or maybe something you get your kids — if you're trying to put off that moment when they ask for a smartphone so they can text their friends. ... As it stands, the Vita is the best handheld gaming console I've ever used, but I still don't think I'll be putting it in my bag when I leave the house.
What do you think?
Are you excited about the Vita? Have you had a chance to try one out? Let us know in the comments section below.