How close were you this year?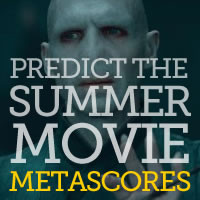 Median Guess vs. Actual Score
Very Close
(+/- 0-4 points)


12

films /

40

%
Close
(+/- 5-9 points)

5

films /

17

%
Not Close
(+/- 10-24 points)

12

films /

40

%
So Very Wrong
(+/- 25 points or more)

1

film /

3

%
The answer to that question is "a bit closer than last year." Remember, back in May, we asked our users to predict the Metascores for 30 of the summer's biggest film releases. It turns out that, on average, your median guesses were 9 points away from the actual Metascore for each film, a modest improvement over last year's 9.6 point difference.
Even better, however, was that our users got very close (within 4 points) for 12 of the 30 films, or twice as many as in 2010. And you were dead wrong on just one title: the Tom Hanks-directed Larry Crowne, which turned out to be far worse than expected. The film that users underestimated the most (by 20 points) was the comedy hit Bridesmaids, but, to be fair, that film took most industry experts by surprise.
Again, users proved to be a bit too optimistic when making predictions. Sixteen films (53%) ultimately scored lower than the median user guess, while 13 received higher scores from critics. But you were able to correctly identify the two worst films on our list of 30 (a tie between Zookeeper and The Smurfs) and narrowly missed identifying the summer's best-reviewed major release (which proved to be Harry Potter and the Deathly Hallows Pt. 2 rather than The Tree of Life, though it was very close).
You can see the spreads for each individual movie below, ranked from most accurate to least accurate.