Metacritic's 10th Annual Oscar Prediction Poll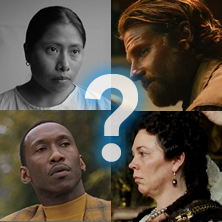 It's once again time to show off your movie awards savvy by predicting the winners of the 91st Annual Academy Awards.
Last year, our users correctly predicted 19 of the 24 categories. That was a big improvement over the previous year (in which users has just 16 correct picks), and it equaled the performance of the so-called "experts" (i.e., professional film writers and awards pundits).
Which group will prevail this year? Do your part by entering your Oscar picks below. (If you need to refresh your memory, here is a guide to this year's Oscar nominations.) We'll unveil your consensus picks (as well as those of the experts) in the week prior to the February 24 Oscar broadcast, and we'll reveal how everyone did right after the ceremony.
Some rules and notes: You may vote only once. Voting will close at noon PST on Wednesday, February 20, 2019.

If the poll does not appear above, please go here to enter your picks.