Updated Sunday 2/26
Say "La La Land" nine times fast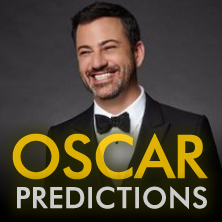 If you think that Damien Chazelle's musical La La Land is going to dominate Sunday's Oscar ceremony, you're not alone. Our panel of industry experts is predicting nine wins for the film, while Metacritic users forecast 12 trophies.
So if you prefer your awards ceremonies to be slightly more exciting, you'll need to hope for some upsets when the 89th Annual Academy Awards ceremony arrives Sunday night at 8:30pm ET (5:30pm PT) on ABC, in a broadcast hosted (for the first time) by Jimmy Kimmel.
Below, we have aggregated predictions from 80 entertainment writers, critics, and awards experts, and compared them to the votes cast by over 4,500 Metacritic visitors who voted in our 8th annual Oscar poll. Also listed are the latest betting odds in each category as published at Ladbrokes (as of Wednesday, February 22).
Best picture and director
It looks like a sweep of the major categories for La La Land, with Moonlight posing the only real challenge.
Best Picture
Best Director
Acting
Only one of the four acting races appears to be competitive: lead actor, where a slight majority of experts are predicting that the controversy surrounding one-time favorite Casey Affleck will leave an opening for Denzel Washington to collect his third career Oscar statuette.
Lead Actress
Lead Actor
Supporting Actress
Supporting Actor
Writing
The original screenplay race was once considered a lock for Manchester by the Sea—which remains a strong favorite—though some experts (and our users) think that La La Land's domination elsewhere could carry over into this category as well. Thanks to the Academy's controversial decision to treat Moonlight as an adapted screenplay, that category appears to be a lock for Barry Jenkins's film (which faced stiffer competition in the original category with other awards bodies).
Original Screenplay
Adapted Screenplay
Betting Odds
Experts
Users
Barry Jenkins, Tarell Alvin McCraney
Moonlight

1:5
Barry Jenkins, Tarell Alvin McCraney
Moonlight

92%
Barry Jenkins, Tarell Alvin McCraney
Moonlight

63%
Eric Heisserer
Arrival
7:1
Eric Heisserer
Arrival
5%
Eric Heisserer
Arrival
19%
Other films and shorts
The animated and documentary feature contests have clear favorites, though the foreign-language category is a closer race, with the majority of experts thinking that recent world events will allow the Iranian drama The Salesman (one of several Oscar nominees impacted by Donald Trump's recent travel ban) to edge out Toni Erdmann, one of last year's best-reviewed films.
The short films are always a bit of a crap shoot, since, unlike the experts making the predictions, Oscar voters are actually required to watch the shorts. But this year the animated short category has a clear favorite: the Pixar entry Piper. (Then again, Pixar is nominated in that category almost every year, but hasn't won since 2001.)
Animated Feature
Documentary Feature
Foreign Language Film
Animated Short
Betting Odds
Experts
Users
Piper
1:5
Piper
84%
Piper
39%
Blind Vaysha
4:1
Blind Vaysha
5%
Borrowed Time
20%
Pearl
12:1
Borrowed Time
5%
Pearl
19%
Documentary Short
Betting Odds
Experts
Users
Extremis
4:6
The White Helmets
42%
The White Helmets
28%
The White Helmets
5:2
Joe's Violin
34%
Joe's Violin
20%
Joe's Violin
7:2
Extremis
19%
Extremis
19%
Live Action Short
Betting Odds
Experts
Users
Ennemis intérieurs
5:6
Ennemis intérieurs
56%
Sing (Mindenki)
34%
Timecode
15:8
Sing (Mindenki)
16%
Silent Nights
25%
Sing (Mindenki)
4:1
La Femme et le TGV
10%
Timecode
18%
Music
When a musical is nominated for 14 total Oscars, it's a fairly safe bet that it will be a major contender in the two music categories. In fact, La La Land appears to be the only contender, unless the film's two nominated songs somehow split the vote and allow Lin-Manuel Miranda's Moana tune to sneak in for the win.
Original Score
Original Song
Technical categories
All of the technical categories appear to have overwhelming favorites this year, with the sole exception of costume design, where oddsmakers (and our users) favor La La Land over the experts' pick, Jackie.
Cinematography
Costume Design
Film Editing
Makeup & Hairstyling
Production Design
Sound Editing
Sound Mixing
Visual Effects
List of experts
The expert predictions compiled above come from the following sources (note that not every expert made picks in every category):
Thelma Adams, Gold Derby
Ethan Anderton, Slashfilm
Corey Atad, Esquire
Jason Bailey, Flavorwire
Richard Brody, The New Yorker
Kyle Buchanan, Vulture
Cara Buckley, The New York Times
Karen Butler, UPI
Christopher Campbell, Film School Rejects
David Chen, Slashfilm
Adam Chitwood, Collider
Consequence of Sound staff, Consequence of Sound
Clayton Davis, Awards Circuit
Erik Davis, Fandango *
Eric Deggans, NPR *
A.A. Dowd, A.V. Club
Edward Douglas, Weekend Warrior *
Shawn Edwards, Cinema Buzz
Gregory Ellwood, Awards Campaign/The Playlist
Joyce Eng, TVGuide.com
Scott Feinberg, The Hollywood Reporter
Bonnie Fuller, Hollywood Life *
Jack Giroux, Slashfilm
Tim Gray, Variety *
Jefferson Grubbs, Bustle
Rafer Guzmán, Newsday
Jacob Hall, Slashfilm
Pete Hammond, Deadline
Angie Han, Slashfilm
Devindra Hardawar, Slashfilm
Britt Hayes, ScreenCrush
Peter Howell, Toronto Star **
Rob Hunter, Film School Rejects
Matthew Jacobs, Huffington Post
Dave Karger, IMDb *
Tariq Khan, Fox News *
Tomris Laffly, Film School Rejects
Guy Lodge, The Guardian
Brian Lowry and Lisa Respers France, CNN
Scott Mantz, Access Hollywood *
Jack Mathews, Gold Derby
Sean P. Means, The Salt Lake Tribune
Neil Miller, Film School Rejects
Michael Musto, Out.com *
Randy Myers, San Jose Mercury News
Mark Olsen, Los Angeles Times **
Tom O'Neil, Gold Derby
Christopher Orr, The Atlantic
Steve Persall, Tampa Bay Times
Michael Phillips, Chicago Tribune
David Poland, Movie City News **
Kevin Polowy, Yahoo *
Steve Pond, TheWrap
Joe Reid, Decider
Mara Reinstein, Us Weekly
Tim Robey, The Telegraph
Christopher Rosen, Entertainment Weekly *
Joshua Rothkopf, TimeOut New York
Peter Sciretta, Slashfilm
Mike Scott, New Orleans Times-Picayune
Paul Sheehan, Gold Derby
Tom Shone, Newsweek
Keith Simanton, IMDb *
Matt Singer, ScreenCrush
Slant staff, Slant
Nicole Sperling, Entertainment Weekly
Christopher Stipp, Slashfilm
Sasha Stone, Awards Daily *
Kristopher Tapley, Variety
Anne Thompson, Indiewire
Peter Travers, Rolling Stone *
Brian Truitt, USA Today
Vanity Fair staff consensus (Mike Hogan, Richard Lawson, Katey Rich, Hillary Busis), Vanity Fair
Adnan Virk, ESPN *
Vox staff, Vox
Jeffrey Wells, Hollywood Elsewhere *
Glenn Whipp, Los Angeles Times
Erin Whitney, ScreenCrush
Susan Wloszczyna, RogerEbert.com *
Ben Zauzmer, The Hollywood Reporter
Check our site Monday morning for the final results as we reveal which users and experts had the most accurate predictions. We'll also collect reviews of the broadcast from TV critics.