New releases in theaters for Christmas weekend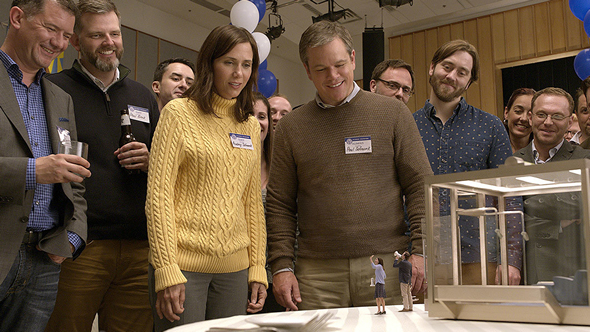 The Shape of Water R DRAMA/FANTASY — Expands nationwide
Trailers
Director Guillermo Del Toro won the Golden Lion at the Venice Film Festival for this original, adult fairy tale co-written with Vanessa Taylor. Set in 1963 America, the film stars Sally Hawkins as Elisa, a mute who forms a connection with a creature in a high-security government laboratory. A strong supporting cast (Octavia Spencer, Michael Shannon, Michael Stuhlbarg, Richard Jenkins) and some of the best reviews for any film this year should help this unique love story earn a best picture nomination. It expands across the country this weekend.
Nationwide releases
Darkest Hour PG-13 DRAMA — Expands nationwide
Trailers
A certain-to-be-Oscar-nominated Gary Oldman stars as Winston Churchill in a biopic that focuses on Churchill's first term as prime minister, covering his refusal to negotiate peace with the Nazis and the subsequent inspiration he provided Britain. Directed by Joe Wright, who seems to have shaken off the critical drubbing of Pan, the film follows several other Churchill-related releases this year, including Churchill, starring Brian Cox, which dramatized his D-Day decision, and Dunkirk, which ended with one of Churchill's famous speeches as read by Fionn Whitehead.
All the Money in the World R DRAMA — Opens Christmas Day
Trailers
Until the allegations surfaced against Kevin Spacey, there was little buzz around Ridley Scott's latest. However, when Scott announced he would replace Spacey with Christopher Plummer, his first choice for the role of J. Paul Getty, and keep the film's release date, All the Money in the World entered the national discussion. And the last-minute change seemed to breathe new life into the project, with critics responding well to the new casting. The film follows the kidnapping of 16-year-old John Paul Getty III (Charlie Plummer) and the desperate attempt by his mother (Michelle Williams) and Getty's advisor (Mark Wahlberg) to convince his billionaire grandfather to pay a ransom.
Downsizing R

COMEDY/SCI-FI

Trailers
Pictured above. Writer-director Alexander Payne's new satirical sci-fi comedy is his first film since his 1996 debut to score below 80. But Downsizing still has its charms, say reviewers. The film finds Matt Damon literally shrinking himself to seek out a better life, though critic groups feel that it is his lesser-known co-star Hong Chau (Treme) who steals the show. Also starring are Christoph Waltz and Kristen Wiig.
Jumanji: Welcome to the Jungle PG-13

ACTION-ADVENTURE/FANTASY/COMEDY

Trailers
Jake Kasdan (Bad Teacher) directs this comedic sequel to the 1995 children's book adaptation Jumanji, which starred Robin Williams. The new film has, unsurprisingly, an all-new cast that centers on Dwayne Johnson, Jack Black, Kevin Hart, and Karen Gillan. It also has five credited screenwriters, which you might take to be a bad sign. And you'd be right, though a decent number of reviewers find the film to be pleasant enough family fun.
The Greatest Showman PG

MUSICAL/DRAMA

Trailers
This long-gestating film is a period biopic in the form of an original musical. Showman stars Hugh Jackman as circus impresario P. T. Barnum, and alongside him are Michelle Williams, Zac Efron, Rebecca Ferguson, and Zendaya. Bill Condon co-wrote the screenplay for first-time director Michael Gracey, and the original music comes from the in-demand team of Benj Pasek and Justin Paul, Oscar winners for last year's best picture nominee La La Land (and recent Tony winners for Dear Evan Hansen).
Pitch Perfect 3 PG-13

COMEDY/MUSICAL

Trailers
The Bellas reunite for a USO tour in this continuation (and possibly conclusion) of the franchise that began in 2012 with Pitch Perfect and middled in 2015 with Pitch Perfect 2. Returning stars Anna Kendrick, Rebel Wilson, Hailee Steinfeld, Brittany Snow, Anna Camp, Hana Mae Lee, Ester Dean, Alexis Knapp, Chrissie Fit, Kelley Jakle, Shelley Regner, Elizabeth Banks, and John Michael Higgins are joined by newcomers Ruby Rose and John Lithgow. Critics feel that it lacks many of its predecessors' charms.
Father Figures R

COMEDY

Trailers
When brothers Kyle and Peter Reynolds (Owen Wilson and Ed Helms) discover that their mom (Glenn Close) has lied to them about their father dying when they were young, they set out to find their real father. The R-rated comedy from cinematographer-turned-first-time-director Lawrence Sher also stars J.K. Simmons, Katt Williams, Terry Bradshaw, Ving Rhames, Harry Shearer, and Christopher Walken. Critics find it confused and a slog to get through.
Phantom Thread R DRAMA — Opens Christmas Day
 
Trailers
One of the year's best-reviewed movies, Phantom Thread is the second collaboration between director Paul Thomas Anderson and actor Daniel Day-Lewis following 2007's There Will Be Blood, a best picture nominee (and one of critics' favorite films of the century). The star, in what he has declared to be his final film role, plays a fashion designer in 1950s London who runs a successful fashion house with his sister, Lesley Manville. Reviewers are finding the result to be a can't-miss work that's utterly strange, sensuous, and funny.
Notable limited and/or VOD releases
The Post PG-13

DRAMA

 
Trailers
Can you say "Oscar bait"? Steven Spielberg's drama, which begins an awards-qualifying run in LA and NY this weekend before opening nationwide on January 12, tells the timely true story behind the Washington Post's risky unveiling of government secrets with the publication of the Pentagon Papers in 1971. The incredible cast is led by Meryl Streep and Tom Hanks, appearing together for the first time, and also features Sarah Paulson, Bradley Whitford, Carrie Coon, Matthew Rhys, Jesse Plemons, Alison Brie, and a mini-Mr. Show reunion of Bob Odenkirk and David Cross.
Happy End NR

FOREIGN/DRAMA

 
Trailers
When the latest from writer-director Michael Haneke premiered at Cannes earlier this year, the film received good reviews, but not the overwhelming positive reception of his previous competition films Amour and The White Ribbon. A look at the pathological sickness of a bourgeois family in Calais, Happy End boasts a strong cast (Isabelle Huppert, Jean-Louis Trintignant, Mathieu Kassovitz) and features Haneke's typical precision, but critics were underwhelmed by his reliance on themes he investigated in previous films.
Molly's Game R DRAMA — Opens Christmas Day
 
Trailers
Accomplished screenwriter Aaron Sorkin makes his directorial debut with this Christmas Day release, a true-story crime drama starring Jessica Chastain as Molly Bloom, whose high-stakes poker game caught the attention of the FBI when the Russian mafia attended one evening. The film impressed many critics when debuting at Toronto in September, though some experts find it too slight to be a best picture contender (though it still seems likely to be a screenplay nominee).
Hostiles R

WESTERN

 
Trailers
Christian Bale plays an Army captain who must escort a Cheyenne family home under difficult conditions in 1892 in this bleak but slow-paced western from director Scott Cooper (Black Mass). A fairly strong debut at Telluride (where, in a somewhat unusual move, the film screened without a distributor) prompted a bidding war, with relative newcomer Entertainment Studios ultimately grabbing the rights, though early reviews suggest that it isn't the Oscar contender they once envisioned it to be.
Crooked House PG-13

DRAMA

 
Trailers
The latest Agatha Christie adaptation to reach the big screen stars Max Irons stars as Charles Hayward, a private detective asked by a former lover to catch her grandfather's murderer. On a sprawling estate, Hayward encounters the family matriarch Lady Edith de Haviland (Glenn Close), the dead man's young widow (Christina Hendricks), and an actress (Gillian Anderson). Adapted by Julian Fellowes (Downton Abbey) and directed by Gilles Paquet-Brenner (Sarah's Key), the mystery also stars Julian Sands, Stefanie Martini, Christian McKay, Amanda Abbington, and Terence Stamp.
Bright NR ACTION/FANTASY — Netflix exclusive
Trailers
Netflix's most expensive original feature to date is a $90 million effects-driven action film starring Will Smith and Joel Edgerton as cops in an alternate present-day world where fantasy creatures like elves, fairies, and orcs co-exist with humans. David Ayer (Suicide Squad) directs from a script by Max Landis (Chronicle). Critics mostly hate it, with a few calling it the year's worst movie. Nevertheless, Netflix is already at work on a sequel.
Good recent releases still in theaters
The following is a list of selected films now in theaters that have received positive reviews from critics. Films with an asterisk (*) are limited releases that are playing in a smaller number of cities.
Movie
Stream
 
Released
American Made

Doug Liman's international caper stars Tom Cruise as a pilot enlisted by the CIA

Trailers
Sep 29
Battle of the Sexes

Emma Stone (as Billie Jean King) and Steve Carell (Bobby Riggs) play tennis

Trailers
Sep 22
* Birdboy: The Forgotten Children

post-apocalyptic, Spanish, animated coming-of-age tale

Trailers
Dec 15
* Blade of the Immortal

latest violent action film from Takashi Miike is his 100th film

Trailers
Nov 3
Blade Runner 2049

sequel to the sci-fi classic is better than anyone imagined, though it's not a hit

Trailers
Oct 6
* BPM (Beats Per Minute)

Cannes 2nd place-winner follows AIDS activists in early '90s Paris

Trailers
Oct 20
* Brawl in Cell Block 99

S. Craig Zahler's violent prison thriller stars Vince Vaughn

Trailers
Oct 6
* The Breadwinner indie animated feature from co-director of The Secret of Kells
Trailers
Nov 17
* Call Me by Your Name

Luca Guadagnino's 1980s gay romance is one of the year's best films

Trailers
Nov 22
Coco

Pixar's latest is Mexico's highest-grossing film ... and a hit in America, too

Trailers
Nov 22
* Columbus

hugely acclaimed indie drama is the debut feature from video essayist Kogonada

Trailers
Aug 4
* Darkest Hour

Gary Oldman plays Winston Churchill in Joe Wright's period drama

Trailers
Nov 22
* Dina

documentary follows a dating couple on the autism spectrum

Trailers
Oct 6
The Disaster Artist

James Franco chronicles the making of one of cinema's worst films

Trailers
Dec 1
* The Divine Order

Swiss entry for this year's foreign-language Oscar centers on a suffragette

Trailers
Oct 27
* Ex Libris: New York Public Library

latest impressive doc from Frederick Wiseman

Trailers
Sep 13
* Faces Places

latest doc from Agnes Varda was this year's highest-scoring Cannes film

Trailers
Oct 6
* A Fantastic Woman Sebastián Lelio's follow-up to Gloria is one of 2017's highest-scoring films
Trailers
Nov 17
* Félicité

Senegalese drama was the 2nd place-winner at this year's Berlinale

Trailers
Oct 27
* The Florida Project latest indie drama from director of Tangerine could be an Oscar contender
Trailers
Oct 6
* Foxtrot

acclaimed Israeli drama won the Silver Lion at this year's Venice festival

 
 
Dec 8
* God's Own Country

British drama is a gay love story set on a Yorkshire farm

Trailers
Oct 25
* Human Flow

artist Ai Weiwei's documentary chronicles the worldwide refugee crisis

Trailers
Oct 13
* I, Tonya

Margot Robbie stars as disgraced figure skater Tonya Harding in a comedic biopic

Trailers
Dec 8
It

adaptation of Stephen King's horror novel is a record-setting box office hit

Trailers
Sep 8
* Jane

documentary focuses on the early career of legendary primatologist Jane Goodall

Trailers
Oct 20
* The Killing of a Sacred Deer another unsettling, provocative film from the director of The Lobster
Trailers
Oct 20
* Lady Bird

actress Greta Gerwig's directorial debut is one of 2017's best films; Saoirse Ronan stars

Trailers
Nov 3
* Last Flag Flying Richard Linklater directs a sequel to Hal Ashby's 1973 film The Last Detail
Trailers
Nov 3
* Loveless

Russian drama is Cannes Jury Prize winner from writer-director Andrei Zvyagintsev

Trailers
Dec 1
* Lucky

the late Harry Dean Stanton takes the lead in an indie drama that showcases his talents

Trailers
Sep 29
Marshall

biopic stars Chadwick Boseman as future Supreme Court justice Thurgood Marshall

Trailers
Oct 13
* Most Beautiful Island

SXSW award winner is a thriller about an undocumented female immigrant

Trailers
Nov 3
* Mr. Roosevelt

comedy is the directorial debut for SNL veteran Noël Wells, who also stars

Trailers
Oct 27
* My Friend Dahmer

adaptation of the graphic novel centers on a teenage Jeffrey Dahmer

Trailers
Nov 3
* Novitiate

indie drama stars Margaret Qualley as a young woman who seeks to become a nun

Trailers
Oct 27
* On the Beach at Night Alone director of Right Now, Wrong Then gets personal with latest drama
Trailers
Nov 17
Only the Brave

Joseph Kosinski's ensemble drama follows a crew battling a 2013 wildfire

Trailers
Oct 20
* The Other Side of Hope Finnish feature is Aki Kaurismäki's deadpan follow-up to 2011's Le Havre
Trailers
Dec 1
Professor Marston & The Wonder Women

details the life of Wonder Woman's creator

Trailers
Oct 13
* Rat Film

unconventional documentary examines history of Baltimore through its rat population

Trailers
Sep 15
The Shape of Water

Guillermo del Toro's adult fairy tale is a likely best picture nominee

Trailers
Dec 1
* The Square latest dramedy from Force Majeure director Ruben Östlund looks at the art world
Trailers
Oct 27
Star Wars: The Last Jedi

Rian Johnson's Episode 8 is the #2 film in the series, by Metascore

Trailers
Dec 15
* Sweet Virginia

Alaska-set ensemble drama stars Jon Bernthal, Imogen Poots

Trailers
Nov 17
* Thelma

Joachim Trier's latest is a supernatural thriller

Trailers
Nov 10
Thor: Ragnarok

Marvel's best stand-alone Thor movie yet adds a more comedic tone

Trailers
Nov 3
* Three Billboards Outside Ebbing, Missouri

Frances McDormand stars in dark crime comedy

Trailers
Nov 10
* Walking Out

a father-son hunting trip hits a major hurdle in this indie adventure tale

Trailers
Oct 6
Wonder

Stephen Chbosky adapts R.J. Palacio's best-selling novel; Jacob Tremblay stars

Trailers
Nov 17
Wonderstruck Todd Haynes' follow-up to Carol adapts Brian Selznick's acclaimed (two-)period novel
Trailers
Oct 20
* The Work

SXSW-winning doc follows a four-day group therapy session at Folsom Prison

Trailers
Oct 20
View a full list of films now in theaters >
At home
Staying in this weekend? Here are your best bets: