Sons of Anarchy, Episode 414: "To Be, Act 2"

Original airdate: December 6, 2011 on FX
Spoiler warning: This page contains MANY spoilers about events in this and previous episodes.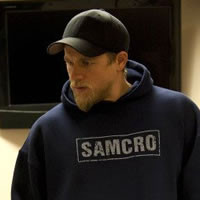 Last night's episode of FX's biker drama Sons of Anarchy, "To Be, Act 2," was the second half of the extended season 4 finale, which was originally intended to air as one single 90-minute episode but was granted extra time by the network at the last minute. The series will return for a fifth season in September 2012.
Is it a good thing when the phrase "deus ex machina" appears in multiple reviews of the episode? Probably not, though the response to the finale is far from uniform. Below, we sample the opinions of critics and television writers.
AOL TV / Maureen Ryan
The word that best describes the 'Sons of Anarchy' finale is disappointing. Yes, the final scene was evocative, but almost everything that went before it was deeply, deeply frustrating, for me, anyway. What a letdown. ... For the entire season to be undone by the CIA with a wave of its magic wand within the first few minutes of the finale was enormously deflating. [Ryan also has a podcast in which she discusses the episode with fellow critic Ryan McGee.]
A.V. Club / Zack Handlen
On one level, this fits in with Sons Of Anarchy's views on the essential corruption of bureaucracy and federal law enforcement, with those in power using anyone smaller than themselves to achieve their goals without care or concern for how their actions affect the little people. On another level, this is weak, sloppy storytelling, an insultingly vapid deus ex machina designed largely to make sure we get to the end of the season with minimal shift in character or situation. It's a reset button, and what's worse, it's a reset button that hits at the exact moment when all the built up tension the show has been accumulating over the past few weeks was primed to explode. [Grade: B-]
CliqueClack TV / Kona Gallagher
While I may be slightly disappointed in the season finale, I will fully admit it's probably because I was expecting too much.
Entertainment Weekly / Ken Tucker
A finale that was both magisterially dramatic and oddly hasty.
HitFix / Alan Sepinwall
If Kurt Sutter doesn't want to send his main character away, doesn't want to kill off his chief villain, doesn't want Juice to suffer any real consequences for what he's done, then that's fine. His show, his characters, his rules. But if I might make a suggestion: if you don't want any of those things to happen, don't spend an entire season building up to how they have to happen, then back out at the last possible second. Tell different stories - the kind you actually want to follow through with all the way. ... "To Be, Act 2" mainly reinforced my reservations from throughout the year, and made it hard to remember the parts I really liked.
IGN / Diana Steenbergen
Fantastic ... Things may not have turned out as we expected on many counts, but that was not a bad thing. The show managed to leave a lot more pieces on the board than expected, yet still shake things up in a major way. [Score: 10/10]
Newsday / Verne Gay
"Sons of Anarchy," which set up the fourth season finale with elements from every cliffhanger you could think of from the beginning of TV time, didn't wrap the whole thing up as much as let the air out of the balloon. Fffffzzzzttttt. That was it: No great operatic conclusion, but a slow close to credits, with an old Animals' hit covered, and a long tracking shot of the SAMCRO war room. Disappointing? Not so much -- the end, that is -- as improbable whilst skirting the edges of kooky.
Pittsburgh Post-Gazette / Rob Owen
It's not the clean break we'd been led to expect. Instead it feels like executive producer Kurt Sutter hit a re-set button on the show. It's not the forward momentum promised by last week's episode (same with the RICO plot that deflated like a bad souffle). Or maybe it's just that it's less forward momentum than I'd hoped to see. Or maybe I suffered from blood lust and wanted to see Clay get what he had coming.
Salon / Matt Zoller Seitz
The twists all worked, I think, because their goal wasn't to neutralize existing season-four plot developments, but kick things up a notch and pave the way for season five.
Screen Rant / Kevin Yeoman
'To Be (Act II)' is saddled with the responsibility of wrapping up not only the pending legal hell that is primed to drop on the heads of SAMCRO, but the episode is also asked to deliver the conclusion to Jax's threat to finally kill Clay. Perhaps it is the time constraint, or perhaps it is because the story is just too big right now, but given the build-up to this point, both aspects faltered somewhat in delivering a truly powerful climax.
The Star-Ledger [Newark] / James Queally
This wasn't a season finale. It was a 40-minute epilogue to the opening scene, and that opening scene featured possibly the biggest plot contrivance in SOA's four-season history, one that somehow out shined the still-never-explained short con that killed Stahl and Jimmy O at the end of Season 3. ... I spent most of this episode waiting for something to happen, but in truth it just missed a beat.
Time / James Poniewozik
SOA ... ended the season with some too-convenient plotting, leading to a resolution—Clay still alive with a seat at the table, Tara and Gemma squaring off–that felt like a concession to the TV need to make sure the show can, in fact, go on, and on, and on.
TV Fanatic / Matt Richenthal
I loved every second of it. [Grade: 5/5]
Zap2It / Rick Porter
It's an intriguing way to end the season, for sure. ... We're still in Charming, with the same cast of characters, but it's not going to be the same old thing. And that's good.
What about Season 4 as a whole?
A few reviewers also weighed in with their impressions of Sons of Anarchy's just-concluded fourth season as a whole and how it compares to previous years of the series. Most reviewers considered the season an improvement over season 3, while a few even deemed it the show's strongest overall season to date. A more common opinion, however, was that the season brought SOA's ongoing storytelling problems to the forefront.
"Overall, it's the strongest the show has been since season 2. ... Episode by episode it's been thrilling, and there have been some excellent arcs ... But it's sometimes hard not to notice the plot machinations that are going on to make sure that problems are set up for the future and that its core conflicts are not resolved too soon. ... Increasingly this feels like a series that needs to end, not now, not next season, but sooner than FX needs it to. "

—James Poniewozik, Time
"Overall, I would call season 4 of "Sons of Anarchy" quite a bit stronger than season 3, but it may also be the season that made me recalibrate my expectations for the series. ... It is a show with a lot of great performances. It is a show capable of great moments. But is it a great show, period? I thought that for sure a couple of years ago. Now, I'm doubtful."

—Alan Sepinwall, HitFix
"The fourth season of Sons Of Anarchy was fine, occasionally amazing, often absurd, and, in the end, full of unanswered prayers. I'll probably be back next year. But I won't expect much."

—Zack Handlen, A.V. Club
"There are still reasons to watch the show, I get that. Parts of this season worked, especially anything to do with Potter and Roosevelt and certain scenes between key cast members such as Tara, Gemma, Jax, Clay, Opie and Piney. Those performers and the emotional reality the show is able to create are really compelling at times. But, based on this finale, my expectations for the show are much, much lower going forward."

—Maureen Ryan, AOL TV
What do you think?
What did you think of last night's episode, and of the entire fourth season? Let us know in the comments section below.