Sons of Anarchy, Episode 513: "J'ai Obtenu Cette"

Original airdate: December 4, 2012 on FX
Spoiler warning: This page may contain descriptions of events in this and previous episodes.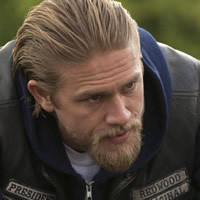 Critics have mostly been in agreement in recent weeks that season five of FX's biker soap Sons of Anarchy has been a major improvement over recent seasons, ranking among the show's best years so far. That fifth season came to a conclusion last night with a 90-minute episode (that French title translates to "I got this") that was less plot-twist-reliant than last season's ender. What did critics think of the finale? Sample the morning-after response below, which includes some comments about the season as a whole.
A.V. Club / Zack Handlen
Given the structure of the season, this finale wasn't as make or break as last year's, but it still needed to land—and it did. Quite spectacularly well, in fact, and in a way that rewards viewers for having faith through all the episodes leading up to this point. ... This was a thrilling, moving, exciting conclusion to a season that brought a troubled show back to its strengths. [Grade: A]
Cinema Blend / Nick Venable
Holy shit, guys. What an ending to possibly my favorite season yet of Sons of Anarchy.
Collider / Allison Keene
A great episode ... Sons of Anarchy seems to be reclaiming, slightly, some of the elements that made its first and second seasons so brilliant: emotional drama paired with humor, and a side of violence. [Grade: A+]
IGN / Diana Steenbergen
As a season finale, it was on the depressing side but also compelling to watch Jax sink further into the mess of plotting and betrayal, and to see him more and more resistant to the people like Tara or Bobby who tried to steer him onto a different path. Just like after last year's finale, I am both intrigued and worried about what will happen next. I'm looking forward to Season 6 already. [Grade: 9.3/10]
TV Equals / Candice Grace
Overall, a fantastic episode and a satisfying conclusion to the fifth season. I may not have liked certain parts of the fifth season, but it cannot be denied that Kurt Sutter and the writers behind SOA know how to tell an entertaining story. The storylines left over to be continued in season six are compelling and I can't wait to see how they progress.
TV Fanatic / Matt Richenthal
On a tongue-biting, nail-facing, dog-fighting season finale of Sons of Anarchy, the main reaction from this viewer was not one of loud disgust... but rather stunned silence. [Grade: 4.5/5]
Entertainment Weekly / Ken Tucker
The entire premise for the series, that of a motorcycle gang, drug-running, women-abusing law-breakers, as tragic heroes we root for, is essentially absurd. When the show isn't running on all cylinders, it becomes downright ludicrous. But this season, it's been pretty wonderful.
HitFix (Monkeys As Critics) / Geoff Berkshire
It didn't go off the rails. But it also didn't do much to really change the repetitive game we've been watching for five seasons now.
HitFix / Alan Sepinwall
When "Sons of Anarchy" returns next fall, I'd love to see it ease back on the throttle just a bit, and find a way to explore these great characters without piling problem upon problem upon twist on top of them.
Huffington Post / Maureen Ryan
It went just about as I expected it would, even before I'd seen it: I knew certain season-long storylines would be tied up, new complications would arise right at the end of the episode, and in between, there would be weird, violent incidents. The Season 5 finale had all those things, but it felt more organic and smooth than previous "SOA" season-enders. Plus, a guy bit off his tongue, which you won't ever see on "Downton Abbey."
Screen Rant / Kevin Yeoman
And so, season 5 of Sons of Anarchy ends in familiar fashion: With familial manipulation and moral strife effectively upsetting the scales many had labored so hard to balance this season. On one hand, it's a predictable ending to a season that had its fair share of ups and downs ... On the other hand, though, those elements are countered by how well the season told Jax's transformation from hopeful leader to a brutal, angry and vicious man consumed by his need for revenge.
The Star-Ledger [Newark] / James Queally
A solid finale that marks the end of the show's best season in three years.
TV.com / Tim Surette
The episode had so much to settle that it couldn't focus the proper energy or time into any single dangling story, creating a finale that hit most of its marks early but didn't stand there long enough for us to savor them.
What do you think?
What did you think of last night's episode, and of the entire fifth season? Let us know in the comments section below.