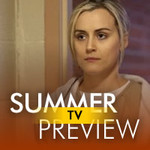 Below, we take a look at some of the notable new and returning shows premiering from May through August. Be sure to visit our frequently updated TV Premiere Calendar for a quick list of all TV premiere dates for 2014, including shows coming this fall.
20 notable summer premieres
In brief: Dramas
The Bridge

FX, tbd July
Though it started off fairly strong (thanks in no small part to the lead performances by Diane Kruger and Demián Bichir), atmospheric, cross-border crime drama The Bridge became one of the few FX shows to underwhelm critics when it got bogged down in an increasingly disappointing serial killer story as the season progressed, eventually culminating in an uneventful two episodes that served almost as a series reboot, setting up new storylines for season 2. This upcoming second season will see Demián's brother Bruno Bichir join the cast, and will find Elwood Reid as the sole showrunner following the departure of his partner/co-creator Meredith Stiehm (who has returned to Showtime's Homeland).
WE's first original scripted drama series comes from writer Richard LaGravenese (Behind the Candelabra, The Fisher King) and director/producer Tony Goldwyn (Scandal, The Last Kiss). The legal drama follows a caseworker with the "Innocence Initiative" who works to free wrongly convicted inmates; Marin Ireland, Damon Gupton, Clarke Peters, and Paul Schneider star.
Hell on Wheels

AMC, date tbd
AMC's somewhat forgotten drama series is still chugging along; this summer's new batch of episodes will mark the railroad western's fourth season, and it has been super-sized to 13 episodes. Jake Weber (Medium) and MacKenzie Porter are among the newcomers this year.
The Killing

Netflix, August 1
The now ironically titled (it's the series that just won't die!) crime drama, canceled several times by AMC, moves to Netflix for a fourth and final (?) season of just six episodes, all streaming on August 1st. Stars Mireille Enos and Joel Kinnaman return—joined by newcomers including Frances Fisher, Joan Allen, Sterling Beaumon (Red Widow), and Levi Meaden (The 100)—for a new story that revolves around a murder at a Seattle-area military academy.
Last Tango in Halifax

PBS, June 29
This British drama series about one-time childhood sweethearts (Derek Jacobi and Anne Reid) who finally reunite after six decades apart managed to captivate many critics when it debuted in the U.S. last fall. A six-episode second season airs this summer.
The cable network's second original drama series (following Salem, which was just picked up for a second season despite middling reviews) is set not in New York but in Los Alamos, New Mexico—in the 1940s, when a group of scientists race to build the world's first atomic bomb. (Yes, the Manhattan Project.) The 13-episode series comes from Masters of Sex writer Sam Shaw and stars John Benjamin Hickey (The Big C), Olivia Williams (Dollhouse), Daniel Stern (Home Alone), and Rachel Brosnahan (House of Cards). Thomas Schlamme (The West Wing) serves as director and producer, while the score comes from Sigur Rós' Jónsi and Alex Somers.
Matador

El Rey, July 15
The second original drama series on Robert Rodriguez's El Rey Network is this action-filled offering from writer-producers Roberto Orci and Alex Kurtzman (Sleepy Hollow, Transformers) about a popular soccer star who leads a double life as a covert CIA agent. Gabriel Luna, Nicky Whelan, Alfred Molina, Tanc Sade, and Elizabeth Peña star, while Rodriguez himself directs the first episode.
Murder in the First Watch trailer

TNT, June 9
Veteran TV producer Steven Bochco attempts to return to the formula of his critically acclaimed (but low-rated) 1990s series Murder One with another crime drama that follows a single high-profile murder case across an entire season (though this time from the perspective of a pair of homicide detectives rather than a defense attorney, making it more like The Killing than anything else). The San Francisco-set series stars Taye Diggs, Kathleen Robertson, Steven Weber, James Cromwell, and Tom Felton.
The Night Shift Watch trailer

NBC, May 27
Still missing ER, NBC returns to the medical arena with a straightforward (generic?) procedural focusing on the graveyard shift at a San Antonio hospital. Created by Gabe Sachs and Jeff Judah (the team that brought you—or maybe your kids—the Diary of a Wimpy Kid movies), the series stars Freddy Rodriguez (Six Feet Under), Brendan Fehr (Roswell), Ken Leung (Lost), Eoin Macken (Merlin), and Jill Flint (The Good Wife).
Rapper 50 Cent is among the producers of this eight-episode drama about the wealthy owner (Omari Hardwick) of an elite New York nightclub who is actually using the club as a front for his day job: drug kingpin. The series comes from The Good Wife producer Courtney Kemp Agboh and also stars Victor Garber, Naturi Naughton, Sonya Walger, and Curtis "50 Cent" Jackson himself.
Ray Donovan Watch trailer

Showtime, July 13
Not nearly as critically acclaimed as fellow Showtime newcomer Masters of Sex last year, this tale of a fixer (Liev Schreiber) to L.A.'s rich and famous did earn a surprise Golden Globe trophy for co-star Jon Voight. Joining the cast for Donovan's second season are Hank Azaria (The Simpsons), Wendell Pierce (The Wire), Sherilyn Fenn (Twin Peaks), Vinessa Shaw (3:10 to Yuma), and Ann-Margret.
This soapy legal drama set in Charleston, South Carolina—where a police sex scandal threatens to tear the city apart (though not literally, as that would defy physics)—stars Cam Gigandet and Anna Wood.
Tom Ellis stars as a renegade, hard-partying "medical fixer" who provides services to the rich and famous of Los Angeles. The gritty (by USA Network standards) drama comes from writer/director Jonathan Levine (50/50, Warm Bodies).
Pairing with Rush in USA's Thursday lineup is another darker-than-normal drama depicting a rapidly disintegrating marriage. Matt Passmore (The Glades) and Stephanie Szostak star for series creator Sean Jablonski (Nip/Tuck). The two new shows join new seasons of returning dramas Covert Affairs (6/24), Graceland (6/11), Royal Pains (6/10), and Suits (6/11) on USA's summer schedule.
Taxi Brooklyn

NBC, June 25
Chyler Leigh (Grey's Anatomy) stars in a 12-episode adaptation of Luc Besson's action-dramedy film franchise Taxi.
In brief: Sci-fi, fantasy, and action
Like this season's other new pirate drama (Starz's Black Sails), Crossbones is set in the year 1715, though this NBC series is based on a true story: that of the pirate Blackbeard, played here by John Malkovich. Crossbones comes from Luther creator Neil Cross, and the first episode is directed by David Slade (The Twilight Saga: Eclipse).
Syfy's video game/science fiction series crossover returns for its second television season with new cast members James Murray, William Atherton, and Anna Hopkins, plus a guest appearance by Linda Hamilton.
Though Dominion isn't exactly drawing from top-notch source material—it is based on the 2010 movie Legion—there is decent early buzz for this supernatural drama series set 25 years after the start of a war between angels and mankind. The cast includes Christopher Egan (Kings), Tom Wisdom (300), Alan Dale (Lost), Anthony Stewart Head (Buffy the Vampire Slayer), Roxanne McKee (Game of Thrones), and Luke Allen-Gale (The Borgias)
Falling Skies Watch trailer

TNT, June 22
The expanded fourth season of TNT's sci-fi drama will feature 12 episodes (rather than the usual 10) and a new recurring role for Mira Sorvino.
Hemlock Grove

Netflix, July 11
Not every original series on Netflix is a winner. Take Eli Roth's supernatural horror series Hemlock Grove, which turned off most critics (though not necessarily Netflix members) in its first season last year. Nevertheless, Grove returns with 10 new episodes this summer, under the guidance of new showrunner Charles H. Eglee (Murder One, The Shield, Dexter). Madeleine Martin (Californication) and Madeline Brewer (Orange Is the New Black) are among this season's new cast members.
Originally conceived as a three-part miniseries, this British zombie drama—depicting a world in which the undead can be "rehabilitated" and allowed to safely re-enter society—is now a full-fledged (though still relatively mini) series, returning for six new hour-long episodes beginning Saturday.
Intruders Watch trailer

BBC America, date tbd
X-Files writer-producer Glen Morgan adapts Michael Marshall Smith's best-selling novel The Intruders for BBC America's new eight-episode paranormal thriller about a secret society that may have discovered the secret to immortality (hint: it involves inhabiting the bodies of other people). John Simm (Life on Mars) and Mira Sorvino star, while horror veterans Daniel Stamm (The Last Exorcism) and Eduardo Sánchez (The Blair Witch Project) direct.
The Musketeers Watch trailer

BBC America, June 22
Already renewed for a second season, this new adaptation of Alexandre Dumas' classic novel (The Three Musketeers) set in 17th century Paris stars Luke Pasqualino (The Borgias), Peter Capaldi (The Thick of It), Santiago Cabrera (Merlin), and Tom Burke (The Hour).
This seventh season will mark the final 10 episodes for HBO's vampire drama, with producer Brian Buckner once again stepping in for departed series creator Alan Ball. Season 6 newcomer Bailey Noble has been upped to series regular for this final season, while Nathan Parsons (Bunheads) will join the cast as James, a role previously played by Luke Grimes.
Under the Dome Watch trailer

CBS, June 30
This adaptation of Stephen King's novel was a hit when it debuted last summer, leading to a second season that arrives next month. King himself wrote the screenplay for the June 30th premiere (which will kill off two returning characters), though much of the action this season will go beyond the events in his original novel. Joining the cast are Sherry Stringfield (ER), Eddie Cahill (CSI: NY), Karla Crome (Misfits), and singer Dwight Yoakam.
In brief: Comedies
Almost Royal Watch trailers

BBC America, June 21
BBC America's first original scripted comedy series, the mockumentary-style Almost Royal centers on two British aristocratic siblings—who are very, very, very distant descendants of the royal family—on their first trip to the United States.
Backpackers follows a pair of twenty-something friends on their travels across Europe. The first series to make the jump from online platform CW Seed to the TV network itself, this 10-episode comedy will include both previously aired material from the digital series as well as all-new episodes.
Ricky Gervais' somewhat under-the-radar retirement home dramedy, which received decent but not great reviews for last year's debut season, returns for a second batch of six new episodes.
Garfunkel and Oates

IFC, date tbd
The comedy-music duo of Kate Micucci and Riki Lindhome get their own comedy series, with Fred Savage on board as executive producer and director. The eight-episode season should kick off in late summer.
Girl Meets World Watch trailer

Disney, June 27
Disney's new comedy series is a sequel to Boy Meets World, which aired during ABC's TGIF lineup from 1993-2000. Though the original show's stars Ben Savage and Danielle Fishel return, the new series will focus on their characters' 12-year-old daughter, played by Rowan Blanchard. Returning guest stars like William Daniels will be joined by the likes of Jane Lynch, Cloris Leachman, Willie Garson, Charlotte Rae, and Herbie Hancock.
Married

FX, date tbd
One of two new comedies expected to debut on FX this summer, Married comes from Andrew Gurland (The Virginity Hit, Mail Order Wife) and stars Nat Faxon (Ben & Kate) and Judy Greer (Arrested Development) as an oft-bickering married couple. Kroll Show alumni Jenny Slate and Brett Gelman co-star.
Newsreaders

Adult Swim, date tbd
Adult Swim's newsmagazine parody is expected to return for its second season this summer, with Alan Tudyk (Firefly, Suburgatory) taking over as host.
Play It Again, Dick

CW Seed, date tbd
This digital-only spin-off from Veronica Mars (produced and co-written, like that show, by Rob Thomas) centers on Veronica Mars co-star Ryan Hansen (played by a perfectly cast Ryan Hansen) as he attempts to get a spin-off for his Dick Casablancas character. Expect cameos from various Mars players.
Seed

CW, July 14
The CW's other new scripted comedy series (along with Backpackers, above) follows an underachieving bartender and sperm donor (Adam Korson) who connects with the families of three of his recipients.
This Bill Lawrence (Scrubs)-produced comedy centers on a group of 20-something friends, as most sitcoms are obligated to do. The show will air as back-to-back new episodes each week, and if that sounds like NBC is trying to quickly unload this leftover series that it never got around to airing during the regular season, well, you said it, not us. Chris D'Elia, Brent Morin, and Ron Funches star.
A British comedy about a bickering elderly gay couple who have been living together for 50 years, Vicious will make its U.S. debut this summer on PBS stations. The show was a minor hit in Britain despite mixed reviews, and a second season has been ordered. Ian McKellen and Derek Jacobi star.
Working the Engels

NBC, July 10
Paired with fellow new comedy Welcome to Sweden (see above) on Thursday nights, Engels follows a family struggling to stay afloat after the family patriarch dies, leaving behind a mountain of debt. While that doesn't exactly scream "funny!", the cast does, led Andrea Martin, who will be joined (in guest appearances) by her former SCTV co-stars Martin Short and Eugene Levy.
You're the Worst

FX, date tbd
FX's other new summer comedy, like Married, also deals with an imperfect romantic relationship, but this one showcases the beginning stages, when a pair of self-destructive people—played by Aya Cash (The Wolf of Wall Street) and British actor Chris Geere (After Earth)—attempt to become a couple.
In brief: Reality and talk
Bachelor in Paradise

ABC, date tbd
In the past few years, hoping to milk the its Bachelor(ette) franchise for a few extra weeks in the summer, ABC has locked a group of former contestants in a house for a month for a bit of Big Brother-style "fun." When that proved to be a bit less fun than advertised, a reboot became necessary. Hence the new Bachelor in Paradise, which is basically the same thing, but at the beach. ABC promises both twists and surprises, so there's that.
Famous in 12

CW, June 3
It doesn't seem all that hard to find yourself on TMZ—even if your last name isn't Sterling—but it gets even easier for one "lucky" family. These ordinary folks will move to Los Angeles and, under the "expert" guidance of TMZ's Harvey Levin, attempt to become famous in just 12 weeks. Can they do it? (Hint: yes; they star in their own primetime network television show called Famous in 12.)
I Wanna Marry "Harry" Watch trailer

Fox, May 27
You can always count on Fox to have the year's most malevolent reality series. Harry, from producer Ryan Seacrest, is a dating series that finds 12 single women sent to an English castle to compete for the affection of a man whom they believe to be royalty. Here's a secret: he's not.
Last Comic Standing Watch trailer

NBC, May 22
After a four-year absence, NBC's stand-up comedy competition returns with new host JB Smoove and new judges Roseanne Barr, Keenen Ivory Wayans, and Russell Peters.
Penn & Teller: Fool Us

CW, July 30
The latest TV series from the semi-loquacious magic duo is actually an import of a show they originally created for British television. Fool Us is a competition series that asks aspiring magicians to perform a trick in front of Penn & Teller, who have one chance to figure out how it was done. If the contestant manages to stump Penn & Teller, he gets a gig as their opening act. The CW will air a second magic series, Masters of Illusion (in which variety of illusionists perform in front of a live audience), in August.
The Quest

ABC, July 31
Sounding like an MMORPG crossed with The Amazing Race (whose producers are behind this new series), this "fantasy competition" asks a dozen contestants to undergo a series of challenges in "Everealm," describe by the network as "a land of magic and malevolence, where mythical creatures lurk in the woods, agents of darkness stir in the shadows, and mystical beings infiltrate the keep." Finally, a reality show for LARPers.
Steve Carell is the man responsible for bringing this Australian comedy game show (known there as Slide Show and elsewhere as Anything Goes) to the U.S. In Riot, teams of comedians and other celebrities (regulars such as John Ross Bowie and Jamie Denbo will be joined by guests like Carell himself, plus Jason Alexander, Michael Ian Black, Tom Green, D.L. Hughley, and more) will face off in a series of improvisational challenges on a slanted stage that's tilted at a precise 22.5 degree angle (we checked; there's no need to get out your protractor).
Rising Star

ABC, June 22
What's the difference between Rising Star and the countless singing competitions that came before it? The gimmick here in this import of a popular Israeli format is that audience members get to vet the auditioning contestants in real time by voting via a smartphone app. If you want something a bit less conventional, ABC also has Sing Your Face Off, a singing competition in which C-list celebrities ranging from Jon Lovitz to Lisa Rinna are transformed into impersonators of music legends, starting May 31st.
Top Chef Duels

Bravo, date tbd
Airing in lieu of Top Chef Masters this summer is a new format (originally known as Top Chef Extreme) that will pit 18 former TC and TCM contestants against each other in head-to-head duels (closer to Chopped than Iron Chef) in a season-long tournament. The regular version of Top Chef will also return this fall with its first Boston-set season.
The Wil Wheaton Project Watch trailer

Syfy, May 27
The former Star Trek TNG star and current blogger gets his own weekly comedy talk series which he describes as "Talk Soup for geeks," featuring commentary on the week in TV, internet, and pop culture events.
In brief: Movies, miniseries, and specials
Labyrinth Watch trailer

CW, May 22 and May 23
A rare miniseries from the CW, the four-hour Labyrinth follows the search for the Holy Grail across two time periods, in medieval and present-day France. (It's based on Kate Mosse's 2005 novel, and it's the same miniseries that already aired in other countries in 2012 and 2013.) Jessica Brown Findlay (Downton Abbey), Sebastian Stan (Gossip Girl), John Hurt, and Tom Felton star.
The Maya Rudolph Show

NBC, May 19
Kids, it's called a "variety show." The former SNL star welcomes guests such as Kristen Bell, Andy Samberg, Fred Armisen, Craig Robinson, Sean Hayes, and Chris Parnell, for a few comedy sketches, with music from Janelle Monáe and Raphael Saadiq. For now, it's a one-off special, but there's potential for it to become a recurring series.
Petals on the Wind Watch trailer

Lifetime, May 26
The sequel to last year's Flowers in the Attic telefilm takes place a decade later and stars Rose McIver, Wyatt Nash, Heather Graham, Ellen Burstyn, Bailey Buntain, and Dylan Bruce.
Seven Deadly Sins

Showtime, June 19
The latest high-concept, darkly comedic documentary series from Morgan Spurlock (30 Days, Super Size Me) will span seven episodes, with each one telling a variety of nonfiction stories relating to a central theme: one of the seven deadly sins.
The World Wars Watch trailer

History, May 26–May 28
The team behind The Men Who Built America returns with a three-night look at the 20th century's two major armed conflicts. Hurt Locker star Jeremy Renner narrates the six-hour mix of CGI, dramatizations, and talking heads (including Colin Powell, John McCain, and John Major).
What's on your must-watch list?
Do any of the new summer shows sound good to you? Let us know what you'll be watching in the comments section below.