A fruitful fest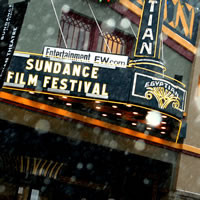 Nearly 120 films—many of them world premieres—screened during this year's edition of the Sundance Film Festival, which just concluded its 11-day run in Park City, Utah. For the first time since 2009's Precious: Based on the Novel "Push" by Sapphire, the same film captured the festival's top honor from both festival judges and audiences: Fruitvale, a dramatic depiction of the 2009 BART shooting in Oakland by first-time filmmaker Ryan Coogler.
The past two weeks also brought new films from Richard Linklater, Joseph Gordon-Levitt, Shane Carruth, David Gordon Green, and other established and first-time directors, while the directorial debut for Oscar-winning screenwriters Nat Faxon & Jim Rash grabbed what was by far the biggest score on the acquisitions circuit, reportedly selling for close to $10 million. Below, we recap the response from critics to over 30 of 2013's most notable Sundance entries, starting with this year's Grand Jury Prize winners. (For those interested, a complete list of this year's awards is available at the Sundance site.)
The major award winners
Grand Jury Prize (Dramatic) / Audience Award (Dramatic)
Fruitvale

USA | Directed by Ryan Coogler | Acquired by The Weinstein Company for $2 million

Winner of both the Grand Jury Prize (awarded by the festival's panel of judges) and the Audience Award (voted on by festival attendees), Ryan Coogler's debut feature depicts the true story of Oscar Grant, a 22-year-old African-American gunned down by Oakland transit cops at the Fruitvale BART station on New Year's Day in 2009. Not all critics fell for the film, but they all had praise for Michael B. Jordan's lead performance. Along with Jordan (whom you may recognize from Friday Night Lights and The Wire), THR lauds the "shrewdly structured screenplay," and the Village Voice calls the film "enormously powerful and moving." Indiewire agrees, claiming Jordan's is a "career-making performance" in an "incredibly moving and confident first feature" from writer/director Coogler. However, Time Out NY believes Coogler, while being one to watch, needs to "temper his storytelling with a bit more nuance and not pitch everything at tsunami-wave level," and Variety agrees, saying the drama "forgoes nuanced drama for heart-tugging, head-shaking, and rabble-rousing."
Grand Jury Prize (Documentary) / Audience Award (Documentary)
Blood Brother

USA | Directed by Steve Hoover

Another dual winner, director Steve Hoover's documentary won both the Grand Jury Prize and the Audience Award in the U.S. competition. The film tracks Hoover's friend, Rocky Braat, as he helps out at an Indian orphanage/care center for children with HIV/AIDS. THR has only praise for Blood Brother, writing, "Hoover's film plays out in so many rich, unexpected and resonant ways that the shift in worldview that both he and Rocky experience while helping to care for these kids is clearly evidenced." Variety finds the film "never less than engrossing" and "often delightful," praising the film's ability to remain "non-manipulative" despite a difficult subject. Originally funded by donations, any future profits from the film will go to supporting Rocky and the orphanage.
Other key films
A.C.O.D.

Comedy | USA | Directed by Stu Zicherman
Adam Scott stars in this comedy about a restaurateur with commitment problems, which he thinks stem from his parents' nasty divorce. (Hence the titular acronym, for Adult Children of Divorce). Underwhelming overall, the film still earned praise for its strong cast (Richard Jenkins, Catherine O'Hara, Amy Poehler, Mary Elizabeth Winstead, Clark Duke, and Jane Lynch), with Variety noting the screenplay "only pops when the actors are free to play off each other's natural gifts." The Guardian believes the "amusing but formulaic man-in-crisis comedy" to be "muddled in its intent." THR likes it a bit more, finding ACOD "funny but less successful as comedy than as a cry of you-screwed-us-up solidarity," while EW's Owen Gleiberman is a big fan, calling it "a bubbly-smart romantic comedy" that "is like some wild and woolly French family drama that hums along in fast motion."
After Tiller

Documentary | USA | Directed by Martha Shane & Lana Wilson
The name in the title of this documentary belongs to murdered abortion advocate Dr. George Tiller, so the increased security for the film's screening only added to the tension implicit in the subject matter of late-term abortions. Filmmakers Shane and Wilson have produced "sympathetic portraits" of four doctors who perform the procedure in a film that "provides personal insight into a heart-wrenching, complex reality," according to THR. Sam Adams of the A.V. Club agrees, naming it one of the top five films of the festival thanks to its ability to show how the doctors "exhibit a fascinating range of moral and emotional rationales, voicing complex sentiments too rarely heard on either side of such a polarizing issue." The L.A. Times believes the film "brings an emotional clarity to an issue in which every nuanced turn of phrase has been made politically complicated," and Time Out NY likes the film because it "never comes off like an exercise in blind hero worship. It simply tries to show that these people have their own deeply felt, well-thought-out ideological reasons for what they do." In his "A-" review, Indiewire's Eric Kohn embraces the way the film's "unassuming construction gradually generates an authoritative voice," and Variety finds plenty to be impressed by in this "calm, humanist" documentary that is "well contextualized and sensitively shot."
Afternoon Delight

Drama/Comedy | USA | Directed by Jill Soloway
Jill Soloway won the "Directing Award: U.S. Dramatic" for this comedy about a married woman (Kathryn Hahn) who, after a night at a strip club with her husband (Josh Radnor), invites one of the dancers (Juno Temple) to move into her home and become a nanny to her child. Scott Foundas of the Village Voice would probably be surprised by the award after he called the film "a tone-deaf catastrophe." THR believes the "off-putting comedy" suffers from a poor lead performance by Hahn. Variety likes it a bit more but admits that "expected cliches reign" in a "visually undistinguished" film "with some good lines but broad performances," and the NY Post is mixed as well on the "well-grounded comedy with relatable characters" that "doesn't really have enough story." The Playlist, on the other hand, thinks the film is "one of the unexpected highlights" of the festival, and praises Hahn as "absolutely incredible."
Ain't Them Bodies Saints
Drama | USA | Directed by David Lowery
Acquired by IFC Films for approximately $1 million
Winner of the "Excellence in Cinematography Award, Dramatic" with a visual quality often compared to Terrence Malick's work, this 1970s Texas-set story of the intertwined relationship between a robber (Casey Affleck), his wife (Rooney Mara), and a cop (Ben Foster) gets a perfect five stars from The Guardian, which claims it "avoids every cliche from the action-thriller, romance and noir handbooks" and "is so singular, it's hard to place." Praising the cinematography and score, Variety finds Saints "slow as molasses but every bit as rich," with a very strong performance by Foster. The Playlist echoes those sentiments giving the film an "A-" and emphasizing how the film "coils up to a terrific crescendo that's arresting and devastating" despite being a bit long. The A.V. Club's Sam Adams also applauds Bradford Young's images and Daniel Hart's score, which help to create "an entrancing mood piece, laconically intense and resonant." THR believes director Lowery has produced a film that is "a lovely thing to experience and possesses a measure of real power." Time Out NY admits that it "shouldn't work" but does, thanks to a high level craft that "lends a palpable sense of foreboding" to the familiar story. Not buying in is Scott Foundas of the Village Voice who believes the film "too often seems embalmed with stylization, including the decision to have the (very fine) actors deliver nearly all their lines in breathy half-whispers."
Austenland
Comedy | USA | Directed by Jerusha Hess
Acquired by Sony Pictures Classics for $4 million
Jerusha Hess, wife to director Jared Hess and co-writer on his three films (including Napoleon Dynamite 64), makes her directorial debut with this comedy about a young woman (Keri Russell) who takes her obsession with the world of Jane Austen all the way to a working theme park that promises an Austen-like romance. The Guardian enjoys the "smart and surprisingly literate" film but wishes for "a little more of Jane Austen's immaculate sense of storytelling." The film is an adaptation of Shannon Hale's novel, and THR believes the director, who co-wrote the script with Hale, "gets her romance just grounded enough to handle the comic extremes supplied by the supporting cast." The Playlist gives the film a "C," admitting that the film "has some great comic performances," but concluding that "it doesn't all come together." Variety agrees, calling Austenland a "routine romantic comedy" that remains watchable thanks to "brisk pacing, a game cast, numerous throwaway chuckles (the intended big laughs tend to miss), a good-natured air and nice visual packaging."
Before Midnight
Drama | USA | Directed by Richard Linklater
Acquired by Sony Pictures Classics for more than $1 million
The story of Celine and Jesse continues in Greece in this third film from collaborators Richard Linklater, Julie Delpy, and Ethan Hawke. The sequel to Before Sunrise 77 and Before Sunset 90 earned almost unanimous praise from critics. Variety praises it as "exquisite, melancholy, hilarious and cathartic ... wise and wondrously intimate." Eric Kohn at Indiewire agrees, giving it an "A+" and calling it "Linklater's most refined achievement" and a "rare cinematic achievement that implicates alert viewers in its mission to understand the mysteries of intimate connections." THR finds the film "remarkable," Time Out NY lauds it as "a masterpiece," and the N.Y. Times calls it "near-perfect." The A.V. Club's Sam Adams gives it an "A-" while noting, "it's an immensely satisfying and emotionally rich experience, so true to life that you nod and wince at the same time." Slant is also impressed with the "unsentimental alchemy of its frank dialogue, chemistry between its two leads, and Linklater's deceptively simple visual style." One of the less enthusiastic responses comes from The Playlist, which gives the film a "B" and admits it is "charming and funny, but much more emotionally difficult and pained picture than one might have imagined," and The Guardian only gives it two stars out of five, finding the film "much less fresh and much more contrived than" the previous entries in the series.
Blackfish
Documentary | USA | Directed by Gabriela Cowperthwaite
Acquired by Magnolia Pictures/CNN Films; in theaters summer tbd
According to critics, this documentary makes a strong case against keeping wild animals in captivity by focusing on SeaWorld and an orca (killer whale) there named Tilikum. In his "A-" review, Eric Kohn of Indiewire calls the film a "searing take on the theme park's mistreatment of killer whales and the dozens of deaths that have resulted from it." THR agrees, comparing the "emotionally powerful" film's impact to that of 2009's The Cove. Variety adds that Blackfish is "righteous, captivating and entirely successful" with "startling video footage and testimonies from former orca trainers, building an authoritative argument on behalf of this majestic species." But Time Out NY believes "poor aesthetic choices" undermine the film's strengths, concluding, "you'll leave angry at those who've perpetrated these animal-rights atrocities and agitated that the storytelling feels so stock."
Blue Caprice

Crime Drama | USA | Directed by Alexandre Moors
Alexandre Moors' feature debut traces the relationship of John A. Muhammad (Isaiah Washington) and Lee Boyd Malvo (Tequan Richmond) who perpetrated the Beltway sniper attacks of 2002. Sam Adams of the A.V. Club left the film underwhelmed, giving it a "C+" and noting that the "trite" film "is a beautifully shot, sensitively acted drama about the relationship between an abandoned young man and the twisted father figure who takes him in. It's also, more or less, drivel." Indiewire's Eric Kohn gives it a better grade (B+), believing Caprice to have a "haunting finale," while "Moors' screenplay, co-written by R.F.I Porto, adopts an observational angle on these events, only stumbling once the violent events congeal into Muhammed's incoherent ideology." Embracing the film fully is Variety, declaring that "precision-honed performances and a nonsensationalistic approach distinguish this impressive first feature." And the N.Y. Times writes, "An exploration of power, madness and grotesque paternalism, the movie refuses any easy answer. Rather, it reveals layer by painful layer how these two, in their crushing isolation and shared madness, transformed from the recognizably human to the monstrously human." THR also finds the film to be "a disturbing, masterfully controlled thriller."
Computer Chess

Comedy | USA | Directed by Andrew Bujalski
Writer/director Andrew Bujalski's last film was 2009's Beeswax 70, his third shot on 16mm, but for his latest—winner of the festival's Alfred P. Sloan Feature Film Prize—he uses 1980s-era video equipment to shoot a weekend chess tournament that pits man against machine. Indiewire finds Computer Chess quite funny and awards the film an "A-" while admitting that the "movie is erratic and weird" but also "excels at conveying the frustrations of feeling trapped by forces beyond one's control, the complexities of humanity irresolvable by any neat code." Variety also likes it, calling it "endearingly nutty" and "about as weird and singular as independent cinema gets" even though "its haphazard construction practically defines hit-or-miss." The A.V. Club finds the film "puzzling" but allows that it is "often hilarious" in giving it a "B-," but THR calls it "an enervating stunt" that "is good for an initial chuckle" but that's about it.
Concussion
Drama | USA | Directed by Stacie Passon
Acquired by The Weinstein Company (Radius) for >$1 million
Passon's debut feature tells the story of a married lesbian (Robin Weigert from HBO's Deadwood) who becomes an escort in Manhattan after suffering a blow to the head from a baseball thrown by one of her children. Not all critics embraced the film, but praise for Weigert's performance was universal. The Village Voice hails the star's "fearless performance" in what amounts to "a happy surprise" of a film that looks at the loss of passion in a relationship "in a series of smart, funny and surprising ways." Slant also has good words for both Weigert's "amazingly raw performance ... which demands her to be both physically and emotionally vulnerable" and the uncertainty of her motivation to change. Time Out NY agrees that "nothing about Weigert's performance comes off as fake." While the A. V. Club also deems her performance "terrific," that publication finds the film's tidiness to be "at odds with Weigert's self-destructive path, a flaw compounded by its unconvincingly pat resolution." THR is also not convinced, claiming "Passon's attitude toward the character is hazy," and Variety believes the film "favors style over substance" even though Weigert "remains an intelligent screen presence even in stupid scenes."
Crystal Fairy

Comedy | Chile | Directed by Sebastián Silva
In 2009, director Sebastián Silva's The Maid 82 won the World Cinema Grand Jury Prize, and this year he returned to Sundance with two projects starring Michael Cera. The first to screen was Crystal Fairy, about a American (Cera) who seeks to travel through Chile in a drugged-out haze. The titular Crystal Fairy is played by Gaby Hoffman, and she quickly becomes a nuisance to Cera's Jamie. The N.Y. Times believes Hoffman "walks away" with the movie, and Sam Adams of the A.V. Club gives the film an "A-" despite stating, "Although it's not his intention, the movie functions as a powerful argument for staying straight: Don't do drugs, and you won't have to hang out with assholes." THR calls it a "sometimes amusing trifle," and The Guardian enjoys one of Cera's "best performances" (an evaluation The Playlist agrees with) in a film that is ultimately "a largely entertaining ride." Time Out NY believes "the longer the movie lazily winds its way towards its destination, the more its unpredictability and shambling, go-with-the-flow pace start paying off handsomely." Indiewire isn't quite as enamored, claiming the film "has little to say beyond Cera's capacity to transform into an amazingly uncomfortable screen presence."
Don Jon's Addiction
Comedy | USA | Directed by Joseph Gordon-Levitt
Acquired by Relativity Media for $4 million
Gordon-Levitt makes his feature directorial debut and stars in this story (which he also wrote) about Jon Martello, a porn addict and serial objectifier who learns a few life lessons through relationships with two very different women: Barbara (Scarlett Johansson) and Esther (Julianne Moore). Variety calls it "an endearingly masturbatory look at how a culture of objectification erodes our capacity for intimacy." Praising the work of the whole cast, including Tony Danza as Jon's dad, The Playlist endorses this "beguiling romantic comedy with a heart, soul and pulse that will pleasure you for a full 90 minutes with hardly breaking a sweat." The Guardian also likes Danza and the "fun, occasionally flabby romp that should find its audience." THR echoes the cast love, but labels the film as a whole as "crude, repetitive and rigorously single-minded." Also disliking the film are Time Out NY ("This movie will be remembered as the moment the JGL cult of personality jumped a lake full of sharks") and the A.V. Club, which writes, "In his acting career, Gordon-Levitt has proved himself as a bold and versatile talent, but his first film as a director is a damp squib, a movie about obsession that's utterly hollow and entirely impersonal." On the other hand, the Village Voice finds it "hugely enjoyable."
The East

Thriller | USA | Directed by Zal Batmanglij
From the writers, director and star of Sound of My Voice 67 comes this story of an ex-FBI agent (Brit Marling, who co-writes) who infiltrates an anarchist collective only to find herself beginning to sympathize with the group's leader, played by Alexander Skarsgard. Indiewire gives the film a "B" and calls it "suspenseful, ludicrous, fascinating, and utterly unsubtle," while claiming it "nearly succeeds as a pure adrenaline-rush thriller." Director Batmanglij is "at the head of the class of up-and-coming directors" according to The Playlist, even though his new film is hit and miss. Variety claims "this clever, involving spy drama builds to a terrific level of intrigue before losing some steam in its second half." Slant disagrees, believing the final scene is "as entertaining as it is thought-provoking" while the film overall is "one of the most smartly written undercover thrillers in recent years." THR also enjoys The East, which revolves around "a consistently tense, morally alert story."
Escape from Tomorrow

Drama/Comedy/Fantasy | USA | Directed by Randy Moore
The surreal debut feature from guerilla filmmaker Moore earned as much press as any film at Sundance this year, but because it was secretly shot at Disney World and Disneyland without permission, it may never get distribution (and a Disney lawsuit against Moore could be in the works).The film documents a family of four's last day on vacation at the gigantic resort, an outing that quickly turns surreal for the pater familias, Jim, after he learns he no longer has a job. The Village Voice doesn't buy the hype, claiming the "making-of story is considerably more interesting than the movie itself," and the NY Post believes the film is "more fun to discuss than to sit through" and "doesn't make enough out of an intriguing-sounding gimmick." Time Out NY admits it's not great, but still thinks "Moore deserves a tip of the hat for flipping the bird to the Mouse in the most guerrilla, go-for-broke style possible." The Playlist likes the "dark, utterly bizarre comedy" despite it being "a bit on the sloppy side," and Variety labels it "a sneakily subversive exercise in low-budget surrealism and anti-corporate satire." The A.V. Club and Indiewire both give the film an "A-" despite it having "plenty of rough edges," with the latter noting that it still "displays a fascinating ingenuity in its appropriation of the Disney brand."
In A World...

Comedy | USA | Directed by Lake Bell
Actress Lake Bell makes her feature writing and directing debut with this comedic tale of a struggling vocal coach who breaks into the voice-over biz. Variety calls Bell a "magnetic, intelligent, blithely screwball leading lady" and praises the strong supporting cast that includes her Childrens' Hospital co-stars Ken Marino and Rob Corddry, plus Tig Notaro and Demetri Martin. The A.V. Club praises Bell's "confident and very funny debut" as well as her script, which won the Waldo Salt Screenwriting Award. Another fan of the screenplay is the NY Post's Kyle Smith, who believes "all of the characters are richly conceived" and given "sharp-witted dialogue." THR enjoys the "lively, sometimes very funny comedy" because it "never becomes cloying or too cute," and The Playlist admits while it's "not as consistently funny as one might hope," In a World is "still an endearing comedy and a promising debut for now-triple threat Lake Bell."
Interior. Leather Bar

Drama | USA | Directed by James Franco & Travis Mathews
This 60-minute film produced and co-directed by James Franco will probably be hard to see in the future, but it did get critics talking. Queer filmmaker Travis Mathews and Franco prep, discuss, cast, and re-imagine (kind of) what might have occurred in the 40 minutes of footage William Friedkin says was cut out of his 1980 film Cruising, starring Al Pacino. The A.V. Club likes the lead performance of Val Lauren more than the film, and Indiewire believes the film works in spite of Franco's involvement, not because of it. The Guardian only gives it 1 out of 5 stars, calling Leather Bar a "faux-intellectual, unremarkable docudrama," while Variety dismisses it as "an infuriating stunt." THR believes the "hourlong experiment is mainly for queer-theory students and Francomaniacs," while  Time Out NY thinks the film "feels like little more the star's attempt to upend prejudices against homosexuality, one straight actor at a time."
jOBS
Drama | USA | Directed by Joshua Michael Stern
Acquired by Open Road; in theaters April 19
This Steve Jobs biopic starring Ashton Kutcher as the titular Apple co-founder received middling to negative reviews from critics. Indiewire gives the film a "C+", blaming a screenplay that "fails to make the human element count" and resulting in a film that "plays too safe." The Telegraph points its finger at Kutcher, claiming his lack of "skills as a serious actor is on full display" servicing a "superficial script." Variety is less harsh in its assessment of Kutcher, calling his attempt at vocal mimicry "impressive," but finds the film "bland" and "prosaic, but not unaffecting." THR also damns with faint praise by deeming the biopic "passably entertaining."
Kill Your Darlings
Drama | USA | Directed by John Krokidas
Acquired by Sony Pictures Classics
Writer/director Krokidas makes his feature debut with this look at the beginning of the Beat generation through the killing of David Kammerer (Michael C. Hall) by Lucien Carr (Dane DeHaan), a friend of Allen Ginsberg (Daniel Radcliffe), Jack Kerouac (Jack Huston), and William Burroughs (Ben Foster). Scott Foundas of the Village Voice believes the drama "is an unquestionable improvement over last year's paint-by-numbers On the Road, but it still falls victim to the kind of idol worship that has made most movies about the Beats hard to take." The Guardian assigns the film 4 out of 5 stars for its "true sense of energy and passion" and "a story perfectly of its time and yet one that still resonates today." THR posits that the "narrative generally is more fragmented than linear, sometimes at the expense of cohesion." but eventually "the emotional stakes are heightened and the drama gains traction." Praising the performances of the ensemble, Slant sees "a smartly written, deeply engaging portrait of a movement just about to begin," and Variety concurs, arguing that the film is buoyed by "skilled performances, darkly poetic visuals and a vivid rendering of 1940s academia." One dissenting voice is The Playlist, which gives the film a "C+" and complains that while Darlings "is a very competently constructed effort on a whole ... there's an emptiness and familiarity at its core that it cannot transcend."
The Look of Love
Drama/Comedy | UK | Directed by Michael Winterbottom
Acquired by IFC Films
The fourth pairing of director Winterbottom and star Steve Coogan is a biopic of the "King of Soho," Paul Raymond, the colorful British impresario who built an empire on erotica. Unfortunately, the team behind 24 Hour Party People 85 and The Trip 82 fail to reach the same heights with their latest effort. The Playlist reluctantly pans The Look of Love as "a shallow misfire," and the A.V. Club laments that it fails "to develop Raymond beyond his generic silhouette: It's a character study without a character." The Guardian gives the film a little more credit, writing, "Coogan carries the movie with aplomb, although Matt Greenhalgh's script dilutes what could have been a more deeply satisfying drama into something that feels episodic." THR echoes those sentiments, concluding, "This image of an entrepreneur with a magic touch, who lost everyone he ever loved, never comes satisfyingly into focus. And the film's playful and sorrowful sides are not fully reconciled, remaining split identities." Variety likes the film but admits, "Before its measure of gravity kicks in, some viewers may find it depressing in its soulless, kitschy period portrayal of immediate gratification."
Lovelace
Drama | USA | Directed by Rob Epstein & Jeffrey Friedman
Acquired by The Weinstein Company (Radius); in theaters fall tbd
Amanda Seyfried stars as the titular porn star turned anti-pornography spokeswoman in this biopic directed by Rob Epstein and Jeffrey Friedman (Howl 63). Seyfried earns universal praise for her turn as Linda Boreman (aka Linda Lovelace), and the Village Voice believes the film is an "above-average bio-pic." The NY Post goes further in its praise, claiming Lovelace to be "one of the finest dramas" of the festival, "alternately funny and disturbing" with a strong supporting turn by Sharon Stone as Linda's mother. THR also finds the film "surprisingly good on several fronts, beginning with a shrewd structure that fosters an intelligent dual perspective on the public and private aspects of the Deep Throat phenomenon." More mixed is The Guardian, writing, "As entertainment, it works fine, never straying too far into Boogie Nights territory," but Slant sees a "flashy biopic filled with celebrity cameo after celebrity cameo, but very little substance." Variety also finds fault, arguing that Lovelace reduces "an immensely disturbing, politically byzantine tale to a series of cartoonish vignettes" and "squanders a gutsy performance by Amanda Seyfried." Most disappointed is Indiewire, concluding in its "D" review, "Lovelace never garners the energy to construct a fully involving melodrama, rarely rising above Lifetime movie standards. Given the material, the irony here is that the filmmakers play it too safe."
May in the Summer

Comedy/Drama | USA/Jordan/Qatar | Directed by Cherien Dabis
In her second feature, Dabis (Amreeka 73) writes, directs and stars as May, a successful New York author returning to Jordan to arrange her wedding only to dredge up old familial dynamics and clashing cultural mores. The opening night film earned a mixed response from critics overall, but Indiewire believes it is "substantially more polished and enjoyable" than the director's debut. The Village Voice agrees, calling May "a buoyant comic drama" in which "Dabis is smart enough to balance broadly accessible comedy with sharply drawn, three-dimensional characters and a personal, reflective sensibility." THR admits that the film is entertaining but also "naggingly lightweight, failing to dig very deep into the issues it touches." Justin Chang at Variety is also left with conflicted feelings; he notes, "For every moment that feels pleasantly eye-opening, there's a scene that achieves the reverse by straining for comedic or dramatic effect, pushing the material into alternately soapy and sitcomish territory." Sam Adams of the A.V. Club goes even further, claiming, "Dabis' touch grows clumsier when she needs to push the plot forward, and her shot choices range from odd to almost incompetent," and Time Out NY believes that "Dabis is a far more compelling performer than she is a writer or a director."
The Necessary Death of Charlie Countryman

Action/Comedy/Romance | USA | Directed by Fredrik Bond
Shia LaBeouf stars as the titular Charlie in this chaotic romance set in Bucharest, Romania. THR finds it to be a "fanciful crime-drama romance that gratifyingly eschews strict genre classification," but for other critics, praise is limited to the cast of Evan Rachel Wood, Melissa Leo, Mads Mikkelsen, and Til Schweiger. The Guardian finds that this cast "is excellent, but underemployed," while "no amount of editing will redeem this dystopian dud." Variety calls it "a profoundly unnecessary movie" and "a charisma-free trip into a world of gratuitous violence, contrivances and tedium," and The Playlist admits it "opens up with an interesting first section, but only backslides deeper and deeper in its overwrought and incoherent second and third acts."
Prince Avalanche
Comedy/Drama | USA | Directed by David Gordon Green
Acquired by Magnolia Pictures; in theaters summer tbd
David Gordon Green returns to his indie roots with this remake of the Icelandic film Either Way. Paul Rudd plays Alvin, and Emile Hirsch plays his girlfriend's brother, Lance, who spend the summer together painting traffic lines on burned-out Texas roads. While most critics believe the film is a return to form for the director, The Guardian claims, "The best reason to see this misconceived film is its location." Other critics agree that Bastrop State Park is another character in the film, but most also find the film has more to offer than mere scenery. Indiewire believes that Avalanche's "opposing genre extremes never entirely come together, but they do form a compellingly odd tone that provides a framework for examining Green's career to date." Variety also likes the "warmly enjoyable dual-character study" that is "an unconventional, ultimately rather sweet buddy pic," and THR calls it an "odd little gem of a movie." The Playlist goes as far as stating that the "wonderfully eccentric examination of unlikely friendships that illuminates the absurd and lovely corners of life" could be "Green's most vital film to date."
The Spectacular Now
Comedy/Drama | USA | Directed by James Ponsoldt
Acquired by A24 for >$1 million
Stars Miles Teller and Shailene Woodley won a "Special Jury Prize: Dramatic" for their acting in this high school coming-of-age drama adapted from Tim Tharp's novel by Scott Neustadter and Michael H. Weber ((500) Days of Summer) and directed by James Ponsoldt, whose previous film Smashed 71 earned Mary Elizabeth Winstead an Independent Spirit Award nomination for acting. Praise for the two stars and the cast as a whole was the common thread in most reviews, save for Kyle Smith of the NY Post, who singled out only Woodley: "She is by far the best element of what gradually turns into a downbeat and routine alcoholism drama." While admitting that the film isn't perfect, Time Out NY does believe that the chemistry between the two leads "lifts the film above and beyond the normal troubled-youngsters-humpin'-and-boozin' social-issue movie." The Playlist feels the film seems a bit long, but the leads carry a movie that "is wise beyond its years, charismatic, measured and authentic in its depiction of the pains, confusions and insecurities of the teenage experience." THR also asserts that the "sincere, refreshingly unaffected look at teenagers ... benefits from an exceptional feel for its main characters on the parts of the director and lead actors." Echoing this sentiment is Sam Adams of the A.V. Club, who writes, "Teller and Woodley, as characters and as actors, have a natural ease with each other, and an unforced naturalism that belies their extensive experience." The Village Voice states simply that Now is a "superb coming-of-age drama," and EW describes it as "one of the rare truly soulful and authentic teen movies." One last positive vote comes from Variety's Rob Nelson, who believes "this bittersweet ode to the moment of childhood's end builds quietly to a pitch-perfect finale."
Stoker
Thriller/Horror | USA | Directed by Chan-wook Park
In theaters February 28
Oldboy 74 director Park makes his English-language debut with this creepy look at a young girl's coming of age. The film, starring Mia Wasikowska, Nicole Kidman, and Matthew Goode, divided critics, with The Playlist delivering the harshest takedown, calling it a "brutally empty, deeply unfortunate movie" that goes "beyond being ridiculous." Slant isn't much of a fan either, believing the film to be "as emotionally hollow as its posturing artistry." More in the middle is the NY Post, which finds that "Stoker is more pleasing in the buildup than in the slightly disappointing (though adequately bloody) payoff." Indiewire thinks the film "continues the twisted pleasures that define the director's filmography," but admits that it's "more blatantly an exercise in style than anything on par with the director's crowning achievements, and suffers to some degree from the predictability of its premise." Variety likes Stoker more than the others, calling it "a splendidly demented gumbo of Hitchcock thriller, American Gothic fairy tale and a contemporary kink all Park's own," and The Guardian gives the "gorgeously mounted family mystery dressed up as a gothic fairytale" 4 out of 5 stars. THR gets the last word by labeling it "one of the most artful chillers in ages."
Touchy Feely

Drama | USA | Directed by Lynn Shelton
Writer/director Shelton (Humpday 74, Your Sister's Sister 72) has experienced previous success at Sundance, but her latest, a family drama about a massage therapist (Rosemarie DeWitt) who develops an aversion to touch, and her dentist brother (Josh Pais) who develops a magical healing touch, failed to catch on like her earlier work. The A.V. Club feels the metaphor for fear of commitment "can only be described as heavy-handed." The Guardian claims "Shelton's migration towards more clear-cut drama is hampered by uneven tone and, most damning of all, dullness." The Playlist finds the "listlessly paced" drama "a disappointing and uneven experience," and Variety calls it "an uneven mix of half-formed conflicts." In one of the few generally positive reviews, even THR admits, "Shelton's latest is warm but less endearing than its predecessors."
Two Mothers
Drama | Australia/France | Directed by Anne Fontaine
Acquired by Exclusive Releasing
Naomi Watts and Robin Wright star as lifelong friends who begin affairs with each other's sons in this adaptation of Doris Lessing's novella The Grandmothers. Christopher Hampton (A Dangerous Method 76) wrote the screenplay and Anne Fontaine (Coco Before Chanel 65) directs what Variety calls a "ludicrous melodrama" despite the "typically classy performances" of the two leads. The New York Times also thinks Watts and Wright are "well-matched" in this "enjoyably absurd" film, but THR thinks "this glossy drama never escapes its air of faint ludicrousness" even though, again, Watts and Wright "lend integrity." The Village Voice finds Fontaine to be "too straight-arrow a director to push the material fully over the absurd precipice." While the NY Post claims the film is "an early contender for worst film of 2013," The Guardian gives it 4 of 5 stars, admitting "it is definitely flawed" but also "an incredibly provocative piece of work, featuring a brave and vulnerable performance by Naomi Watts (who seems perhaps a little too young) and a career-high acting masterclass from Robin Wright (who is cast perfectly)."
Upstream Color
Sci-Fi/Drama | USA | Directed by Shane Carruth
In theaters April 5
The most anticipated (and most difficult to describe) film in competition took home only one award, Special Jury Prize: Dramatic (For Sound Design), but most critics couldn't stop talking about it. Sam Adams of the A.V. Club calls Shane Carruth's follow up to his 2004 Grand Jury Prize winner Primer 63 "one of the most transcendent experiences of my moviegoing life." The Playlist also gives the film an "A" but admits to not knowing "what it all means," though still praising the film's technical accomplishments as a "sensually-directed, sensory-laden experiential (and experimental) piece of art that washes over you like a sonorous bath of beguiling visuals, ambient sounds and corporeal textures." Indiewire also notes that the film "is routinely confusing but not oppressively so; its final exquisite moments explain little yet still manage to invite you in." The Village Voice calls Color "bold, impassioned, ecstatically beautiful ... a lyric reverie on loss, love, and various invasions of the body," and THR suggests the film "is something to see if you're into brilliant technique, expressive editing, oblique storytelling, obscuritanist speculative fiction or discovering a significant new actress." Variety labels it "a stimulating and hypnotic piece of experimental filmmaking," and Time Out NY believes "challenging" is an understatement. Slant also struggles with the film as a whole but allows that "the film's visual aesthetic is both provocative and beautiful." Less impressed is the Guardian, concluding, "It's meticulous, methodical and educated – but also extreme, and extremely pretentious." Carruth is self-distributing the film for theatrical release in April.
The Way, Way Back
Comedy | USA | Directed by Nat Faxon & Jim Rash
Acquired by Fox Searchlight for $9.75 million
Jim Rash and Nat Faxon, the Academy Award-winning co-writers of The Descendants 84, make their directing debuts with a strong cast that includes Steve Carell, Toni Colette, Allison Janney, Maya Rudolph, and Sam Rockwell. The pair also wrote this comedic story of strained family dynamics and adolescent struggles during 14-year-old Duncan's summer vacation working at an aging water park; many critics compared it (though not favorably) to Adventureland. Indiewire sees "marketplace value" for this familiar film that "dances to a tune we've heard too many times before." Scott Foundas of the Village Voice likes it even less, "Virtually every line ... is a cheap punchline; every character a strategically flawed caricature whose skin-deep problems are smoothed away by journey's end." The Guardian gives it only 2 of 5 stars, warning that while "there are plenty of comic moments," the film is "very rarely laugh-out-loud funny." On the other hand, Variety thinks the film "can be explosively funny in parts, but overall feels pretty familiar, relying more on its cast than the material to win favor," while The Playlist likes the "very funny" film that "still aims for the heart and isn't just a series of gags strung together." THR labels this "tender and very funny film ... a charmer," but the most praise comes from Kyle Smith of the NY Post, who loves the "hilarious, emotionally satisfying, crowd-pleasing treat" that is both "sweet without being syrupy" and "commercial without being a sell-out."
Other Sundance films of note

Breathe In, director Drake Doremus' follow-up to last year's Like Crazy, features another standout performance by Felicity Jones and a typically interesting performance by Guy Pearce. The Guardian gives it 4 of 5 stars, and The Playlist grades it a "B+."

The documentary Cutie and the Boxer was picked up by RADiUS-TWC and won the Directing Award for Documentary. This portrait of Japanese artist Ushio Shinohara and his wife Noriko received praise from both THR and the A.V. Club, and it will get a theatrical release later this year.

Magic Magic, the other Michael Cera–Sebastián Silva collaboration at the festival was just as divisive as Crystal Fairy (detailed above); Juno Temple also stars. The A.V. Club, Indiewire, The Guardian, and Variety give their varying opinions, though they all seem to agree that the photography is excellent.

Mother of George, the story of a young Nigerian woman who emigrates to America to be wed, was acquired by Oscilloscope during the festival. Andrew Dosunmu's movie was shot by Bradford Young, who won the cinematography award for his efforts on both this film and Ain't Them Bodies Saints.

The documentary Pussy Riot: A Punk Prayer will get an HBO premiere, which should please the critics at the A.V. Club, Variety, and THR, who all thought this look at the titular group's performance and resulting trial in Russia is worth checking out.

Magnolia Pictures will release the horror anthology S-VHS, the rare case in which the sequel might be better than the original (V/H/S), according to Variety, Indiewire, The Playlist. Directors involved in the project include Edúardo Sánchez, Adam Wingard, and Jason Eisener.

Dave Grohl's Sound City underwhelmed some reviewers (A.V. Club) while pleasing others (THR and Variety). The documentary, about a legendary Los Angeles recording studio, screens in theaters nationwide this Thursday night and will be available for digital download the following day.

The harrowing mountain-climbing documentary The Summit, about a disastrous attempt to scale K2 (the planet's second-highest peak), will be released by Sundance Selects (IFC). THR calls the film "mesmeric," though HitFix's Daniel Fienberg finds the result a bit "jumbled."

Toy's House brings director Jordan Vogt-Roberts' many influences together for a comedy that is "beautiful and dark and also funny" according to The Playlist, while Variety calls it an "absurdist, caustically funny take on adolescent agitation." CBS Films will release it.

Morgan Neville's documentary Twenty Feet from Stardom will get a late summer release from RADiUS-TWC. This look at the history of back-up singers in pop music and the careers of several in particular was enjoyed by reviewers at the A.V. Club and THR.

Valentine Road, a documentary investigating the February 12, 2008 killing of openly gay eighth-grade student Larry King by classmate Brandon McInerney, is the A.V. Club's second favorite film of the festival. Variety agrees that it is a "richly detailed, deeply affecting" account.

A loose remake of the recent Mexican movie of the same name, horror film We Are What We Are tells the story of a family of cannibals in a "powerfully effective" way according Indiewire. Variety is also a fan, suggesting that genre fans will find it treat.