Boys to men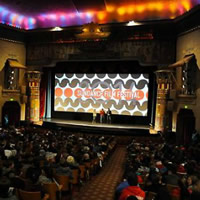 Another year, another 100 films, and another top prize sweep. Like Fruitvale Station last year, Damien Chazelle's Whiplash, the story of a young jazz drummer and his hard-nosed teacher, won both the Audience Award and the Grand Jury Prize as the best U.S. dramatic film in competition at this year's Sundance Film Festival. And that was not the only repeat from 2013.
For the second year in row, a Richard Linklater film left the festival with the best critical buzz. In 2013, it was Before Midnight. This year, Boyhood captivated audiences as much with the story of its experimental creation—Linklater cast Ellar Coltrane when he was seven and chronicled his development in thirty-nine days of filming over 12 years—as with its final 160-minute form. This year's festival also premiered highly anticipated new works from Anton Corbijn, Michael Winterbottom, Joe Swanberg, and Zach Braff (who screened his controversial Kickstarter project), among many others. Below, we recap the hits (and some misses) of this year's festival by sampling critics' reactions to dozens of key films, starting with this year's big winners.
The major award winners
U.S. Grand Jury Prize (Dramatic) / Audience Award (Dramatic)
Whiplash

Directed by Damien Chazelle | Acquired by Sony Pictures Classics for $3 million

Miles Teller stars as an aspiring jazz drummer at a renowned music conservatory and J.K. Simmons is his demanding teacher in writer-director Damien Chazelle's debut feature. An expansion of his 2013 Sundance award-winning short, Whiplash was a dual winner this year, taking the Grand Jury Prize (awarded by the festival's panel of judges, including filmmakers Lone Scherfig and Bryan Singer and critics Dana Stevens and Leonard Maltin) as well as the Audience Award (voted on by festival attendees).
Film.com calls it a "funny, exhilarating drama — bordering on psychological thriller," and The Playlist believes "it's exactly the kind of second feature that you hope for a young director to make—full of bravado and swagger, uncompromising where it needs to be, informed by great performances and patient with both its characters and the things that matter to them." THR's Todd McCarthy claims the film is "the antithesis of "let's-put-on-a-show" fluff," and The Telegraph is impressed by the film's "sharp and gripping rhythm." Variety's Peter Debruge likes the way Whiplash "demolishes the cliches of the musical-prodigy genre," and Nathan Rabin at The Dissolve believes the film is a "riveting war of wills that closes with a thundering climax." Lastly, A.A. Dowd at the The A.V. Club gives the film an "A-," writing, "The film is as meticulously precise, and as thrillingly volatile, as the music it celebrates."
U.S. Grand Jury Prize (Documentary)
Rich Hill

Directed by Tracy Droz Tragos, Andrew Droz Palermo

Unlike 2013 when Blood Brother won both documentary awards, this year saw a split. Rich Hill, from sibling directors Tracy Droz Tragos and Andrew Droz Palermo, looks at the lives of three boys living in the titular Missouri town. Indiewire finds it "often overwhelming[ly] gorgeous and deeply sad," though also calling the film a "meandering portrait that never snaps into narrative focus with the stunning clarity of its images." At THR, critic Duane Byrge believes the film is "hard-eyed but empathetic" and "often heartbreaking."
U.S. Audience Award (Documentary)
Alive Inside: A Story of Music & Memory

Directed by Michael Rossato-Bennett

Michael Rossato-Bennett's Audience Award winner, Alive Inside: A Story of Music & Memory, chronicles social worker Dan Cohen's efforts to show how music positively impacts people with dementia. Indiewire assigns the film a "B-" grade, feeling that "the film's biggest shortcoming is its inability to trust the enormous power of its subjects," but a more positive THR calls it a "stirring documentary" and a "gloriously inspirational film."
Other key films
Note that dollar amounts in distribution deals listed below are unconfirmed estimates as reported by various trade publications.
The Babadook Watch trailer
Drama/Thriller | Australia | Directed by Jennifer Kent
Acquired by IFC Midnight for an undisclosed amount
This Australian horror film from writer-director Jennifer Kent earned praise for its scares and excellent lead performance by Essie Davis as a single mother dealing with a major personal trauma and her son's obsession with monsters. The Dissolve's Noel Murray calls it "easily the scariest movie [he's] seen in about 10 years," and adds, "It's masterfully designed and paced, with a relentless quality that never tips into unendurable or exhausting." Indiewire critic Eric Kohn also finds it "supremely eerie," while Time Out New York similarly deems it to be a "slow-building, expertly unsettling horror film." A.V. Club awards the film a "B+" and praises Essie Davis's "remarkably intense performance," while THR concurs, calling it a "ripper of a performance" in "a gruesome treat" of a film.
Boyhood

Drama | USA | Directed by Richard Linklater
Though it didn't win a single award, Richard Linklater's 12-year project following the growth of a boy (played for the length of the film by Ellar Coltrane) from age seven to nineteen earned some of the best reviews of the festival. Indiewire's Eric Kohn gives the film an "A" and calls it "an unprecedented achievement in fictional storytelling," and The Guardian believes it's an "extraordinary, deeply moving" film. For Manohla Dargis at The NY Times, watching Coltrane and Mason (his character) mature "helps turn a fascinating experiment into a profound viewing experience." Simon Abrams at RogerEbert.com believes the film "never feels gimmicky because the story focuses on a series of intimate revelations." Time Out New York claims Boyhood "feels unprecedented for its intimacy," and THR calls it "an epic about the ordinary" that is "a rich, greatly rewarding experience." Though having some issues with the film, A.A. Dowd at the A.V. Club writes, "Ultimately, Boyhood's methodology is so powerful, and powerfully interesting, that its flaws scarcely matter." The Telegraph also cautions that Boyhood is not a "perfect" film but feels that "its flaws make it interesting and help magnify its strengths." The Dissolve's Noel Murray is "surprised and even pretty delighted to see a movie so ostensibly ambitious also be so stubbornly, meaningfully shapeless." Lastly, The Playlist thinks the "warm, soulful, funny and quietly insightful" film is "a remarkable accomplishment that won't be forgotten anytime soon."
Calvary
Drama | Ireland | Directed by John Michael McDonagh
Acquired by Fox Searchlight for $2.5 million
Writer-director John Michael McDonagh's second feature to premiere at Sundance (following 2011's charming The Guard) is another showcase for actor Brendan Gleeson, here playing Father James, a good priest in a small Irish town. During confession, an unknown man tells Father James that he plans to kill him in a week's time. As he prepares for death, his daughter (Kelly Reilly) pays him a visit. The Guardian calls the "terrific" film "puckish and playful, mercurial and clever, rattling with gallows laughter," and The Playlist finds the film "thematically rich and pointedly written," while an "always-terrific Brendan Gleeson is in perfect form." Indiewire feels that even though "it delivers an emotional wallop, not every moment of Calvary goes down smoothly, as comedic scenes transition somewhat abruptly to tragic moments." But Variety raves, "Grounded by a performance of monumental soul from Gleeson... the film offers a mordantly funny survey of small-town iniquity that morphs, almost imperceptibly, into a deeply felt lament for a fallen world." Finally, Simon Abrams at RogerEbert.com calls it his "favorite film of the festival" at the time of his review, thanks to a "typically commanding performance" by Gleeson and "assured direction" by McDonagh.
Camp X-Ray

Drama | USA | Directed by Peter Sattler
Kristen Stewart stars as a guard at Guantanamo Bay who forms an unlikely friendship with a prisoner in writer-director Peter Sattler's feature debut. The film as a whole earned mixed reviews, but Stewart was roundly praised. THR describes the film as "riveting" and Stewart's performance as "perhaps her best screen work to date." Variety believes it is a "competently directed, politically questionable film," but that "Stewart is riveting, especially in the final scenes." The Telegraph agrees that it's "the strength of the acting" that allows the film to succeed "as far as it does," while Indiewire finds that the "frustratingly on-the-nose screenplay ... only succeeds at emphasizing [Stewart's] talent in an otherwise half-baked drama." Similarly, The Guardian concludes that Stewart is the best thing in a "crude and overstretched" film.
Cold in July
Drama/Thriller | USA | Directed by Jim Mickle
Acquired by IFC Films for $2 million
While Michael C. Hall as a killer doesn't seem like much of a stretch, Cold in July is a far cry from Dexter. Jim Mickle's pulpy third feature (following We Are What We Are) finds Hall's more tentative family man Dane shooting and killing a burglar at his home, but his resulting turn as small-town hero is short-lived when the killed man's father (Sam Shepard) comes to town seeking revenge, forcing Dane to turn to a grizzled private eye (Don Johnson) for help. At The Dissolve, Noel Murray admires the "unpredictability" and quick pace of the ever-shifting Cold in July and describes it as three films in one, though he prefers the opening "horror film" segment to the concluding "excessively violent noir." Like Murray, Variety's Scott Foundas compares the first segment to the work of John Carpenter, and comments on the film's shifting genres, though he finds the middle third the weakest segment. The Playlist notes that even if the story isn't always believable, and even if its triptych structure renders it a bit "uneven," the director always "has an acute understanding of chilling tone, mood and distressing atmosphere." The Hollywood Reporter finds "nasty fun" in what turns out to be a "glowering study in violent masculinity." But the A.V. Club's A.A. Dowd is left with "a bad taste" in his mouth as a result of the film's "weird" journey "from the thorny moral inquiries of act one to the pandering genre thrills of act three." The film should open this summer (date tbd).
Frank
Comedy | Ireland/UK | Directed by Lenny Abrahamson
Acquired by Magnolia Pictures for an undisclosed amount
Inspired by the true story of musician/comedian Chris Sievey, Frank stars Michael Fassbender as the titular character, who spends the film covered by a large papier-mâché head. He's the leader of a band (with an unpronounceable name) working on a new album that also includes Maggie Gyllenhaal and a newly recruited Domhnall Gleeson. In his "B-" review, the A.V. Club's A.A. Dowd calls it "the kind of go-for-broke quirkfest that's bound to polarize audiences." The Playlist claims it's a "terrific and sublime experience, and strikingly original film," while Variety calls Frank "a weird and wonderful musical comedy." Indiewire warns that the film is a "perceptive work of cultural criticism, but only for those willing to operate on its zany level," but also admires the "moments of heartbreaking fragility" from Fassbender. At Hitfix, Guy Lodge has kind words for all of the performances, admiring how "the cast plays crazy with cool, measured aplomb." The Dissolve's Noel Murray has mixed feeling about the film as a whole, but admits it "is frequently funny and unexpectedly sad." At THR, Todd McCarthy is less enthused by "a work of genuinely off-putting quirkiness."
God Help the Girl

Musical | UK | Directed by Stuart Murdoch
It seems that Stuart Murdoch's skills at creating pop songs for Belle & Sebastian don't quite translate to talent behind the camera, though God Help the Girl did win an acting award for its ensemble. His debut as a writer-director is a Glasgow-set musical starring Emily Browning as Eve, a girl with surprising songwriting skills who forms a band with James (Olly Alexander) and Cass (Hannah Murray). The Guardian believes the film "crystallises the best and worst of Belle and Sebastian's songwriting skills" into a film described as "loose and easy, verging on the slipshod" and "warm and generous, verging on the sentimental." The Dissolve's Noel Murray has affection for the film but laments that "Murdoch is never able to integrate his fashionable fantasias smoothly into his main story." But his colleague at The Dissolve, Nathan Rabin, finds the film to be a "passionate and inspired, if charmingly homemade" debut. Variety labels it a "slender exercise in self-conscious charm," while The Playlist gives the film a harsh "D+," claiming it's "more like a collection of poorly shot, low-budget music videos stitched together onto a anorexically thin storyline, than it is a fully formed and cohesive movie." Film.com admits that the "performers are terrific," but warns that the story is "long and languid and familiar." Lastly, Indiewire writes, "God help the viewer who doesn't have the taste for B&S beats, because that distinct style is the honey coating that could either make this movie musical go down sweet or stick in your throat."
God's Pocket
Drama/Comedy | USA | Directed by John Slattery
Acquired by IFC Films for an undisclosed amount
John Slattery's feature film directorial debut proved to be an inauspicious one despite a strong cast. Set in small-town Pennsylvania during the 1970s, the dramedy (based on a Pete Dexter novel) centers on a small-time crook (Philip Seymour Hoffman) who attempts to investigate the sudden death of his stepson while also scrounging up enough money to pay for his funeral. Also starring are Slattery's Mad Men co-star Christina Hendricks, plus Richard Jenkins and John Turturro. In a "C–" review, The Playlist warns that Slattery fails to nail the film's tone, instead taking an approach that "is almost unrepentantly nasty towards its characters," resulting in something closer to "misery porn" rather than a Coen brothers-style dark comedy. That Coens reference also comes up at THR, where Todd McCarthy feels that the only partially successful God's Pocket plays "like a movie by the Coen Brothers directed with one arm tied behind their backs." (Presumably, that would be one arm apiece.) In a "C" review, Hitfix's Gregory Ellwood likes the chemistry between Hoffman and Turturro during the rare moments when they share the screen, but warns of Slattery's "listless direction." Variety's Justin Chang finds the characters "underdeveloped" and the script "muddled," with the resulting film "drab and uninvolving." The film receives a slightly better "C+" at Indiewire, which also warns of "underdeveloped" characters and subplots but finds the film's saving grace: "It can be pretty damn funny, particularly because Slattery shows a surprising knack for slapstick." The film's one true fan appears to be Henry Barnes at The Guardian, who still warns of a lack of subtlety but, in a 4-star review, admires that through the humor, "it has a dark heart that stays beating."
Happy Christmas
Drama | USA | Directed by Joe Swanberg
Acquired by Magnolia and Paramount for an undisclosed amount
The prolific writer-director-actor Joe Swanberg (whose 24 Exposures just opened in theaters) took on all three roles again for this look at a girl (Anna Kendrick) who, after breaking up with her boyfriend, moves in with her brother (Swanberg) and his wife (Melanie Lynskey). The Dissolve's Nathan Rabin thinks it "might be Swanberg's best film to date," with a cast (which also includes Lena Dunham) that is "uniformly excellent." Film.com concurs, calling Christmas "Swanberg's most mature and satisfying film yet." Indiewire finds the "sweetly funny and relatable" film an "utterly enjoyable character study," while The Guardian claims it's "short and slight, but undeniably charming." For THR, the "fairly mundane domestic situations" are elevated by the actors, while The Playlist feels "the film does possess ample charms and insights, though admittedly, they do take quite a long time to coalesce."
I Origins
Sci-Fi/Drama | USA | Directed by Mike Cahill
Acquired by Fox Searchlight for >$3 million
Another Earth writer-director Mike Cahill returned to Sundance this year with another strange "what-if" tale about a molecular biologist (Michael Pitt) and his partner (Brit Marling) who uncover evidence that may fundamentally change what people believe. The film won this year's Alfred P. Sloan Feature Film Prize, given to "outstanding feature films focusing on science or technology as a theme, or depicting a scientist, engineer or mathematician as a major character." Not all critics agree that I Origins is an outstanding film, but THR's Todd McCarthy does, calling the film "a bracingly venturesome, exploratory work that achieves an exceptional balance between the emotional and intellectual aspects of its unusual story." The Playlist also likes the film and the director's future potential, writing, "I Origins is the fully-formed expression of all of Cahill's ambitious ideas. It also cements him as the real deal; a filmmaker who will hopefully continue to take us to places full of mystery, wonder and awe." Indiewire admits that the movie "lacks enough sophistication to make its existential inquiry fully resonate, but it certainly benefits from comparisons to Another Earth." Time Out New York calls the films a "polished second feature," and Film.com likes that it is "a lot lighter, looser and (intentionally) humorous than the grimly straight-faced Another Earth … but the script still strains to reach its intended apex." The Telegraph can't square the film's "free and easy camerawork" with how its "narrative jolts along in fits and starts." Variety respects the film's "meatier ideas," but feels that it's asking too much to ignore its "glaring plot holes." And the A.V. Club dismisses the film as "arted-up twist cinema at its most self-important."
Imperial Dreams

Drama | USA | Directed by Malik Vitthal
Malik Vitthal's debut feature won Sundance's audience award in the low-budget NEXT section. Imperial Dreams follows Bambi (Attack the Block's John Boyega) as he's released from prison and tries to go straight and protect his four-year-old son. The Playlist calls it a "heartwarming story of a father and son bonding" with an excellent performance from Boyega. Variety also credits Boyega's "grounded" performance and the "wonderfully naturalistic Coach twins" who play his son for creating a "remarkably credible" father-son bond. THR adds more praise for the performances, writing, "Boyega seems to have an innate feel for the setting, taking on the role of Bambi with genuine empathy for the character's situation. His rapport with the young actors playing Bambi's son is especially poignant." On the other hand, The Guardian finds the film "full of heart, but overly ambitious," and The Dissolve's Noel Murray complains that it "lacks much of a raison d'être" and is devoid of visual style and character complexity." Feeling exactly the opposite is Sam Fragoso at RogerEbert.com who praises an "excellent" and "criminally overlooked" movie that "mercilessly envelops you in its narrative and refuses to let you go until you've been moved."
In Maya Forbes' autobiographical debut feature, Mark Ruffalo plays a bipolar father trying to care for two children while his wife is away at school. The film provoked an appropriately divisive response from critics, with Time Out New York's Joshua Rothkopf calling it "movingly heartfelt and fresh" and Sam Fragoso of RogerEbert.com countering that it's a "borderline dreadful film." Similarly, Indiewire praises "Forbes' agile tone" and the Polar Bear's "equal measure" of "heartbreak and humor," but The Playlist finds the film "so phony that you can imagine the production budget being made up of three-dollar bills." On a more positive note, Justin Chang at Variety admires the performances, writing, "Forbes brings a marvelous warmth and specificity to this story of a mixed-race family struggling to survive, aided considerably by one of Mark Ruffalo's richest, most appealing performances." Landing somewhere in the middle is THR's John DeFore, who deems it "a feel-good picture that is a little less affecting than it might have been, but is entertaining enough," and The Guardian's Henry Barnes, who writes, "Infinitely Polar Bear is heartfelt and honest, but it's too cute by half."
David and Nathan Zellner follow-up 2012's Kid-Thing with this story of a Japanese "office lady" (Rinko Kikuchi) who becomes so obsessed with finding the briefcase of money buried in the snow by Steve Buscemi in Fargo that she flies to Minnesota to search for it. The Dissolve's Noel Murray prefers the second half of the film to the Japan-set opening section, finding that "there's a spooky poetry to the climactic sequences." Indiewire gives this "weirdly touching and ultimately quite sad character study" an "A-" and finds Kikuchi "fascinating to watch as she get increasingly buried in an alien environment." The Playlist also praises Kikuchi's "terrific, mostly silent performance" in this "moody, melancholic" film, and THR's Todd McCarthy agrees: "Kikuchi manages to make Kumiko interesting company no matter how far the character recedes into herself, using subtly expressive body language that would have been at home in silent movies." Lastly, Variety finds the film to be a "wonderfully strange and beguiling adventure story." The film won an award for its score, by Austin indie band The Octopus Project.
Laggies
Drama | USA | Directed by Lynn Shelton
Acquired by A24 for an estimated $2 million
Lynn Shelton's follow-up to last year's Sundance disappointment Touchy Feely stars Keira Knightley as an aimless 28-year-old who panics when her boyfriend proposes to her and decides to hide out at the home of a high school girl (Chloë Grace Moretz) she just met. With a script by Andrea Seigel, Shelton's sixth film is the first she has not written herself, but, according to THR, "More structure and polish doesn't keep Lynn Shelton's latest from being recognizably hers." In fact, Film.com thinks Laggies is Shelton's best film to date, and Indiewire believes "Knightley delivers what is perhaps her best performance outside of a period piece in quite some time." Variety is a little less enthusiastic, deeming the film "a consistently amusing and appealing romp," and The Telegraph is even less enamored, lamenting, "The plot strong-arms the characters into increasingly contrived and overly familiar positions that leave you longing for the more relaxed vibe of Shelton's earlier films." Also finding some negatives, The Playlist feels that Laggies is "minutely schizophrenic and it tends to buckle under the weight of all its various little mood changes," while the A.V. Club thinks the film is "undone by the sitcom contrivance of its scenario and some very on-the-nose dialogue." The Dissolve's Noel Murray saves his praise for Sam Rockwell, in a performance celebrated by many critics, though he otherwise finds "nothing in Laggies that's not predigested." The film will arrive in theaters this summer (date tbd).
Land Ho!
Comedy | USA/Iceland | Directed by Martha Stephens, Aaron Katz
Acquired by Sony Pictures Classics for an undisclosed amount
This first collaboration between writer-directors Martha Stephens and Aaron Katz follows two former brothers-in-law (Paul Eenhoorn and Earl Lynn Nelson) as they tour Iceland, and it was a low-key hit with critics. Film.com likes that the "movie isn't afraid to be small in scope, to let us enjoy a pleasant, peaceful journey against the vast, primitively beautiful backdrop of Iceland." THR finds the film "appealing for not going the route of easy gags and dumbed-down humor," and Variety finds the "gently elegiac road comedy" to be a "bawdy, bittersweet ode to friendship's lasting joys and life's inevitable regrets." The Playlist describes Land Ho! as "restrained and muted, pleasant and sweet," while Manohla Dargis of The NY Times calls it a "delightfully funny road movie" that's "playful and wistful" and "anchored by its irresistible lead performances." Finally, Indiewire's Eric Kohn feels that "even without a major climactic moment, the filmmakers arrive at a thoughtfully triumphant conclusion."
Life After Beth
Horror/Comedy | USA | Directed by Jeff Baena
Acquired by A24 and DirecTV for >$3 million
The directorial debut for Jeff Baena (who co-wrote David O. Russell's I Heart Huckabees), Life After Beth is a zombie rom-com about a young man (Dane DeHaan) who is delighted when his dead girlfriend (Aubrey Plaza) comes back to life ... at least at first. Cheryl Hines, John C. Reilly, Molly Shannon, and Paul Reiser co-star, while Black Rebel Motorcycle Club provides the score. Variety deems Baena's "self-assured" debut a success, calling it "charming, thoughtful and laugh-out-loud funny." THR is also on board, calling the film a "perfectly pitched" genre mashup, while also singling out the "top-flight comic talents" of DeHaan. The Playlist singles out Plaza's performance as the film's highlight, but otherwise feels that Beth "has trouble distinguishing itself from the army of flesh-eating peers," adding that the film "can't seem to decide if it wants to be a lark or if it wants to resonate, and wavers between both tones uneasily." Similarly, Slashfilm finds the film too "confused" and "scattershot," noting that Plaza's "irresistible energy ... isn't enough to outweigh the film's rotting core."
Life Itself

Documentary | USA | Directed by Steve James
Based on the late Roger Ebert's 2011 memoir of the same name, Life Itself is a look at the beloved film critic's life from acclaimed documentarian Steve James (Hoop Dreams). The Dissolve's Nathan Rabin writes, "James has created a roaring, defiant celebration of life that doubles as a valentine to the film and newspaper world in which Ebert found his truest homes." THR calls the "engrossing, unflinching, moving and comprehensive biographical documentary" a "richly satisfying film," and Manohla Dargis of The NY Times describes it as "brutally intimate." The Telegraph claims it's an "impressively clear-eyed and deeply moving portrait," while the A.V. Club admits, "There's nothing unexpected about the movie, which covers all the major milestones, but that doesn't make it any less moving." The Chicago Tribune's Michael Phillips finds Life Itself "a little soft, and tactful to a fault. Yet it's a work of taste and generosity." Film.com calls the doc "sharp and smart and honest," while The Playlist posits, "Roger Ebert was a movie lover, and this is the kind of movie he would have loved."
Listen Up Philip

Comedy | USA | Directed by Alex Ross Perry
In writer-director Alex Ross Perry's follow-up to The Color Wheel, Jason Schwartzman plays Philip, a narcissistic novelist awaiting the publication of his second novel. He seeks refuge from promoting the novel and his deteriorating relationship with his girlfriend (Elisabeth Moss) at the country house of his idol, a novelist played by Jonathan Pryce. The Playlist finds the film to be "remarkably well-observed and rich" with "terrific, attention-getting performances," and Film.com agrees, calling Schwartzman "absolute perfect casting" in "a striking portrait of a guy you don't really want to know." According to the A.V. Club, "Schwartzman, in one of his best performances since Rushmore, turns the character's complete self-absorption into wickedly funny shtick. At The New York Times, Manohla Dargis concurs, describing the film as "acerbically funny." The Dissolve's Nathan Rabin warns that the "cold, caustic but well-acted and directed character study" is "easier to admire than it is to adore," but his colleague Noel Murray admits to being "enthralled all the way through." Lastly, Eric Kohn at Indiewire writes, "Through caustic dialogue and overlapping perspectives, the movie celebrates bitterness as a vessel for understanding life's complexities with genuine insight."
Love Is Strange
Drama | USA | Directed by Ira Sachs
Acquired by Sony Pictures Classics for >$1 million
After the success of 2012's Keep the Lights On, writer-director Ira Sachs returned to Sundance with another film co-written by Mauricio Zacharias and focusing on a gay relationship. It's also another winner. Ben (John Lithgow) and George (Alfred Molina) have been together 39 years, but when word of their recent marriage reaches the Catholic school where George teaches music, he loses his job. No longer able to afford their apartment, they are forced to live apart. Giving the film five stars, Time Out New York believes the "sensitive domestic tragedy" is a "total triumph for Sachs and his co-leads." Indiewire also praises the "extraordinarily sensitive turns by John Lithgow and Alfred Molina," as does The Playlist: "If 'Love Is Strange' were nothing more than as showcase for its performances, it would still be superlative; Lithgow and Molina are perfect." Film.com also finds the acting to be "absolutely top notch," and Variety admires the way "Sachs opens his arms wide and embraces the emotional complexity of his entire ensemble, allowing the focus to shift organically between players."
Low Down

Drama | USA | Directed by Jeff Preiss
The debut feature from experimental filmmaker and cinematographer Jeff Preiss (Let's Get Lost) chronicles the true-life relationship between jazz pianist Joe Albany (John Hawkes) and his daughter Amy-Jo (Elle Fanning). Unfortunately, the film does not live up to the skill of its leads or supporting cast (Lena Headey, Glenn Close, Peter Dinklage, Caleb Landry Jones, and Flea). Variety likes the atmosphere created by production designer Elliott Hostetter and cinematographer Christopher Blauvelt, but, thanks to an "oddly shapeless feel," it's merely a "good movie with a better one trapped somewhere inside." The Telegraph believes Fanning and Hawkes make it work, but THR complains that the script is "frustratingly amorphous, with little sense of dramatic molding or pacing," though Blauvelt's award-winning photography is "evocative." Strongly disliking the film—even its "drab" look—despite great performances by Fanny and Hawkes, The Playlist notes, "Low Down proves that even extraordinary performances can get outplayed by the grimness of a disheartening one-note song that ends almost as hopelessly as it begins."
A Most Wanted Man

Thriller | USA | Directed by Anton Corbijn
Anton Corbijn (Control, The American) directs this adaptation of John Le Carré's 2008 novel about Issa, a young Chechen Muslim who arrives illegally in Hamberg and becomes the focus of a terrorist investigation. Philip Seymour Hoffman plays the head of a German spy unit who's interested in Issa's past, and according to reviews, he's the standout of an impressive cast that includes Rachel McAdams, Willem Dafoe, Daniel Brühl, Nina Hoss, and Robin Wright. THR finds Corbijn's storytelling to be "tart and understated" while "Hoffman dominates on a playing field where everything is relative." Critical of many of the performances (other than Hoffman's), Film.com instead lauds Benoit Delholmme's cinematography, conceding that "even when the film's narrative flatlines, it remains engagingly lensed." Wondering whether Le Carré's book would have been better served on TV, The Playlist feels the film is left "somewhere in the middle" coming up "short on thrills" but also "not quite a character piece either." The Guardian finds it an "oddly anonymous enterprise" from Corbijn, but Variety's Justin Chang praises the "meticulously plotted, steadily absorbing" film and believes, "Corbijn succeeds here in large part because his attention to nuance and detail so fully complements that of the German operatives at the story's core."
The Overnighters

Documentary | USA | Directed by Jesse Moss
Jess Moss' well-received documentary (winner of a special award for "intuitive filmmaking") focuses on pastor Jay Reinke of Concordia Lutheran Church in the small town of Williston, North Dakota. As unemployed men come through the town seeking work in the oil fields, Reinke converts his church each night into a shelter and counseling center. But fear of these overnight guests comes to grip the town, testing the pastor's strength and compassion. Naming it his third favorite film at this year's festival, The Dissolve's Noel Murray calls The Overnighters "bracing and unforgettable." Eric Kohn of Indiewire gives the film an "A" for its "devastating portrait of communal unrest." THR thinks this "penetrating examination of issues pertaining to poverty, class, social stigmatization, religion and even sexuality" is an example of "non-fiction storytelling of remarkable nuance." The Playlist believes the film will leave audiences "stunned, questioning, and unsure of what is right and what is wrong—as most great docs do," and Variety feels its "honest, unvarnished tone" suits what is an "indelible snapshot of a despairing moment in American history."
The Raid 2 (Berandal) Watch trailer

Action | Indonesia | Directed by Gareth Evans
Writer-director Gareth Evans's sequel to The Raid: Redemption picks up hours after the original, with Rama (Iko Uwais) going undercover to expose the criminal underworld and protect his family. Indiewire gives the new film (part of what will eventually be a trilogy) an "A" and finds it "grander and superior in every conceivable way" to the original, and The Playlist believes it's "that rare action film precisely as beautiful as it is brutal. The Telegraph was also amazed by the "visceral and varied" violence, finding it "endlessly inventive." Time Out New York praises Evans's "long-take beatdowns and wildly inventive flourishes," while The Dissolve's Noel Murray admits he likes "The Raid 2 more, even though it ups the level of ambition without substantially deepening the premise of the series." THR suggests that even though the "sheer muscularity of Evans' direction remains dazzling, The Raid 2 seems less unique." Least enthusiastic is The Guardian, which mildly complains that the film's "faults are not in Evans's technique – he's unusually adept at capturing the art of violence. Instead, the film suffers from too much potential."
The Skeleton Twins
Drama | USA | Directed by Craig Johnson
Acquired by Roadside Attractions and Sony Pictures Worldwide for $3.5 million
Director Craig Johnson's follow-up to True Adolescents stars Bill Hader and Kristen Wiig as estranged siblings Milo and Maggie who are brought together when Milo moves in with Maggie and her husband (Luke Wilson) after a failed suicide attempt. THR praises the award-winning script by Johnson and Mark Heyman (Black Swan), which is "smart enough not to trim away all the untidy edges" leading to a "genuinely satisfying final act." Film.com believes the screenplay "has some loose ends here, some too-tidy resolutions there, and relies on too many "easy laugh" tropes ... But it also has its share of funny dialogue, not to mention Hader and Wiig's undeniable comic chemistry." A.V. Club really thinks that chemistry between the former SNL co-stars saves the film, "The two are so completely credible as brother and sister, and so adept at balancing the dramatic and comedic components, that it's relatively easy to forgive how programmatic the movie is on a whole." The Dissolve's Nathan Rabin also praises the "terrific chemistry" between Wiig and Hader, and The Playlist admits, "It may not always work as a drama but The Skeleton Twins proves to be a fine showcase for Wiig and Hader, showing they are both capable of dramatic material." Indiewire believes the movie succeeds because it gives "Hader and Wiig plenty of room to act around the material," and Variety agrees that "The Skeleton Twins distinguishes itself from the pack with a pair of knockout performances." Skeleton Twins earned one of the biggest paydays for any festival acquisition, and the film should arrive in theaters this summer.
They Came Together

Comedy | USA | Directed by David Wain
Co-written by David Wain and Michael Showalter and directed by Wain, this winking takedown of romantic comedies stars Paul Rudd and Amy Poehler as the central couple destined to be together, despite all obstacles. While Film.com doesn't think it's as good as Wet Hot American Summer, it's still a "very fast, often very funny riff on a very tired Hollywood formula." The Playlist believes the film has a "silly, goofy smile and a sharp, savage bite," but THR thinks it's "less than the sum of its often funny parts." Variety observes that "the more the film strays from head-on parody mode, the funnier it tends to be," and according to Indiewire, "The jokes come fast and never stop, with zany riffs and explosions of bad taste ratcheting up a high laugh quotient."
Steve Coogan and Rob Brydon dust off their dueling Michael Caine impressions for this sequel to 2011's The Trip. Director Michael Winterbottom returns as well, and THR claims the second time around is "as funny as the first, and more satisfying in some ways." For Variety's Scott Foundas, the film "casts a warm, enveloping spell," and for Time Out New York, "all the expected notes are hit." The Telegraph believes "the jokes land solidly without losing naturalism," but a disappointed Indiewire feels "the improvisation here lacks the total unexpectedness that the first [film] enjoyed." The Dissolve's Nathan Rabin splits the difference, writing, "While The Trip To Italy is shamelessly self-indulgent and derivative of its predecessor, it's also a hoot, a lively, engaging romp through the psyches of two men blessed with explosive comic chemistry."
White Bird in a Blizzard

Drama / Thriller | USA | Directed by Gregg Araki
Critics found it hard to care about the central mystery in Greg Araki's follow-up to Kaboom. Set in 1988 and based on the novel by Laura Kasischke, White Bird in a Blizzard stars Shailene Woodley, as Kat, a girl struggling with her mom's (Eva Green) mysterious disappearance. The Dissolve's Noel Murray thinks the film "feels stilted by accident and not by design," even though "Woodley is terrific." The Guardian also likes Woodley's performance, but, otherwise, "nothing really adds up to much." Todd McCarthy at THR finds it "tacky-looking" and "dramatically flat," but Film.com believes "there's just too much good stuff to dismiss White Bird in a Blizzard out of hand, even if it does have a somewhat dull and desultory plot." Variety feels that "it's not immediately apparent how richly psychological the underlying material is" in this "naughty, campy and wildly uneven" film, while The Playlist suggests seeing it "for Eva Green's performance alone."
Wish I Was Here
Comedy/Drama | USA | Directed by Zach Braff
Acquired by Focus Features for $2.75 million
There was plenty of blowback when Zach Braff utilized Kickstarter to help fund his new film, and the controversy followed him to Sundance as backers became frustrated when they didn't get tickets to see it. So what did critics think of this story about a struggling actor and father (Braff) trying to find his purpose in life? Variety laments that Wish I Was Here "strains so hard to recapture Garden State's calculating but effective blend of whimsy and pathos that it nearly gives itself a hernia," but THR thinks it's "an altogether more mature effort." Indiewire labels it "an excessively sentimental, eagerly goofy by-the-books dramedy," and The Telegraph claims "the quirks and cliches begin to stifle any sense of reality." The Playlist admits it's "not a total disaster, but the tricky tone seems like it needed more time in the editing room to focus its story and trim some of the extraneous threads." Lastly, A.A. Dowd of the A.V. Club writes, "For all for its shortcomings, especially the cringe-worthy Very Special Moments that seem to arrive every other scene, I couldn't quite bring myself to hate the film—possibly because it seems, in its sometimes embarrassing way, like an honest attempt to grapple with something real."
Other Sundance films of note

Writer-director Kate Barker-Froyland's feature debut, Song One, starring Anne Hathaway as a PhD student forced to return home when her musician brother enters a coma, received a lukewarm response from critics, with Variety and The Playlist disagreeing on how contrived the movie feels.

In Gillian Robespierre's Obvious Child, Jenny Slate plays a comedian who is dumped by her boyfriend, then gets pregnant from a one-night stand. The Dissolve claims it's "far and away the most winning abortion-themed rom-com ever made, and it should establish Slate as a bona fide star." A24 secured theatrical rights for at least $1 million.

According to THR and Indiewire, a zombie epidemic in a elementary school leads to plenty of laughs and gross-out gags in Cooties, starring Elijah Wood, Rainn Wilson, Alison Pill and Jack McBrayer. Lionsgate paid in the low seven figures for theatrical rights to the horror comedy.

Blind, the Norwegian story of a blind woman who never leaves her apartment, choosing instead to fantasize about the sexual desires of her neighbors, won the Screenwriting Award: World Cinema Dramatic, and The Dissolve's Noel Murray says, "It's something special."

According to Indiewire's Eric Kohn, Justin Simien's comedy Dear White People, the winner of a "breakthrough talent" award, is a "consistently funny satire of race relations in modern America." THR was also impressed with Simien, deeming his debut a "a cheeky provocation wrapped in a zingy punchline."

Starring Downton Abbey's Dan Stevens, action-filled psychological thriller The Guest is Adam Wingard's follow-up to You're Next, and A.V. Club says it's an "even better genre pastiche," though THR finds the results a bit more mixed.

20,000 Days on Earth is a portrait of musician/writer Nick Cave that's "an exceptional nonfiction film that mythologizes and explains where his head and work are at right now," according to RogerEbert.com's Simon Abrams. The film also collected awards for directing and editing.

Jake Paltrow's post-apocalyptic western Young Ones stars Michael Shannon as a father trying to keep his children alive on a nearly barren planet. The Playlist finds the film "thoughtful and well-considered" if a bit overly serious and "bone-dry" (in more ways than one, given that lack of water is a major plot point).
One of the weirdest entries at this year's festival, Marjane Satrapi's horror-comedy The Voices stars Ryan Reynolds as a factory worker who talks to his pets—and, yes, they talk back to him, giving him advice on what to do after he kills his co-worker. Indiewire hails the result as "thrilling and hilarious," The Guardian calls it "enjoyably trashy," and while EW finds the film too uneven, there is praise for Reynolds's "surprising and ballsy performance."