Updated July 12
The Handmaid's Tale, Episode 213: "The Word"

Original airdate: July 11, 2018 on Hulu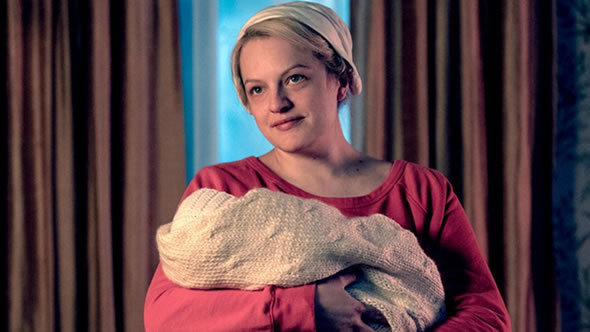 Spoiler warning: This page contains descriptions of events in this and previous episodes.
Hulu's biggest hit to date wrapped up its sophomore season on Wednesday—not so coincidentally, a day before the Emmy nominations are announced—with an episode directed by Mike Barker. (The Handmaid's Tale won the Emmy for Outstanding Drama Series last year, becoming the first streaming series to do so.) The series has been renewed for a third season, to stream in 2019.
Reviewers, however, do not appear to be in a rush to give any awards to the season 2 finale. Below, we survey the range of responses to the episode from professional critics, followed by some comments about the second season in its entirety. (Click on any publication name to read the full review.) Note that while we have grouped the reviews into rough categories beginning with the most positive, scores are displayed only in those cases where a reviewer has specifically indicated a score. Those scores have been converted to a 0-100 scale when necessary for purposes of comparison.
Extremely positive reviews
(none)
Positive reviews
Mixed/so-so reviews
Negative reviews
What about the second season as a whole?
While the reviews above are mainly (though not entirely) concerned with this week's episode, the following batch of new reviews address the entire season as a whole rather than the finale specifically.
What do you think?
What did you think of the finale, and of the entire second season? Let us know in the comments section below.