Below, we collect every year-end Top Ten list published by major TV critics and publications. This page will be updated throughout December and January whenever new lists are published; be sure to check back frequently.
Critics pick the best TV shows of 2013
Added in last update (1/13): IGN, PopMatters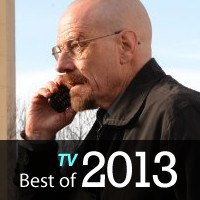 Below is our updated running tally of the TV shows most frequently mentioned by individual critics in their year-end Top Ten lists. Note that if a critic ranks more than the standard 10 shows, we will not include titles ranked 11th or worse. In case of a tie for first or second, each show will receive the full points for that position. Our points system works as follows:
3 points for each 1st place ranking
2 points for each 2nd place ranking
1 point for being ranked 3rd - 10th, or for being included on an unranked list
Individual critic top ten lists
Below are the 61 individual top ten lists used to calculate the standings above. Some critics may list ten shows without ranking them in order; such lists are displayed below, without numbers, in alphabetical order.
Associated Press Frazier Moore View article
Alpha House (Amazon)
Behind the Candelabra (HBO)
Betas (Amazon)
Breaking Bad (AMC)
Downton Abbey (PBS)
The Good Wife (CBS)
House of Cards (Netflix)
Mob City (TNT)
Six by Sondheim (HBO)
Sons of Anarchy (FX)
Sound of Music Live! (NBC)
Austin Chronicle Aleksander Chan View article
Breaking Bad (AMC)
The Good Wife (CBS)
Enlightened (HBO)
Black Mirror (DirecTV)
Bunheads (ABC Family)
Orphan Black (BBC America)
30 Rock (NBC)
Orange Is the New Black (Netflix)
Mad Men (AMC)
Scandal (ABC)
AV Club View articles
Enlightened (HBO)
Breaking Bad (AMC)
Bob's Burgers (Fox)
(other unranked shows omitted because they far exceeded our 10-show cutoff)
Boob Tube Dude Ryan McGee View article
(tie) 1. Enlightened (HBO) AND 1. Orange Is the New Black (Netflix)
all others unranked and listed in alphabetical order:
The Americans (FX)
Aziz Ansari: Buried Alive (Netflix)
Mike Birbiglia: My Girlfriend's Boyfriend (Netflix)
Bob's Burgers (Fox)
Breaking Bad (AMC)
Justified (FX)
Mad Men (AMC)
Orphan Black (BBC America)
Spartacus (Starz)
Scandal (ABC)
Sleepy Hollow (Fox)
Boston Globe Matthew Gilbert View article
Breaking Bad (AMC)
Orange Is the New Black (Netflix)
The Good Wife (CBS)
The Americans (FX)
Mad Men (AMC)
Masters of Sex (Showtime)
Vikings (History)
Veep (HBO)
Behind the Candelabra (HBO)
Orphan Black (BBC America)
Boston Globe Sarah Rodman View article
Breaking Bad (AMC)
Game of Thrones (HBO)
Masters of Sex (Showtime)
The Good Wife (CBS)
The Americans (FX)
Mad Men (AMC)
Justified (FX)
Parks and Recreation (NBC)
Scandal (ABC)
Key and Peele (Comedy Central)
Boston Herald Mark Perigard View article
American Horror Story (FX)
Breaking Bad (AMC)
Happy Endings (ABC)
Homeland (Showtime)
House of Cards (Netflix)
It's Always Sunny in Philadelphia (FXX)
Orphan Black (BBC America)
Southland (TNT)
Spartacus (Starz)
The Walking Dead (AMC)
Chicago Sun-Times Lori Rackl View article
Breaking Bad (AMC)
Game of Thrones (HBO)
Homeland (Showtime)
American Horror Story (FX)
The Americans (FX)
Parks and Recreation (NBC)
Mad Men (AMC)
The Walking Dead (AMC)
Scandal (ABC)
Downton Abbey (PBS)
Cleveland Plain Dealer Mark Dawidziak View article
Justified (FX)
House of Cards (Netflix)
Masters of Sex (Showtime)
Breaking Bad (AMC)
Ray Donovan (Showtime)
The Blacklist (NBC)
The Middle (ABC)
Downton Abbey (PBS)
Parenthood (NBC)
The Walking Dead (AMC)
Complex View article
Breaking Bad (AMC)
Game of Thrones (HBO)
American Horror Story (FX)
Orange Is the New Black (Netflix)
Boardwalk Empire (HBO)
New Girl (Fox)
Love and Hip-Hop: Atlanta (VH1)
Veep (HBO)
Eastbound & Down (HBO)
Orphan Black (BBC America)
Contra Costa Times Chuck Barney View article
Breaking Bad (AMC)
Masters of Sex (Showtime)
Game of Thrones (HBO)
Orange Is the New Black (Netflix)
The Good Wife (CBS)
House of Cards (Netflix)
Mad Men (AMC)
The Americans (FX)
Broadchurch (BBC America)
The Returned (Sundance)
The Daily Beast Kevin Fallon View article
Orange Is the New Black (Netflix)
Breaking Bad (AMC)
Bob's Burgers (Fox)
Veep (HBO)
The Good Wife (CBS)
Shameless (Showtime)
Parks and Recreation (NBC)
Scandal (ABC)
American Horror Story (FX)
(tie) The New Girl AND The Mindy Project
Entertainment Weekly Jeff Jensen
American Horror Story (FX)
Time of Death (Showtime)
Orphan Black (BBC America)
Parks and Recreation (NBC)
Breaking Bad (AMC)
Orange Is the New Black (Netflix)
Mad Men (AMC)
House of Cards (Netflix)
The Fall (BBC2)
Arrested Development (Netflix)
Entertainment Weekly Melissa Maerz
Breaking Bad (AMC)
Enlightened (HBO)
Game of Thrones (HBO)
Orange Is the New Black (Netflix)
Please Like Me (Pivot)
Mad Men (AMC)
Top of the Lake (Sundance)
The Good Wife (CBS)
House of Cards (Netflix)
The Returned (Sundance)
Film School Rejects Inkoo Kang View article
Breaking Bad (AMC)
Orange Is the New Black (Netflix)
Game of Thrones (HBO)
Scandal (ABC)
Enlightened (HBO)
Masters of Sex (Showtime)
Eastbound & Down (HBO)
The Bridge (FX)
Mad Men (AMC)
Girls (HBO)
Filmmaker Magazine Dan Schoenbrun View article
Enlightened (HBO)
The Eric Andre Show (Adult Swim)
Breaking Bad (AMC)
Hannibal (NBC)
Rectify (Sundance)
Mad Men (AMC)
Adventure Time (Cartoon Network)
Orange Is the New Black (Netflix)
Game of Thrones (HBO)
Eastbound & Down (HBO)
Grantland Andy Greenwald View article
Top of the Lake (Sundance)
The Americans (FX)
Black Mirror (DirecTV)
Breaking Bad (AMC)
Orange Is the New Black (Netflix)
Parks and Recreation (NBC)
Masters of Sex (Showtime)
Veep (HBO)
Eastbound & Down (HBO)
Girls (HBO)
HitFix Daniel Fienberg View article
Breaking Bad (AMC)
Orange Is the New Black (Netflix)
Mad Men (AMC)
Rectify (Sundance)
The Returned (Sundance)
Enlightened (HBO)
Game of Thrones (HBO)
Bob's Burgers (Fox)
56 Up (PBS)
Girls (HBO)
HitFix Alan Sepinwall View article
Breaking Bad (AMC)
Orange Is the New Black (Netflix)
Enlightened (HBO)
Top of the Lake (Sundance)
Masters of Sex (Showtime)
Mad Men (AMC)
Boardwalk Empire (HBO)
Southland (TNT)
Hannibal (NBC)
The Good Wife (CBS)
Houston Chronicle Therese Odell View article
Breaking Bad (AMC)
American Horror Story (FX)
Game of Thrones (HBO)
Mad Men (AMC)
It's Always Sunny in Philadelphia (FXX)
Arrested Development (Netflix)
Hannibal (NBC)
Orange Is the New Black (Netflix)
Downton Abbey (PBS)
The Blacklist (NBC)
Huffington Post Maureen Ryan View article
Borgen (various)
Breaking Bad (AMC)
Broadchurch (BBC America)
Enlightened (HBO)
Game of Thrones (HBO)
Mad Men (AMC)
Masters of Sex (Showtime)
Orphan Black (BBC America)
Orange Is the New Black (Netflix)
Rectify (Sundance)
The Returned (Sundance)
Top of the Lake (Sundance)
IGN
View article
1. Breaking Bad (AMC)
all others unranked:
The Americans (FX)
Arrow (CW)
Game of Thrones (HBO)
Hannibal (NBC)
Masters of Sex (Showtime)
Orange Is the New Black (Netflix)
Orphan Black (BBC America)
Parks and Recreation (NBC)
Spartacus (Starz)
Indiewire Alison Willmore
Breaking Bad (AMC)
Orange Is the New Black (Netflix)
Top of the Lake (Sundance)
Enlightened (HBO)
Scandal (ABC)
Game of Thrones (HBO)
The Americans (FX)
Hannibal (NBC)
Bob's Burgers (Fox)
The Returned (Sundance)
Lincoln Journal Star Jeff Korbelik View article
Breaking Bad (AMC)
Orphan Black (BBC America)
House of Cards (Netflix)
The Returned (Sundance)
Orange Is the New Black (Netflix)
The Fall (BBC2)
The Walking Dead (AMC)
Justified (FX)
Mad Men (AMC)
The Good Wife (CBS)
Los Angeles Times Robert Lloyd View article
The Returned (Sundance)
Inside Amy Schumer (Comedy Central)
Drunk History (Comedy Central)
Top of the Lake (Sundance)
Moone Boy (Hulu)
Family Tree (HBO)
MasterChef Junior (Fox)
The Hollow Crown (PBS)
Incredible Crew (Cartoon Network)
Only the Young (PBS)
Please Like Me (Pivot)
The Fosters (ABC Family)
Los Angeles Times Mary McNamara View article
Game of Thrones (HBO)
Orange Is the New Black (Netflix)
Breaking Bad (AMC)
The Good Wife (CBS)
Parks and Recreation (NBC)
Rectify (Sundance)
Enlightened (HBO)
Borgen (various)
Last Tango in Halifax (PBS)
Homeland (Showtime)
Miami Herald Glenn Garvin View article
Homeland (Showtime)
The Americans (FX)
Modern Family (ABC)
The Big Bang Theory (CBS)
Hostages (CBS)
New York (Vulture) Matt Zoller Seitz View article
Arrested Development (Netflix)
Hannibal (NBC)
Breaking Bad (AMC)
Boardwalk Empire (HBO)
Game of Thrones (HBO)
Orange Is the New Black (Netflix)
Girls (HBO)
Justified (FX)
Scandal (ABC)
The Americans (FX)
New York Daily News David Hinckley View article
Awkward (MTV)
The Blacklist (NBC)
Boardwalk Empire (HBO)
Breaking Bad (AMC)
Dancing on the Edge (Starz)
Downton Abbey (PBS)
Homeland (Showtime)
Justified (FX)
Mad Men (AMC)
Sons of Anarchy (FX)
The New York Times Mike Hale View article
The Good Wife (CBS)
Prisoners of War (Hulu)
Frontline (PBS)
The Hollow Crown (PBS)
The Newsroom (HBO)
Grimm (NBC)
Moone Boy (Hulu)
The Americans (FX)
Southland (TNT)
The Walking Dead (AMC)
Newsday Verne Gay View article
Breaking Bad (AMC)
Game of Thrones (HBO)
Mad Men (AMC)
House of Cards (Netflix)
Behind the Candelabra (HBO)
The Americans (FX)
Masters of Sex (Showtime)
The African Americans: Many Rivers to Cross (PBS)
The Returned (Sundance)
(tie) Veep (HBO) AND Parks and Recreation (NBC)
NPR Eric Deggans View article
Breaking Bad (AMC)
Broadchurch (BBC America)
House of Cards (Netflix)
Game of Thrones (HBO)
The Good Wife (CBS)
The Walking Dead (AMC)
John Oliver's guest hosting stint on The Daily Show
Scandal (ABC)
Orange Is the New Black (Netflix)
(tie) The Bridge (FX) AND Doctor Who (BBC) AND The Returned (Sundance)
NPR (Fresh Air) David Bianculli View article
Breaking Bad (AMC)
The Good Wife (CBS)
Mad Men (AMC)
Justified (FX)
The Colbert Report (Comedy Central)
The Walking Dead (AMC)
House of Cards (Netflix)
Masters of Sex (Showtime)
Downton Abbey (PBS)
Orange Is the New Black (Netflix)
Omaha World-Herald Micah Mertes View article
Breaking Bad (AMC)
Justified (FX)
The Good Wife (CBS)
Arrow (CW)
Orphan Black (BBC America)
New Girl (Fox)
Game of Thrones (HBO)
The Americans (FX)
Top of the Lake (Sundance)
Person of Interest (CBS)
The Oregonian Kristi Turnquist View article
Breaking Bad (AMC)
Masters of Sex (Showtime)
Broadchurch (BBC America)
The Good Wife (CBS)
Game of Thrones (HBO)
House of Cards (Netflix)
Mad Men (AMC)
Orange Is the New Black (Netflix)
The Americans (FX)
Downton Abbey (PBS)
Orlando Sentinel Hal Boedeker View article
Breaking Bad (AMC)
The Good Wife (CBS)
Masters of Sex (Showtime)
The Americans (FX)
The Big Bang Theory (CBS)
Broadchurch (BBC America)
Justified (FX)
Downton Abbey (PBS)
The Walking Dead (AMC)
Behind the Candelabra (HBO)
Paste Josh Jackson View article
Breaking Bad (AMC)
Parks and Recreation (NBC)
Mad Men (AMC)
Orange Is the New Black (Netflix)
Arrested Development (Netflix)
Game of Thrones (HBO)
House of Cards (Netflix)
New Girl (Fox)
Brooklyn Nine-Nine (Fox)
Eastbound & Down (HBO)
Philadelphia Daily News Ellen Gray View article
Breaking Bad (AMC)
Game of Thrones (HBO)
Top of the Lake (Sundance)
The Good Wife (CBS)
Masters of Sex (Showtime)
Orange Is the New Black (Netflix)
Rectify (Sundance)
The Americans (FX)
Treme (HBO)
Shameless (Showtime)
Pittsburgh Post-Gazette Rob Owen View article
Southland (TNT)
Breaking Bad (AMC)
The Americans (FX)
Mad Men (AMC)
The Good Wife (CBS)
Orange Is the New Black (Netflix)
Game of Thrones (HBO)
Getting On (HBO)
Downton Abbey (PBS)
Bunheads (ABC Family)
PopMatters
View article
The Americans (FX)
Breaking Bad (AMC)
Orange Is the New Black (Netflix)
The Bridge (FX)
Justified (FX)
The Killing (AMC)
Mad Men (AMC)
Brooklyn Nine-Nine (Fox)
Treme (HBO)
House of Cards (Netflix)
RedEye Chicago Curt Wagner View article
American Horror Story (FX)
Arrested Development (Netflix)
Breaking Bad (AMC)
House of Cards (Netflix)
Justified (FX)
Orange Is the New Black (Netflix)
Orphan Black (BBC America)
Please Like Me (Pivot)
Rectify (Sundance)
The Returned (Sundance)
Salon Jen Chaney View article
Enlightened (HBO)
Breaking Bad (AMC)
Top of the Lake (Sundance)
Masters of Sex (Showtime)
Orange Is the New Black (Netflix)
Mad Men (AMC)
Veep (HBO)
Game of Thrones (HBO)
Parenthood (NBC)
The Bridge (FX)
Salon Neil Drumming View article
Breaking Bad (AMC)
Mad Men (AMC)
Boardwalk Empire (HBO)
The Good Wife (CBS)
The Walking Dead (AMC)
Parenthood (NBC)
American Horror Story (FX)
The Big Bang Theory (CBS)
The Blacklist (NBC)
Parks and Recreation (NBC)
The Salt Lake Tribune Scott D. Pierce View article
The Good Wife (CBS)
Game of Thrones (HBO)
Breaking Bad (AMC)
Broadchurch (BBC America)
House of Cards (Netflix)
Downton Abbey (PBS)
The Big Bang Theory (CBS)
Trophy Wife (ABC)
Rectify (Sundance)
Scandal (ABC)
San Francisco Chronicle David Wiegand View article
Breaking Bad (AMC)
Orange Is the New Black (Netflix)
Broadchurch (BBC America)
The Good Wife (CBS)
Arrested Development (Netflix)
Veep (HBO)
Please Like Me (Pivot)
The Returned (Sundance)
Orphan Black (BBC America)
Mob City (TNT)
Slant
View article
Breaking Bad (AMC)
Hannibal (NBC)
Justified (FX)
Game of Thrones (HBO)
The Americans (FX)
Girls (HBO)
Archer (FX)
Boardwalk Empire (HBO)
Mad Men (AMC)
House of Cards (Netflix)
Slate Willa Paskin View article
Borgen (various)
Top of the Lake (Sundance)
Orange Is the New Black (Netflix)
Breaking Bad (AMC)
The Good Wife (CBS)
The Americans (FX)
The Returned (Sundance)
Bunheads (ABC Family)
American Horror Story (FX)
Mad Men (AMC)
St. Louis Post-Dispatch Gail Pennington View article
Breaking Bad (AMC)
The Walking Dead (AMC)
Game of Thrones (HBO)
Mad Men (AMC)
Broadchurch (BBC America)
The Returned (Sundance)
Downton Abbey (PBS)
Orphan Black (BBC America)
Parks and Recreation (NBC)
Masters of Sex (Showtime)
Time James Poniewozik View article
Enlightened (HBO)
Breaking Bad (AMC)
Orange Is the New Black (Netflix)
Game of Thrones (HBO)
The Good Wife (CBS)
Bob's Burgers (Fox)
Rectify (Sundance)
The Americans (FX)
Mad Men (AMC)
Orphan Black (BBC America)
TV.com Tim Surette View article
Breaking Bad (AMC)
Enlightened (HBO)
Justified (FX)
Rectify (Sundance)
The Americans (FX)
Game of Thrones (HBO)
Person of Interest (CBS)
The Returned (Sundance)
Comedy Bang! Bang! (IFC)
Orange Is the New Black (Netflix)
TV.com Kaitlin Thomas View article
Breaking Bad (AMC)
Justified (FX)
Orphan Black (BBC America)
Game of Thrones (HBO)
The Americans (FX)
Veep (HBO)
Mad Men (AMC)
Parks and Recreation (NBC)
Teen Wolf (MTV)
Arrow (CW)
TV.com Jen Trolio View article
The Americans (FX)
Breaking Bad (AMC)
Orange Is the New Black (Netflix)
Game of Thrones (HBO)
30 Rock (NBC)
Parks and Recreation (NBC)
Mad Men (AMC)
Masters of Sex (Showtime)
New Girl (Fox)
American Horror Story (FX)
TV Guide
View article
Breaking Bad (AMC)
Orange Is the New Black (Netflix)
The Good Wife (CBS)
Game of Thrones (HBO)
Mad Men (AMC)
Veep (HBO)
Masters of Sex (Showtime)
The Americans (FX)
Hannibal (NBC)
House of Cards (Netflix)
TV Guide Matt Roush View article
Breaking Bad (AMC)
The Good Wife (CBS)
Broadchurch (BBC America)
Masters of Sex (Showtime)
Orange Is the New Black (Netflix)
various Sundance Channel shows
The Americans (FX)
Game of Thrones (HBO)
sitcom oldies and goodies
Ray Donovan (Showtime)
Uncle Barky Ed Bark View article
Breaking Bad (AMC)
Game of Thrones (HBO)
Masters of Sex (Showtime)
Mad Men (AMC)
Justified (FX)
The Americans (FX)
Orange Is the New Black (Netflix)
House of Cards (Netflix)
The Middle (ABC)
Homeland (Showtime)
Us Weekly John Griffiths View article
Mad Men (AMC)
Breaking Bad (AMC)
Orphan Black (BBC America)
The Good Wife (CBS)
Scandal (ABC)
30 Rock (NBC)
House of Cards (Netflix)
The Walking Dead (AMC)
Behind the Candelabra (HBO)
Bates Motel (A&E)
USA Today Robert Bianco View article
Breaking Bad (AMC)
(tie) The Big Bang Theory (CBS) AND The Good Wife (CBS)
Modern Family (ABC)
Justified (FX)
The Americans (FX)
Masters of Sex (Showtime)
Broadchurch (BBC America)
The Middle (ABC)
Downton Abbey (PBS)
Variety Brian Lowery View article
Breaking Bad (AMC)
Game of Thrones (HBO)
Boardwalk Empire (HBO)
Downton Abbey (PBS)
Southland (TNT)
The Big Bang Theory (CBS)
The Walking Dead (AMC)
Modern Family (ABC)
The Good Wife (CBS)
Masters of Sex (Showtime)
Wall Street Journal Dorothy Rabinowitz View article
The Americans (FX)
Behind the Candelabra (HBO)
The Blacklist (NBC)
The Crash Reel (HBO)
Hostages (CBS)
Lilyhammer (Netflix)
Our Nixon (CNN)
The Paradise (PBS)
Ray Donovan (Showtime)
Washington Post Hank Stuever View article
Breaking Bad (specifically, Walter White's exit strategy)
Orange Is the New Black (Netflix)
Masters of Sex (Showtime)
"Red Wedding" episode of Game of Thrones (HBO)
Time of Death (Showtime)
Broadchurch (BBC America)
The Americans (FX)
Vikings (History)
The Returned (Sundance)
Veep (HBO)
Yahoo! TV
View article
Breaking Bad (AMC)
Game of Thrones (HBO)
Mad Men (AMC)
Orange Is the New Black (Netflix)
Parks and Recreation (NBC)
Scandal (ABC)
Hello Ladies (HBO)
Veep (HBO)
The Walking Dead (AMC)
Orphan Black (BBC America)