Our comprehensive coverage of the TV network upfront presentations this week in New York continues with a look at ABC's plans for the 2012-13 season. We'll have additional reports for the other networks later this week. View all upfronts coverage here
In a nutshell
ABC had plenty of changes to its primetime schedule to announce on Tuesday. Some highlights:
Late additions to ABC's schedule this season, Scandal and Apt. 23 both made the cut for next season, and will launch their second seasons in the fall.
First-year hit Revenge has been shifted out of its successful Wednesday timeslot to Sunday nights at 9p (the old Desperate Housewives timeslot), a bold move that could either look brilliant or suicidal a year from now, while returning drama Private Practice has been moved to Tuesdays at 10p.
Tim Allen's sitcom Last Man Standing will also have a new home: Friday nights, where ABC is re-introducing family-friendly comedies to the evening for the first time since the second demise of its TGIF-branded comedy block seven years ago.
However, it's looking like Tuesday nights are shaping up to be a battle of the network sitcoms; Fox has scheduled four comedies for that night, and, beginning in January, those four will be matched by ABC, while NBC brings another two sitcoms to the evening.
When Dancing With the Stars returns in the fall, it will be with its first-ever "all-star" edition, though the list of returning contestants is still under wraps.
As announced last week, third-year ABC sitcom Cougar Town will not be returning to the network next season; instead, the show has been picked up by TBS, which will continue to produce new episodes with the goal of premiering season 4 in early 2013.
The newly canceled GCB, Missing, Pan Am, and The River join previous cancellations Charlie's Angels, Man Up!, and Work It and the just-concluded Desperate Housewives on the list of ABC shows not returning next season.
With 10 new shows on tap for next season, ABC is second only to NBC, which has a whopping 17 (and possibly more). Half of those programs will launch in the fall, with the remaining five airing in 2013. First-year ABC programs (detailed below) include an action thriller (Last Resort) from Shawn Ryan, and new dramas for Connie Britton (Nashville) and Terry O'Quinn (666 Park Avenue).
ABC is also developing a new series based on The Incredible Hulk comics, but it likely won't be ready until the 2013-14 season.
The network passed on some the more interesting items in its development slate, including comedy pilots starring Portia de Rossi (The Smart One, produced by Ellen DeGeneres), Kal Penn (Prairie Dogs), Judy Greer (American Judy), Doris Roberts and Margo Martindale (Counter Culture), and another that would have reunited Cheers stars Kirstie Alley and Rhea Perlman. ABC also rejected a supernatural drama from Roland Emmerich, a new soapy drama from Desperate Housewives' Marc Cherry, and another from Shonda Rhimes.
Below, we take a closer look at ABC's projected schedule, followed by descriptions for each of the network's new programs.
ABC's primetime schedule
New programs are indicated in bold in the schedule below. All times are ET/PT unless otherwise indicated.
ABC Fall 2012 Schedule
 
7:00
7:30
8:00
8:30
9:00
9:30
10:00
10:30
SUN
America's Funniest Home Videos
Once Upon a Time
Revenge
666 Park Avenue
MON
 
Dancing With the Stars *
Castle
TUE
 
Dancing With the Stars (results) **
Happy Endings
Don't Trust the B---- in Apt. 23
Private Practice
WED
 
The Middle
Suburgatory
Modern Family
The Neighbors
Nashville
THU
 
Last Resort
Grey's Anatomy
Scandal
FRI
 
Last Man Standing ***
Malibu Country ***
Shark Tank ***
20/20
SAT
 
Saturday Night College Football †
ABC's new programs
First-year series on ABC's schedule during the 2012-13 season include: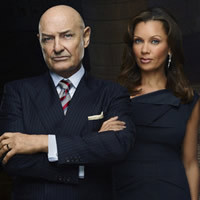 666 Park Avenue Watch trailer
Based on the book by Gabriella Pierce, this supernatural drama finds Lost's Terry O'Quinn dealing with a dangerous and mysterious Manhattan apartment building rather than a dangerous and mysterious island. (We almost forgot to mention that the building in question is also "sexy, seductive and inviting," but that's probably just real estate code for "fixer-upper.") The series from Fringe producer David Wilcox also stars Vanessa Williams (Desperate Housewives), Dave Annable (Brothers & Sisters), and Rachael Taylor (Grey's Anatomy). It will follow Revenge in ABC's retooled Sunday lineup.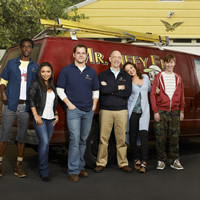 The Family Tools Watch trailer
Airing Tuesdays at 8:30p beginning in January, new sitcom The Family Tools is based on the BBC series White Van Man, which was briefly a hit before quickly tanking in its second season. The American version (which changes the van color to red to show how different it is) finds star Kyle Bornheimer (Perfect Couples) taking over the family handyman business from his father (J.K. Simmons) even though everyone expects him to fail.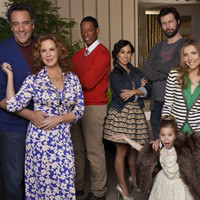 How to Live With Your Parents (for the Rest of Your Life) Watch trailer
ABC likes to abbreviate its show titles, so how does HTLWYPFTROYL sound? Sarah Chalke (Scrubs) will presumably be departing from Cougar Town, her current gig, since she's the star of this new comedy that finds her playing a recently divorced single mom who moves back in with her eccentric parents (Elizabeth Perkins of Weeds and Brad Garrett, the former Everybody Loves Raymond co-star who returns to TV for the first time since 'Til Death). The series launches in January, when it will air Tuesdays at 8p.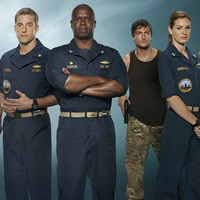 Last Resort Watch trailer
An ABC drama that we're actually excited about? It's true, thanks to an intriguing premise and top talent on both sides of the camera; the network might also have high hopes for the show, giving it a prominent 8p Thursday timeslot (though it doesn't quite fit with the evening's more female-oriented fare). This serialized drama from Shawn Ryan (The Shield, The Unit, Terriers) follows the crew of an American nuclear submarine who refuse a suspicious order to fire their nuclear missiles, become fugitives, and escape to a small island, where they declare their independence as the world's smallest nuclear-armed nation. Last Resort's pilot (directed by Casino Royale's Martin Campbell) was filmed on location in Hawaii, which certainly worked for Lost. The sprawling cast includes Andre Braugher (Men of a Certain Age, Homicide: Life on the Street), Dichen Lachman (Dollhouse), Autumn Reeser (The O.C.), and Scott Speedman (Felicity), while Robert Patrick (Terminator 2) and Bruce Davison (X-Men) will also have recurring roles.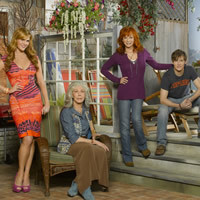 Malibu Country Watch trailer
Given a less than encouraging 8:30p Friday time period and November start date (part of an effort to revive ABC's old TGIF comedy night), this multi-camera sitcom stars singer Reba McEntire as a divorced mother of three who moves from Nashville to Malibu to restart her music career after her country music star husband cheats on her. (Don't confuse it with ABC's other new country music series, Nashville.) The great Lily Tomlin co-stars as her mother, while Sara Rue (Rules of Engagement) plays her new California neighbor.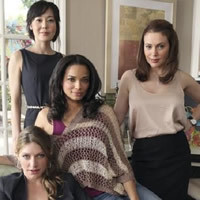 Mistresses Watch trailer
This primetime soap is based on the British series of the same name, which almost became a Lifetime series a few years ago. Adapted for the U.S. by Gossip Girl's K.J. Steinberg, Mistresses revolves around the personal and professional lives of four female friends played by Alyssa Milano (Charmed), Yunjin Kim (Lost), Rochelle Aytes (Detroit 1-8-7, The Forgotten), and relative newcomer Jes Macallan. The series will likely be held until next May, when it will be paired on Mondays throughout the summer with The Bachelor(ette).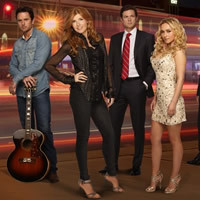 Nashville Watch trailer
Yet another soapy drama gracing ABC's primetime schedule, the music-oriented Nashville comes from Callie Khouri, the Oscar-winning screenwriter of Thelma & Louise. The show (Wednesdays at 10p) centers on an aging country music star (Friday Night Lights' Connie Britton) and her young rival (Hayden Panettiere); expect them both to sing on the show. The cast also includes Powers Boothe (Deadwood) and Eric Close (Without a Trace), while award-winning documentarian R.J. Cutler will direct the pilot and produce.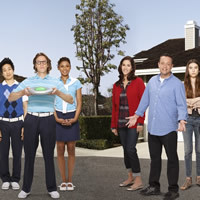 The Neighbors Watch trailer
Hoping to benefit from having hit Modern Family as its lead-in on Wednesdays is the new high-concept sitcom The Neighbors. The series centers on the Weaver family (led by Jami Gertz and Lenny Venito), who are able to buy a home in an exclusive, gated New Jersey community. Once they move in, they notice something a little off about their new neighbors: they're space aliens from the planet Zabvron. (Hey, at least they're not cat-eating puppets.) The Weavers are able to figure this out even though the Zabvronians have adopted common Earth-sounding names like Larry Bird, Reggie Jackson, and Dick Butkis and have relationship and parenting problems just like humans do. Who knew? The series was created by screenwriter Dan Fogelman (Crazy, Stupid, Love., Cars), one of several film writers making the jump into TV this year.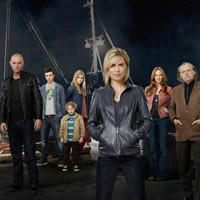 Red Widow Watch trailer
This midseason drama is yet another adaptation of a foreign show—in this case, the Dutch series Penoza. Radha Mitchell (Silent Hill, The Crazies) stars as a Northern California housewife who is drawn into the world of organized crime to protect her three children after her gangster husband is murdered. The American series comes from Melissa Rosenberg, best known for writing the Twilight films but also a TV veteran (Dexter, The O.C.).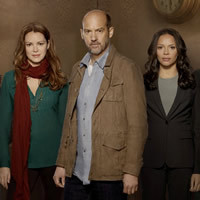 Zero Hour Watch trailer
Anthony Edwards returns to a regular TV role for the first time since ER as the professional debunker and longtime editor of Modern Skeptic magazine (no, there isn't really such a thing ... or is there?) who becomes caught in a real conspiracy when his wife is kidnapped. We're skeptical ourselves, but perhaps Edwards can make it work. Michael Nyqvist (Sweden's The Girl with the Dragon Tattoo) and Jacinda Barrett (Bridget Jones: The Edge of Reason) also star for series creator Paul Scheuring (Prison Break). The drama will debut at midseason on a night and time to be determined.