The results of our 13th annual user poll are in ...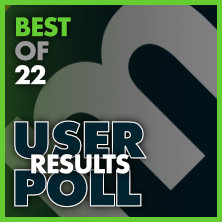 For the 13th straight year, we invited Metacritic users to list their favorite movies, TV shows, albums, and videogames of the past calendar year. Nearly 1,300 of you participated in this year's survey, and the results are tabulated below.
Participants were asked to rank their five favorite titles of 2022 in each category, and we assigned a value of 5 points to each first-place vote, 4 points for second place, and so on down to 1 point for each fifth-place vote.
Movies
Though Aftersun was 2022's highest-scoring film, it is Everything Everywhere All At Once that has been dominating film critics' year-end top 10 lists. And the latter is also the past year's most popular film with Metacritic users, placing first in our polling by a big margin.
In fact, all of the user-selected films listed below are also landing with some regularity on critic lists as well, though not in the same order. In one of the biggest discrepancies, users have The Batman at #3, while critics have it ranked 18th. And users' #7 choice The Northman didn't even crack the critics' top 30. But only one film in the critics' top 10—documentary All the Beauty and the Bloodshed—failed to chart with our users.
TV shows
Two of the top three selections for both Metacritic users and the consensus picks of the professionals in our compilation of TV critic top 10 lists were identical, though the ordering was different. Critics had Apple's sci-fi thriller Severance first and the final chapter of Better Call Saul third, while users picked the latter as their overall favorite and Severance second. Critics actually placed Disney's Andor two spots higher than users did (at #2 rather than #4), while users had Game of Thrones prequel House of the Dragon at #3. (Critics ranked the latter 7th.) Just one title on the list of user favorites below failed to crack the critics' combined top 30 list: the Netflix hit Wednesday. And of the critics' top 10 overall favorites, only the ABC sitcom Abbott Elementary failed to chart with our users.
Music
Even though UK-based voters accounted for only 7% of our total responses, an English indie rock band was the upset winner of our music poll. Ants From Up There, the second album from Black Country, New Road, managed to sneak past Beyoncé's latest hit Renaissance—consistently the #1 choice on music critic top 10 lists—to take first place. (Critics had the BCNR album at #19 overall.)
Four of our users' selections below failed to chart in the critics' top 30, though the highest-ranked of those—SZA's sophomore set S.O.S , ranked #6 by users—was hampered by its very late release date, with the album arriving after many top 10 lists were already published. User-favored albums by Beach House, Charli XCX, and JID also failed to chart with critics, though they definitely did appear on multiple top 10 lists. And several albums included in the critics' overall top 10 didn't rank in the top 15 spots in user voting. That group includes Skinty Fia by Fontaines D.C., Bad Bunny's Un Verano Sin Ti, and I Love You Jennifer B by Jockstrap.
Games
We don't compile critic top 10 lists for games like we do for the other three categories above, but we certainly do compile reviews. And the best-reviewed (aka highest-scoring) game for just about all of 2022 was Elden Ring, a collaboration between Game of Thrones author George R.R. Martin and game designer Hidetaka Miyazaki (of the famed Souls series). Our users also loved that game, but only to an extent: it placed second in voting, trailing another high-scoring title, the Sony exclusive God of War: Ragnarok. PlayStation console exclusives actually accounted for three of users' top 5 overall selections. Two Switch exclusives also landed in the top 10, but there is only one Xbox console exclusive on the list below: Vampire Survivors, at #11. In fact, only five our users' 15 favorites are even playable on an Xbox.
How did you do?
What do you think of the picks made by your fellow users? Let us know in the comments section below, and don't forget to visit our Best of 2022 and sections for complete coverage of last year's best releases in film, music, games, and TV.