The results of our 10th annual user poll are in ...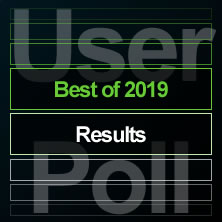 For the 10th straight year, we invited our users to list their favorite TV shows, movies, games, and albums of the past calendar year. Over 2,600 people participated in the survey, and the results are tabulated below.
Participants were asked to rank their five favorite titles of 2019 in each category, and we assigned a value of 5 points to each first-place vote, 4 points for second place, and so on down to 1 point for each fifth-place vote.
To mark the end of the decade, we also asked users to name their single favorite release of the 2010s in each of the four categories.
Movies
Joker and Avengers: Endgame are among the films that rated more highly with our users than with critics, though both groups shared four films in their top five while also agreeing on the #1 overall film of 2019: Parasite. Top vote-getters among critics that didn't rank in our users' top 15 picks include Uncut Gems, Portrait of a Lady on Fire (which hasn't really opened in theaters yet), The Farewell, Pain and Glory, and Little Women.
TV shows
Again, critics and users agreed on four of the top five films, though not in the same order (among other things, the professionals had Fleabag at #1, just ahead of Watchmen). The discrepancies among the top slots were Stranger Things (#5 with our users but only #13 with critics) and Russian Doll (#4 with critics, #13 with users).
Music
Once again, the top five choices among critics and users were almost identical (including their selections for #1 overall). Our users had Titanic Rising three slots higher than the critics did, while the latter group placed Ghosteen at #2 overall, while it landed at #8 on our users' consensus list.
Games
We don't collect critic top-10 lists for videogames, but we did rank the year's best-reviewed games. Our users' #1 choice below, Resident Evil 2, was indeed 2019's best-reviewed new game, while #2, Sekiro: Shadows Die Twice, was also second with critics among new titles. Our users definitely liked Death Stranding better than reviewers did, however; that PS4 exclusive was just the 30th-highest-scoring release for Sony's console last year.
How did you do?
What do you think of the picks made by your fellow users? Let us know in the comments section below, and don't forget to visit our Best of 2019 and Best of the Decade sections for lists of critics' favorites.