The results of our 7th annual user poll are in ...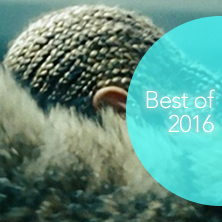 For the seventh straight year, we invited our users to list their favorite movies, games, TV shows, albums, and songs of the past calendar year. Over 1,700 people participated in the survey, and the results are tabulated below.
Note that participants ranked their five favorite titles of 2016 in each category, and we assigned a value of 5 points to each first-place vote, 4 points for second place, and so on down to 1 point for each fifth-place vote.
Movies
Critics so far have opted for Moonlight on their year-end top 10 lists, while our users had that movie (2016's highest-scoring release) at #2, behind Arrival, which critics have at #4.
In fact, both groups have the same top four films in their consensus picks (just in a different order), though the lists diverge from there, with our users favoring more mainstream fare like Captain America: Civil War, Deadpool, Rogue One: A Star Wars Story, Zootopia, and The Nice Guys, while critics (who have had more of an opportunity to see some of these late-arriving releases) are opting for foreign titles such as Toni Erdmann, The Handmaiden, and Elle plus indie drama Paterson and the theatrically released miniseries O.J.: Made in America (which did receive votes from our users in the TV category).
TV shows
In their top 10 lists, professional critics have made The People v. O.J. Simpson their consensus #1 pick, while our users voted that miniseries into 5th place, with HBO's ever-popular Game of Thrones as their #1. Users and critics actually share eight of their top 10 overall picks, with users ranking Westworld (slightly) and Mr. Robot (considerably) ahead of the pros, while critics are placing Full Frontal With Samantha Bee and O.J.: Made in America in their overall top 10.
Music
There is even more overlap between critics and users in music, with both groups agreeing on nine of their 10 top choices (though the pros have David Bowie's Blackstar at #1, just ahead of our users' favorite, Lemonade). The one area of disagreement: critics have Angel Olsen's My Woman in their top 10, while users have Bon Iver's latest in theirs.
Games
While we don't collect critic top 10 lists for videogames, our users did opt for 2016's highest-scoring release, Uncharted 4: A Thief's End, as their consensus top pick. But the year's highest-scoring PC game, Out of the Park Baseball 17, failed to get much love from our users. That game appeared on just two ballots.
How did you do?
What do you think of the picks made by your fellow users? Let us know in the comments section below, and don't forget to check out our Best of 2016 section for all of our end-of-the-year coverage.